Effect of a Prostitution Conviction on a Dentist's License?
A person receiving a ticket for solicitation of prostitution (Penal Code § 647(b)) is often overwhelmed with embarrassment and shame. Once the shock has time to dissipate, the person is commonly reassured, especially on a first-time offense, that he or she can earn a dismissal by attending a court-approved class and submitting oneself to an HIV test.
(This may have been true in the past, but with (as of 2018) the new public awareness of human trafficking through prostitution, such a resolution is not so easy anymore).
In a Nutshell: A conviction for solicitation of prostitution (Penal Code § 647(b)) can cause some form of professional discipline, possibly even resulting in suspension of one's license to practice dentistry, depending upon the facts of the case and the dentist's prior history, if any, with the Dental Board. Revocation of one's license would be rare, but the Dental Board can so discipline a dentist for a conviction such as § 647(b).

The tendency then is to relax considerably and sleep better.
This is a mistake if one is one of many state-licensed professionals. This article will limit the scope of its discussion to the consequences for a dentist of entering a no-contest plea to a violation of Penal Code § 647(b), even if the plea is later withdrawn and the case is dismissed. Indeed, the mere plea is considered a conviction for licensing purposes.
Under California Business & Professions Code § 490, a California state licensing board, including the Dental Board, can deny a professional license to one having a criminal conviction which is "substantially related to the qualifications, functions or duties of the business or profession for which the license would be issued."
Under Business & Professions Code § 493, a record of conviction constitutes conclusive evidence that the crime occurred.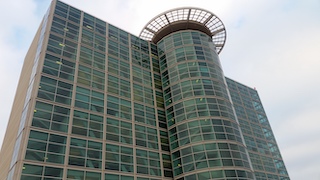 Airport Courthouse
A violation of Penal Code § 647(b) undoubtedly involves poor judgment. Thus, arguably, this conviction would be considered "substantially related" to the practice of dentistry.
If a dentist is convicted of violating § 647(b) or enters a plea of no contest or guilty, even if the case is later dismissed due to a deferred entry of judgment or diversion program, he or she must disclose this fact to the Dental Board within thirty days.
The disclosure creates a substantial likelihood that the Dental Board will then seek discipline against the licensee under Business & Professions Code § 16701 and the Dental Board's Disciplinary Guidelines. Such guidelines state there must be a minimum penalty of three to five years of probation, a fifteen to thirty-day suspension and mandatory disclosure to employers and facilities where the dentist engages in the practice of dentistry. The maximum penalty is revocation of the license.
Perhaps worse than these consequences, however, is that the Board creates a conspicuous public record of all license discipline on its website and the record of discipline remains a public record forever. Unlike the state superior courts, which destroy physical files after ten or fifteen years, license discipline records are maintained indefinitely.
If the facts of the solicitation for purposes of prostitution case are bad and a conviction is unavoidable, it is advisable to resolve the case with the minimum probation period possible. Once probation is over, the dentist will want to show the Board that he is rehabilitated. Rehabilitation cannot be established while a licensee is on criminal probation.
In fact, under In re George (2000) 23 Cal.4th 1080, "little weight" is given to the rehabilitation efforts of a licensee while under the supervision of the government, i.e. on probation. Although George concerned a licensee on formal probation, attorneys for the Board regularly apply this law to informal or summary probation and administrative law judges give great deference to this interpretation.
For this reason, resolution of the case as an infraction is best, because an infraction does not involve probation, but that type of plea bargain is often very difficult to obtain. However, we have had success resolving such cases for disturbing the peace (Penal Code § 415(2)) as an infraction, as well as for trespassing (Penal Code § 602) as an infraction, sometimes by performing a significant amount of community service to "earn" an infraction.
For more information about professional licensing issues, please click on the following articles:
Contact us.