Van Nuys, PC 243(c) Conviction Expunged, Client a Realtor
Our client, now 48 years old, was convicted 27 years earlier of alleged battery upon a police officer for an incident wherein she was hassled for selling flowers at a freeway off-ramp.
In 50 Words or Less: Van Nuys, client expunges 1986 conviction from jury trial for Penal Code § 243(c), battery upon police officer, to clean up record to become real estate broker.

Back in 1986, our client and her sister were selling flowers on the day prior to Easter. It was a way to earn a few extra bucks. They were at the Valley Circle off-ramp from the westbound 101 Freeway in Woodland Hills. Unbeknownst to them, they were standing on a sliver of land owned by the State of California.
A police officer first informed them that they were trespassing by standing where they were and when our client said she did not understand, the officer put our client in a choke hold. The officer stood six feet, three inches tall and weighed well over 200 pounds. Our client stood four feet, eleven inches tall and weighed about 90 pounds. The force of the choke hold left a mark in the client's neck from the officer's watch.
The officer then arrested our client for trespassing and battery upon a police officer. The case was filed in the Van Nuys Superior Court.
The trespassing charge was quite meritless, as our client was not occupying the land willfully without the consent of the owner. Our client was not aware that a small strip of land was owned by the State and then, with this knowledge, went ahead and stood there without first obtaining permission. The conduct was not on purpose without consent. The officer never established that our client knew it was owned by the State of California. In fact, our client said she did not know the State was the owner at the scene.
Our client was outraged at being arrested at all and fought the case all the way through trial. She had fourteen court appearances prior to trial and then a five day jury trial. She was convicted and sentenced to twenty days of community service and twenty-four months of summary or informal probation, although she won on the trespass count. She was convicted on the battery count.
She complied with the terms of her probation and probation was terminated. Our client thought that the conviction automatically was erased from her record after ten years and assumed this had happened for over twenty years.
In 2013, however, as she applied for her real estate broker license, it became clear that her record was not automatically erased as she was told or assumed. She then came to Greg Hill & Associates.
Greg Hill met with the client to make sure she was eligible for relief under Penal Code § 1203.4. He pulled the minute order from the case to ensure the court records showed she had indeed successfully completed the terms of probation.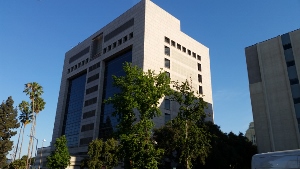 Van Nuys Superior Courthouse
Greg Hill & Associates then filed a Petition for Dismissal in the Van Nuys Courthouse for the client, including a supplemental declaration from the client concerning her history since the 1986 trial.
The judge in Van Nuys granted the petition, which made the client quite happy because she needed to clean up her record for purposes of applying to become a real estate broker.
It merits mention that the client fully understood she needed to disclose the conviction for purposes of licensing with the State of California, however, her licensing attorney recommended she have the conviction expunged, which is what our firm aided her in completing.
For more information about the issues in this case summary, click on the following articles:
Prosecutor Can No Longer Evade Disclosing Police Personnel File Data in Response to a Pitchess Motion
Watch our video about expungement by clicking
here
.
Contact us.