Van Nuys, Arrest Near Carl's, Jr. for Prostitution, No File
Our client, age 19, had no prior criminal history. It was 9:30 p.m. and our client was trying to park at the local Carl's Jr., near the corner of Victory and Sepulveda in Van Nuys. However, the parking lot was full, so he looked for parking nearby from which he intended to walk to the restaurant.
As he was slowly driving down Sepulveda, carefully looking for a parking place, a scantily-clad woman stepped forward toward his car, aware that he was looking for something. Our client rolled down his front passenger side window to see what she had to say, as he was curious to hear if she was going to be leaving and thus, opening up a parking spot that his car could use.
The Gist of This Article: Client cited for solicitation of prostitution in Van Nuys off Victory Boulevard near the Carl's Jr., in a police sting operation. No case filed because our client did not agree to exchange money for sex from the police decoy.

Instead, she asked him if he wanted "a date." Our client, said "no, just parking for now." At that point, the police decoy should have backed away and allowed our client to continue onward. Instead, however, she told our client that he was cute and asked if he thought she was attractive.
Our client, at this point, was concerned about causing a traffic hazard or even being rear-ended by faster moving traffic in his lane, so he pulled over to a red zone and the decoy jogged forward to his car to continue the conversation.
Our client said he felt sorry for the person he believed was a prostitute and wanted to tell her nicely that yes, he found her attractive, but he was respectfully going to decline her invitation.
The decoy instead pushed the conversation quickly to sex, asking our client "how much money do you have?" The words sex or any slang terms used to describe sex were never used. The only spoken words were "do you want a date" and "how much money do you have?"
Our client, being young and perhaps somewhat confused by the blunt question of how much money he had, answered by saying "just five dollars."
The decoy at that point responded, "that's fine. Just pull up to the dark area up over there and I'll get in your car."
Our client at this point wanted to get away and simply go to Carl's Jr., but once he moved forward in the general direction of the "dark area," a Van Nuys police car with its overhead blue and red lights flashing quickly pulled him over. Our client did not even get to the dark area.
The police pulled him out of his car and searched the car. Our client told the police that he was not going to pay the prostitute anything and that he was not going to stop in the dark area that the prostitute directed him to, but the police issued him a ticket for solicitation of prostitution anyways.
The client was extremely upset about this and called Greg Hill & Associates the next day, worried that he would lose his job at the Van Nuys Airport.
Greg explained that the client, if charged, would most likely be offered a diversion program wherein he would be given the opportunity to "earn a dismissal" by attending the Prostitution Diversion Program (PDP) and submitting to an HIV / AIDS screening blood test.
However, Greg also commented that he would write a longer-than-normal letter to the Van Nuys Police Department to clarify the facts and argue that the client really had no intention of exchanging money for sex and furthermore, that the words sex or any description of any sexual activity were not mentioned in the context of exchanging money for this. Instead, the decoy did ask our client if he was looking for a date, but when he said no, she then persisted and told him he was cute. From there, the conversation was ambiguous as to exchanging money for sex and our client did not pull forward to rendezvous with the decoy because the police swooped in too soon.
Greg then wrote this letter to the police and showed up for the arraignment in the Van Nuys Courthouse about two months later.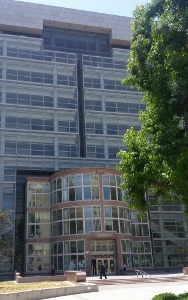 Van Nuys Superior Courthouse
Whether due to Greg's letter to the police or an independent realization by the police that the facts were too weak to prove solicitation, the case was deemed a DA reject. Our client was extremely relieved and happy that he had dodged this case and that his employment was no longer in jeopardy.
For more information about prostitution and no-file issues, please click on the following articles:
Contact us.