Using Report for Insanity Plea and Mental Health Diversion
On October 1, 2017 and October 10, 2017, Defendant Willie Donte Oneal "went crazy." On October 1, 2017, he entered the apartment of a woman he did not know and asked to use her phone. She told Mr. Oneal she "had a man in the house and he left." Oneal then waited outside and offered her $200 to use her phone. The woman told him she was going to call the police and Oneal ran away.
On October 10, 2017, Oneal followed a woman and grabbed her purse. The woman tugged on her purse and regained it.
Later, Oneal was arrested and charged with attempted first degree burglary (Penal Code §§ 459, 460(a), 664), two counts of first degree burglary (Penal Code §§ 459, 460(a)), attempted second degree robbery (Penal Code §§ 211, 664), prowling (Penal Code § 647(h)), obstruction of a police officer (Penal Code § 148(a)(1)), and giving false information to a police officer (Penal Code § 148.9(a)). Oneal had suffered one prior strike conviction and had served three prior prison terms.
The Reader's Digest Version: A judge may, in evaluating a motion for mental health diversion, consider a report about defendant's alleged insanity after defendant entered a plea of not guilty by reason of insanity. There is no prohibition of a judge considering such a report if it helps the judge make a more informed and accurate evaluation of the mental health diversion request.

Oneal at first pled insanity under Penal Code § 1026 and the court appointed two experts to evaluate him. Both experts opined that he was sane when he committed the offenses at issue. The experts attributed Oneal's commission of the charged offenses, as well as his "strange" and "bizarre" (words used by witnesses and victims) behavior during the offenses, to Oneal's drug use, rather than a psychotic or schizoaffective disorder. The experts reviewed the police reports, his prison medical records, a transcript of the preliminary hearing, documents provided by defense counsel and their own clinical interviews with Oneal.
Oneal then sought mental health diversion under Penal Code § 1001.36 and the People submitted, in opposition, the reports of the experts appointed after Oneal pled insanity. The judge denied mental health diversion, finding that Oneal's alleged mental disorder was not a significant factor in his criminal behavior and he presented a risk of danger to public safety if treated in the community.

Oneal then pled guilty to attempted second degree robbery and first degree burglary. He admitted the prior strike and the three prison prior enhancements. The court sentenced him to twelve years, consisting of an aggravated term of six years on the first degree burglary, doubled.
Oneal then filed a notice of appeal and was granted a certificate of probable cause. He argued, on appeal to the Fifth Appellate District in Fresno that the trial court abused its discretion in denying his motion for mental health diversion and improperly relied upon on the report prepared in relation to his initial insanity plea.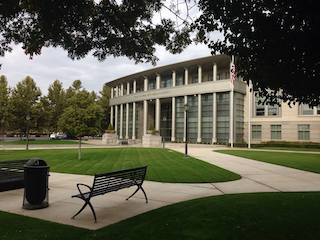 Fifth Appellate Court Fresno Courthouse
The Fifth Appellate District affirmed the trial court. It found that Penal Code § 1001.36 permits the trial court broad discretion in considering any relevant and credible evidence, including reports by qualified medical experts. Thus, it certainly could consider a report prepared in relation to defendant's insanity plea if relevant to evaluating whether defendant's mental disorder played a significant factor in the commission of the charged offense. In fact, that was one issue that the appointed experts addressed in relation to the insanity plea.
The court also could consider the reports if relevant toward whether defendant, if released into the community for mental health treatment while on mental health diversion, posed an unreasonable risk of danger to public safety.
Moreover, the parties stipulated, when defendant entered his plea to attempted second degree robbery and first degree burglary, that the police reports provided a factual basis for the plea, so the court's review of the reports insofar as they summarized the police reports was proper.

The appellate court noted, as should the reader, that Oneal's criminal history did not involves any offense known as a "super strike" (Penal Code § 667(e)(2)(C)(iv)). Therefore, it was unclear, the appellate court commented, how the trial court found Oneal posed an unreasonable risk of danger to the public if released for mental health treatment on diversion, but regardless, the trial court found that Oneal's mental disorders did not play a substantial role in the underlying offenses, so mental health diversion was improper anyways.
We present this summary because it nicely shows, we think, how a judge can consider a wide variety of documents in considering mental health diversion and a defendant's attempt to prevent a court from reviewing specific documents will most likely fail.
The citation for the Fifth Appellate District Court ruling discussed above is People v. Willie Donte Oneal (5th App. Dist., 2021) 64 Cal. App. 5th 581, 279 Cal. Rptr. 3d 142.

For more information about not guilty by reason of insanity and mental health diversion, please click on the following articles: