Untimely Habeas Petition Due to Mental Impairment?
After one exhausts all efforts in state court on a petition for a writ of habeas corpus, one has one year within which to file a federal petition for a writ of habeas corpus under 28 U.S.C. § 2254.
The Gist of this Article: The one year deadline for filing a petition for writ of habeas corpus in federal court after exhausting all state court remedies can be extended ("tolled") if defendant shows he is working diligently on the petition, but just needs more time, or due to extraordinary circumstances, which could include mental impairment if that consists of not knowing such deadlines.

This "statute of limitations," as it is often described, may be equitably tolled under certain circumstances. "A habeas petitioner is 'entitled to equitable tolling only if he shows (1) that he has been pursuing his rights diligently, and (2) that some extraordinary circumstance stood in his way and prevented timely filing." Fue v. Biter (9th Cir., 2016) 842 F.3d 650, 653 (en banc) (quoting Holland v. Florida (2010) 560 U.S. 631, 649).
The petitioner "bears the burden of showing that this extraordinary exclusion should apply to him." Miranda v. Castro (9th Cir., 2002) 292 F.3d 1063, 1065.
Thomas Jason Milam was serving a life sentence for various California state convictions, all of which became final on July 29, 2008.

In August 2007, Milam's mother hired an attorney to represent her son in state habeas proceedings. That attorney filed Milam's first state petition for habeas corpus in Los Angeles Superior Court on October 15, 2008, 78 days after Milam's conviction became final. The petition was denied on its merits on December 22, 2008.
On August 11, 2009, 232 days later, the state habeas lawyer filed an "essentially identical" second habeas petition with the California Court of Appeal. The petition was denied on its merits on September 9, 2009.
On December 14, 2009, 96 days later – the state habeas lawyer another "essentially identical" habeas petition in the California Supreme Court, which summarily denied it on June 23, 2010.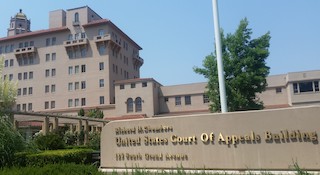 U.S. Ninth Circuit Court of Appeals Pasadena
The delay between the filings left Milam ineligible for statutory "gap tolling" of the one-year federal statute of limitations under 28 U.S.C. § 2244((d)(2) for the period after the denial of the Superior Court petition. See Steward v. Cate (9th Cir., 2014) 757 F.3d 929, 935.
In February 2011, Milam's family retained new counsel to represent him in federal habeas proceedings. That attorney filed a § 2254 petition on June 3, 2011, 1039 days after Milam's state convictions had become final. The state moved to dismiss the petition as untimely under 28 U.S.C. § 2244(d)(1). Milam's federal counsel did not file an opposition and the petition was dismissed in May 2012.
In 2018, the district court granted Milam relief from the 2012 judgment under Federal Rule of Civil Procedure § 60(b), citing "strong proof of attorney abandonment by the federal habeas lawyer."
Milam then sought equitable tolling for the time between his first state habeas petition and retention of federal counsel, arguing that "his mental impairment combined with ineffective assistance of [his state court] counsel made it impossible to meet the filing deadline for his federal habeas petition."
Milam submitted an expert report opining that Milam did not know at any relevant time what was required for a timely habeas filing. The expert further said that even with the assistance of counsel, he did not possess the capacity to understand what was required of him.
The district court ruled that Milam's mental health issues were irrelevant because he was represented by counsel, but requested briefing on whether, under federal law, the state court habeas attorney's role could constitute attorney abandonment under Ninth Circuit law.
The judge received such briefing and found that the state court attorney did not abandon the client under Ninth Circuit authority. Consequently, the district court dismissed Milam's appeal.
Milam then appealed to the Ninth Circuit Court of Appeals, which reversed the district court. The Ninth Circuit found that representation by counsel did not make equitable tolling impossible if the mental impairment was still a "but for" cause for the delay. Forbess v. Franke (9th Cir., 2014) 749 F.3d 837, 841.
Therefore, the Ninth Circuit remanded the case back to the District Court to find out if Milam's "mental impairment made it impossible to meet the filing deadlines under the totality of the circumstances, including reasonably available access to assistance." Bills v. Clark (9th Cir., 2010) 628 F.3d 1092, 1099-1100.
The Ninth Circuit made it clear that even when legal assistance is available, "petitioner's mental impairment might justify equitable tolling if it interferes with the ability . . . to cooperate or monitor assistance the petitioner does secure." Bills, supra, at 1100.
We bring this case summary to the reader's attention because often a prisoner is arguably mentally disabled, but no one knows what the legal standard is and whether extra time can be sought somehow to file a further habeas petition. The answer is perhaps such extra time is available under a theory of equitable tolling, if the requirements are met.
The citation for the U.S. Ninth Circuit Court of Appeals ruling discussed above is Thomas Jason Milam v. Kelly Harrington (9th Cir., 2020) 953 F. 3d 1128.

For more information about a petition for writ of habeas corpus, please click on the following articles: