Under Wende, Appellate Court Duties after 1437 Denial?
The Constitution of the United States provides at the Sixth Amendment that "[i]n all criminal prosecutions, the accused shall enjoy the right . . . to have the Assistance of Counsel for this defense." In Gideon v. Wainwright (1963) 372 U.S. 335, at 336-345, the U.S. Supreme Court held that this fundamental right extends to all indigent criminal defendants.
Consequently, state courts are required to appoint counsel for an indigent defendant "at all critical states of a criminal proceeding in the substantial rights of a defendant are at stake." People v. Crayton (2002) 28 Cal.4th 346, 362. "Substantial rights" have been interpreted to include being in jeopardy of serving time in jail, so the right to state-appointed, free counsel does not extend to infractions.
The Reader's Digest Version: If a trial court denies an SB 1437 petition for resentencing, the appellate court and appointed counsel for petitioner do not have a duty to independently review the entire record for any grounds of appeal under Wende. "Wende rights" extend only to the first level of an appeal, no further.

Perhaps surprisingly, the U.S. Constitution does not guarantee criminal defendants the right to an appeal. McKane v. Dunston (1894) 153 U.S. 684, 687-688. However, on the same day that the U.S. Supreme Court issued Gideon v. Wainwright, supra, it held that if a state does grant a criminal defendant the right to an appeal, then it must appoint counsel in the "one and only appeal" as a matter of right. Douglas v. California (1963) 372 U.S. 353, 356-357.
In California, a criminal defendant has the statutory right to appeal from a final judgment of conviction. Penal Code § 1237(a).

The right to counsel on a "one and only" appeal can be problematic. What if appointed appellate counsel cannot find any meritorious grounds for appeal? Appellate counsel is pulled between his duty to provide zealous advocacy to his or her client and the duty of candor to the court. On top of this problem, the appellate court itself has a duty to protect the constitutional rights of the defendant. See Sheppard v. Maxwell (1966) 384 U.S. 333, 362-363.
Accordingly, the United States Supreme Court has established minimum constitutional standards for appointed counsel and appellate courts in "no merit" appeals. Anders v. California (1967) 368 U.S. 738. California courts have applied Anders and further developed a body of case law and rules to address what are colloquially known in California as Wende appeals. People v. Wende (1979) 25 Cal.3d 436.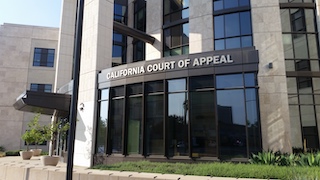 Court of Appeal 4th District Div 3 Orange County
In Wende, the California Supreme Court held that when appointed counsel files an opening brief for an indigent defendant that raises no arguable issues, an appellate court is required to conduct an independent review of the record. Wende, supra, at 441-442.

For example, in Wende itself, the trial court found defendant guilty of two counts of robbery and imposed a five-year sentence. Defendant filed a notice of appeal and was appointed counsel. Defense counsel filed a brief that summarized the facts and the proceedings, but raised no arguable issues. Defendant was notified he could file a brief on his own behalf, but he did not do so. The Court of Appeal then dismissed the appeal as abandoned, without conducting an independent review of the record. Wende, at 438-439. The Supreme Court disagreed with this procedure, conducted its own independent review and affirmed the judgment. Id., at 443.
After Wende, all federal and California opinions have repeatedly and consistently held that an appellate court's obligation to conduct an independent review of the record only applies when appointed counsel raises no issues in a criminal defendant's first appeal as a matter of right. See, e.g. Smith v. Robbins (2000) 528 U.S. 259, 276; but see People v. Placencia (1992) 9 Cal. App. 422, 424 (independent review not required in case where defendant retained private counsel).
After Senate Bill 1437 was passed into law, the question became whether Wende applied to an appellate court if appointed counsel on a petition for resentencing under 1437 (Penal Code § 1170.95) found defendant was actually ineligible. After all, California generally provides indigent defendants with the right to appointed counsel in post-judgment appeals based on due process and equal protection grounds. See Penal Code § 1239, 1240, 1240.1; In re Barnett (2003) 31 Cal.4th 466, 472-473.
The recent decision in People v. Alberto Flores (2020 DJDAR 9731) out of the Fourth Appellate District and Orange County Superior Court answered this new question.
Flores was convicted of murder in 2002, as well as robbery and a substantive gang offense. The jury found true that Flores had personally used a weapon (a knife) in the crimes. The trial court imposed a life sentence.
In 2019, Flores then filed a petition for resentencing under SB 1437 and the trial court summarily denied it because it found his murder conviction was not based on felony murder or a natural and probable consequences theory of liability for aiders and abettors.
Flores then filed a notice of appeal from the trial court's denial of his petition and was appointed counsel, who filed a Wende brief summarizing the trial record, but raising no issues on appeal. Counsel then asserted that the Court of Appeal for the Fourth District must conduct a review of the entire record to see if there was any appealable issue under Wende.
The Fourth Appellate District disagreed, saying it did not have such a duty because this petition was not Flores' first appeal as a matter of right, but the appellate court was not prohibited from doing so. The Fourth Appellate Court then did so and found no arguable issues, affirming the trial court's denial of the § 1170.95 petition.
We bring this opinion to the reader's attention to show Wende does not extend to an appointed counsel brief under § 1170.95, so it is perhaps better to hire a private attorney who may be more aggressive and zealous because if the appointed counsel finds nothing, when there actually are grounds for resentencing, there is no safeguard as in the first appeal as a matter of right.
The citation for the Fourth Appellate District Court ruling discussed above is People v. Alberto Flores (4th App. Dist., 2020) 54 Cal. App. 5th 266, 268 Cal. Rptr. 3d 512.

For more information about appeals in general, please click on the following articles: