Is There a Wende Right if Court Denies First Appeal?
In 2007, a jury in Long Beach in Judge Jesse Rodriguez's court convicted Defendant Freddie Cole of murder (Penal Code § 187(a)) and arson of an inhabited structure (Penal Code § 451(b)).

The same year, Judge Rodriguez sentenced Cole to 35 years to life in state prison. This was a "Third Strike" sentence under our state's Three Strikes Law (Penal Code §§ 1170.12(a)-(d), 667(b)-(j)), plus ten years because each of his two prior strikes also constituted prior serious felonies (Penal Code § 667(a)(1)).
On his first appeal of right, his sentence was affirmed.
The Reader's Digest Version: Even if there is a constitutional right to appointed counsel in a petition for post-conviction relief, i.e., in an SB 1437 petition, there is no Wende right to an independent review of the entire record by counsel and the appellate court for any other ground of post-conviction relief.

In April 2019, Cole filed a petition for resentencing under Penal Code § 1170.95 (Senate Bill 1437). In his petition, he requested appointed counsel.
On January 15, 2020, and after appointing defense counsel, Judge Rodriguez summarily denied the 1170.95 petition. This was a correct ruling because he was the actual killer, as the facts showed he acted alone in splashing gasoline on the porch of the apartment where the murder victim lived moments before the fire started. He had also repeatedly threatened to "burn this mother fucker down and everybody that's in it."
Cole then filed a notice of appeal and the Second Appellate District appointed counsel, who filed an opening brief under Wende, stating there were no appealable grounds.

People v. Wende (1979) 25 Cal.3d 436 sets forth the procedures both counsel and the Court of Appeal are to follow during defendant's "first appeal of right." At this stage, after the trial court verdict and sentence, Wende requires (1) appellate counsel (a) to independently evaluate the "entire record" and, if counsel determines there are no "reasonably arguable" issues (no non-frivolous issues) to raise on appeal, (b) to file a brief that so indicates and sets forth certain information about the trial court proceedings, (2) the defendant to be given the opportunity to file a supplemental brief raising issues, and (3) the Court of Appeal to independently review the record to determine whether there are any non-frivolous arguments to be addressed on appeal." Wende, supra, 25 Cal.3d at 438, 442-443.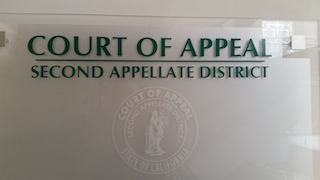 2nd Appellate District Court of Appeals
By involving both appointed counsel and the Court of Appeal in poring over the record reasonably arguable issues, presumably on the Argus-inspired theory that the more eyes, the better, Wende's procedures are able to fulfill their chief purpose, noted above, of "prophylactically safeguarding" the defendant's constitutional right to effective assistance of counsel during his first appeal of right. Smith v. Robbins (2000) 528 U.S. 259, 265, 273, 276.
Wende's procedures, however, are part and parcel of their constitutional justification: "When [a] defendant 'has no underlying constitutional right to [the effective assistance of appointed counsel],' he 'has no constitutional right to insist on the [Wende] procedures which were designed solely to protect that underlying constitutional right." In re Sade C. (1996) 13 Cal.4th 952, at 973, quoting Pa. v. Finley (1987) 481 U.S. 551, 554.
Nonetheless, sometimes a defendant has a constitutionally grounded, due process right to appointment of counsel in post-conviction proceedings. That right is a limited one, however, and only applies once defendant makes a prima facie showing of entitlement to postconviction relief, i.e., in coram nobis petition, in 1437 proceedings if a prima facie case is shown, in a habeas corpus, and in a 1473.7 proceeding at the trial court level.
However, the California Supreme Court has held that "there is no constitutional right to the effective assistance of counsel" in postconviction proceedings. People v. Bayer (2006) 38 Cal.4th 412.
Consequently, the full panoply of procedures set forth in Wende do not apply to appeals from the denial of postconviction relief, even if defendant might have the right to appointment of counsel. When counsel is appointed, in the situations identified above, the Court of Appeal has no independent duty to review the record for reasonably arguable issues. If, after the appointed counsel finds there are no non-frivolous grounds for appeal and so notifies defendant and defendant thereafter files no supplementary brief, the appellate court may dismiss the appeal as abandoned.
We bring this summary to the reader's attention because there is a clear distinction the reader should appreciate between the first appeal as of right and appeals to a denial of post-conviction relief. The Wende rights do not continue to appeal of denials of post-conviction relief as in this case.
The citation for the Second Appellate District Court ruling discussed above is People v. Freddie Cole (2d App. Dist., 2020) 52 Cal. App. 5th 1023, 267 Cal. Rptr. 3d 113.

For more information about the right to counsel on resentencing, please click on the following articles: