SB 1437 Precursor – Habeas Writ Under Banks & Clark?
Brief Synopsis: It is wiser to file a petition for a writ of habeas corpus under Banks and Clark to challenge the imposition of a special circumstance sentence because panel counsel is appointed to represent defendant, whereas no such counsel is appointed from the outset if one files a petition for resentencing under Penal Code § 1170.95 (SB 1437), although a recent California Supreme Court ruling (People v. Vince E. Lewis (2021)) seems to change this.

Donald McDowell and Tyson Hutchinson decided to commit a burglary at the Santa Rosa, California home of James Meehan, a well-known methamphetamine dealer. McDowell and Hutchinson also agreed that they would commit a robbery of Meehan if they came in contact with him in his home.
McDowell went to Meehan's house at about 3:00 a.m. on June 9, 2002. He was armed with a "palm knife," wherein he held the knife handle in his palm and the blade protruded through his index and middle fingers. He knocked on the door and was let in. After he entered, Hutchinson entered, carrying a small, black revolver, which he pointed at Meehan.

It was unclear who (McDowell or Hutchinson) demanded money from Meehan, but McDowell asked Meehan, "Where's the shit?" Meehan responded, "I don't have none" or "there's nothing here." Hutchinson then fired a shot into the floor by Meehan. In response, Meehan said, "don't kill him. If you're going to kill anyone, kill me."
One of Meehan's friends then grabbed a hard-plastic case holding a drill and swung it at McDowell, hitting McDowell in the chest and knocking him down. In the melee, Meehan tried to grab the gun from Hutchinson and in response, Hutchinson fired two shots, hitting Meehan in the chest and mouth. Hutchinson and McDowell then fled. Meehan died shortly thereafter.
McDowell and Hutchinson were arrested shortly thereafter.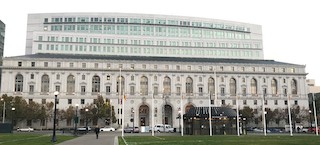 Court of Appeal 1st District San Francisco
Although McDowell was not the actual killer, a Sonoma County Superior Court jury convicted him of first-degree murder (Penal Code § 187(a)), attempted robbery (Penal Code §§ 664, 211), burglary (Penal Code § 459) and found true the robbery-murder and burglary special circumstances (Penal Code § 190.2(a)(17)(A) and (G)). He was then sentenced to life imprisonment without the possibility of parole.
As the first-degree felony-murder rule existed at the time of the shooting, a defendant who committed (or attempted to commit) robbery or burglary could be convicted of murder for a killing committed during the felony without further examination of his or her mental state. Former Penal Code § 189.

The law then changed in 2015, such that the fact a murder was committed during a felony specified under § 189, it was "insufficient of itself to establish a felony-murder special circumstance." In re Ramirez (2019) 32 Cal.App.5th 384, 393 (discussing People v. Banks (2015) 61 Cal.4th 788 and People v. Clark (2016) 63 Cal.4th 522).

This meant that a defendant like McDowell, who aided and abetted the underlying felony, but was not the actual killer, may only be subject to life imprisonment without the possibility of parole if the prosecution proves either defendant intended to kill (Penal Code § 190.2(c)) or aided and abetted the commission of a specified felony "with reckless indifference to human life and as a major participant." Penal Code § 190.2(a)(17), (d).
Banks articulated a number of factors relevant to the determination of whether a person was a major participant in a specified felony. Banks, supra, at 803. The following year, Clark, supra, announced related considerations relevant to determining if a defendant acted with "reckless indifference to human life." Clark, supra, 63 Cal.4th at pp. 609-623.
In 2018, McDowell then filed a petition for writ of habeas corpus, asking the Sonoma County Superior Court to find that the evidence against him was insufficient to support the special circumstance findings and therefore, resentencing would be proper and he might be released early.
The astute reader will note that this is akin to a Petition for Resentencing under Penal Code 1170.95 under SB 1473, except since this is a habeas proceeding, defendant would be entitled to panel counsel and avoid the cost of retaining his own counsel. Moreover, if successful, defendant could thereafter file an 1170.95 petition.
The superior court hearing the petition for a writ of habeas corpus denied the writ, but McDowell, representing himself, then appealed to the First Appellate District Court of Appeals in San Francisco, which issued an order to show cause on the Banks / Clark issue.
In looking at the appeal, the First Appellate Court found McDowell was eligible for life imprisonment without the possibility of parole because substantial evidence supported the special circumstance findings by the jury.

The First Appellate Court explained that it found McDowell's knowledge of the impending crime and brandishing of his "palm knife" constituted reckless indifference such that he "was subjectively aware that his or her participation in the felony involved grave risk of death." Banks, supra, 61 Cal.4th at 807. Furthermore, the court found that McDowell's presence at the shooting, with the ability to, but failure to restrain Hutchinson showed he was a major participant in the crime. Likewise, the fact that he entered Meehan's home first and planned the burglary and robbery showed he was a major participant in the felony.
As such, the appellate court affirmed the trial court, denying McDowell's appeal based on Banks and Clark.
We present this article to the reader to give examples of how a court will find a defendant had reckless indifference to human life and was a major participant in a crime so that the reader can more accurately evaluate his, her or a loved one's chances of a success on a similar writ.

The citation for the First Appellate District Court ruling discussed above is In re Donald McDowell (1st App. Dist., 2020) 55 Cal. App. 5th 999.

For more information about issues, please click on the following articles: