Under Mandatory Supervision, Are Suspicionless Searches OK?
There is a general principal that under the Fourth Amendment, even a waiver of one's Fourth Amendment rights as a condition of probation does not permit searches undertaken for harassment or searches for arbitrary or capricious reasons. This principal is cited often, as in
People v. Bravo
(1987) at 43 Cal.3d. 600, 610, 238 Cal. Rptr. 282, 738 P.2d 336.
Brief Synopsis: If a person is on mandatory supervision and is told that such a release condition includes being subject to searches with or without reasonable suspicion, then a search of defendant's hotel room without any specific suspicion is lawful.

The legal meaning of "arbitrary", when considered in the context of the
Bravo
case, relates to the executing officer's motivation. The officer must have some suspicion of criminal activity taking place or that there is evidence of a crime in the place to be searched. When the officer's motivation is unrelated to rehabilitative and reformative purposes or legitimate law enforcement purposes, the search is arbitrary. For example, had the officer been motivated by personal animosity toward the probationer or his family, execution of the consent search would be arbitrary.
In re Anthony S.
(1992) 4 Cal.App.4th 1000, 1004.
However, when one is not on probation, but on mandatory supervision after being released from custody, so as to serve the remainder of one's custody time at home, must law enforcement still have some valid suspicion before conducting a search?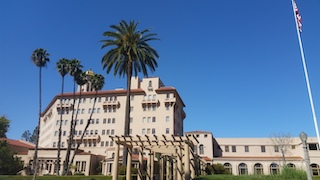 U.S. Ninth Circuit Court of Appeals Pasadena
This issue arose in the case of Steven Cervantes, who was convicted in a California state court of several non-violent felonies (counterfeiting and drug offenses) and sentenced to county jail for three years under AB109. Cervantes' sentence was considered a split sentence, something that is not done often in Los Angeles County, under Penal Code § 1170(h)(5).

He served the last year of that sentence on "mandatory supervision," a form of conditional release that is similar to parole. As a condition of mandatory supervision, Cervantes agreed to submit "your person and property including any residence, premises, container, or vehicle under your control, to search and seizure at any time of the day or night by any law enforcement officer, probation officer, or mandatory supervision officer with or without a warrant, probable cause or reasonable suspicion."

During his mandatory supervision, Cervantes rented a hotel room with his girlfriend. He was stopped by a police officer in Huntington Beach for jaywalking. The officer asked if he was on probation and Cervantes told the officer he was and was subject to a search condition. The officer then searched Cervantes' person and found a room key to the Ayres Hotel.

Nothing found during the search of Cervantes' person or disclosed during questioning gave the officer any reason to suspect Cervantes was engaged in any criminal activity. The officer then let Cervantes and his girlfriend go without citing them for jaywalking. However, unbeknownst to Cervantes or his girlfriend, the officer immediately drove to the Ayres Hotel to search their room without obtaining a warrant.

The officer then searched the room and found counterfeit currency in various stages of production and equipment used to make it. Shortly afterward, the officer located Cervantes in a Walgreens pharmacy and arrested him.

The United States charged Cervantes with unlawfully possessing counterfeit currency and images of counterfeit currency, in violation of 18 U.S.C. §§ 472 and 474.

Cervantes then moved to suppress the evidence seized from his hotel room on grounds that the warrantless, suspicionless search violated the Fourth Amendment. The district court denied the motion, concluding that Cervantes' search condition authorized the search and hence rendered it reasonable. The case then went to trial, Cervantes was found guilty and sentenced to 21 months in federal prison.

Cervantes then appealed his conviction to the United States Court of Appeals for the Ninth Circuit, which, in United States of America v. Steven Cervantes (2017 DJDAR 5855), affirmed the trial court. It reasoned that parolees who are subject to a warrantless, suspicionless search have "severely diminished expectations of privacy by virtue of their status alone." Samson v. California (2006) 547 U.S. 843, 852. "And given the high rate of recidivism for parolees, the State's interest in supervising them is "overwhelming." Id, at 853. As a result, the Supreme Court has held that a suspicionless search of a parolee's person, when conducted in accordance with the "clear and unambiguous" terms of a lawfully imposed search condition, will generally be deemed reasonable under the Fourth Amendment. Id., 852-854.

Here, Cervantes' search conditions were unambiguous and thus, the search was considered reasonable. The hotel room was clearly his "premises" under his control. Therefore, Cervantes' appeal was denied.
The citation for the U.S. Ninth Circuit Court of Appeals ruling discussed above is United States of America v. Steven Cervantes (9th Cir., 2017) 859 F.3d 1175.