May a Homeowner Consent to Probation Search of a Guestroom?
Under the "common authority" theory, consent by a third party to a search requires "mutual use of the property by persons generally having joint access or control . . . so that it is reasonable to recognize that any of the co-inhabitants have the right to permit . . . inspection . . . and that the others have assumed the risk that one of their number might permit the common area to be searched."
People v. Woods
(1999) 21 Cal. 4th 668, 675-676.
Why This Article Matters: A homeowner cannot give valid consent to search the area used as a guesthouse unless the homeowner has access to the area and the items to be searched (i.e. a guest's purse or dresser drawers). The following case epitomized police searching beyond the scope of a person's access, so the motion to suppress items found in a purse was granted.

The principle commonly applies to warrantless searches of a house or home. It is easy to understand in the context of, for example, a two-bedroom home where two people live together and both use a kitchen area that police ask to search, or even a bedroom that a resident does not use as his or her own, but has access to.
However, such a general rule is not always so clear in today's more complicated world.
The case of Leslie Stephany Carreon showed the
Woods
case needed clarification. Ms. Carreon, a probationer, and her young son stayed in a converted garage of a home leased by Naomi Anderson. When seemingly unrelated persons share a home, police often suspect drug activity, as such living arrangements are known a "flop houses" used by chronic drug users.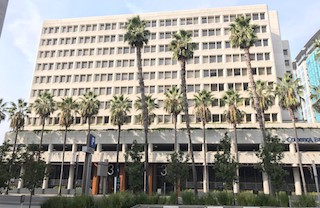 Court of Appeal Sixth Appellate District San Jose
Accordingly, law enforcement officers from Monterey County went to the house to conduct a probation search of Ms. Anderson (although their real area of interest most likely was the area lived in by Ms. Carreon). The garage unit used by Ms. Carreon was accessible from inside the house through a laundry room and a closed, but unlocked door.
While the officers conducted a protective sweep of the house for weapons in plain view (supposedly for officer safety), they had Ms. Carreon remove her son from a bed and then had the occupants wait in the kitchen while they searched the house.
The probation officers believed that the garage was Carreon's room and not that of the probationer, Ms. Anderson. In the garage, the officers found a pay-owe sheet in a drawer and a plastic bag with shards of methamphetamine inside a purse.
Carreon was charged with possession of methamphetamine for sale (Health and Safety Code § 11378) while on bail. Carreon was on bail awaiting sentencing on two earlier cases for commercial burglary, one of which was a felony.
Carreon took her possession for sales case to trial. At trial, she made a motion to suppress the evidence found in the garage because, she argued, Ms. Anderson did not have the authority to consent to a search of her room in the garage. The trial court judge denied the motion and Carreon was convicted. She was then placed on formal probation.
Carreon appealed the trial court judge's ruling on the motion to suppress, filing her appeal with the Sixth Appellate District.
The Sixth Appellate Court in
People v. Leslie Stephany Carreon
(2016 DJDAR 6591) agreed with Carreon, reversing the trial judge's ruling.
The appellate court noted that what was really at issue was whether the scope of probation search of a probationer's residence authorized officers to look into a purse or drawers located in a separate living unit. Neither officer searching the garage living quarters asked Carreon or Anderson who had access to the garage or whether Anderson had a key.
Here, the prosecution needed to show that it was "objectively reasonable for the searching officer to believe that the scope of the consent encompassed the item searched."
People v. Jenkins
(2000) 22 Cal. 4th 900, 974. What is relevant is the searching officer's state of mind.
People v. Schmitz
(2012) 55 Cal. 4th 909, 923.
"The sanctity of the home demands that persons living with a probationer or a parolee retain valid privacy expectations in residential areas subject to their exclusive access or control, so long as there is no basis to reasonably believe the probationer has access over those areas."
Schmitz
,
supra
at 920, quoting
People v. Robles
(2000) 23 Cal. 4th 789, 800.
We like this ruling, as it is more and more common nowadays for people to be financially struggling and need to rent out a portion of their home, as Anderson did. Carreon should not rent with fear that she also waives the Fourth Amendment like Anderson. Officers should treat her like any other citizen.
The citation for the Sixth Appellate District Court ruling discussed above is People v. Leslie Stepheny Carreon (6th App. Dist., 2016) 248 Cal.App.4th 866.
For more information about consent to search an area controlled by another person, please click on the following articles:
Contact us.