Under Humphrey, Judge Must View Bail Funds Truly Available
While Senate Bill 10 did indeed pass into law, it is not effective until October of 2019. Until then, our money bail system remains in full force and effect and In re Kenneth Humphrey (2018) 19 Cal.App.5th 1006 (review granted May 23, 2018) remains good law.
One of the more important holdings from In re Kenneth Humphrey is that the judge must consider, in setting bail, "a defendant's ability to pay" and this "must be based on factors related to the individual defendant's circumstance." Humphrey, at 1041.
Brief Synopsis: Under the bail determination standards set forth in In re Kenneth Humphrey (2018) 19 Cal.App.5th 1006, a judge must consider only those funds defendant has the ability to pay for posting bail, not who defendant's friends are that may lend defendant money to post bail, as the following case summary explains.

In evaluating the individual defendant's circumstance, what can be considered? Just available funds? Can it consider an individual's ability to raise money from friends or "clients," for example?
This issue was examined in the case of In re William Avignone (2018 DJDAR 8223), following a successful motion to withdraw a plea in People v. William Avignone, wherein Mr. Avignone pled in the open and the judge denied him probation and instead sentenced him to five years and four months in county jail (not state prison) for various felony grand theft charges. The maximum prison sentence on the case was fifteen years and four months.
After Mr. Avignone withdrew his plea, the judge held a bail review hearing, the judge increased his bail to $300,000. During the original case, his bail was $100,000 and he posted bail.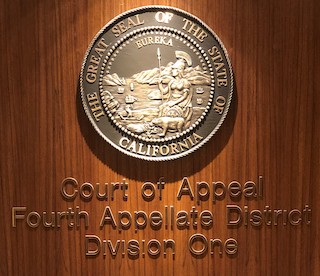 Court of Appeal 4th Appellate District Division 1 San Diego
Avignone then brought a petition for writ of habeas corpus, arguing the judge abused its discretion in increasing bail and setting it in an amount that violates In re Humphrey, the Eighth Amendment of the U.S. Constitution and article 1, section 12 of the California Constitution.

An understanding of the factual background is helpful toward understanding why bail was increased at all. Mr. Avignone and his wife purported to be money managers and arranged, through their church and other places to hold meetings and to persuade folks to invest their money in a company called SABA Investments, a company owned by the Avignones. The company's plan was to buy real estate in Georgia, refurbish it and then sell it at a profit.
The investors were promised fifty percent of the total profits. The Avignones did in fact buy seven properties in Georgia, however, none of the properties were placed in the name of SABA. Instead, the properties were all owned by the Avignones, who used the money to pay their personal expenses.
The judge which increased bail did so "because Avignone now realized he was facing a lot of time in custody (i.e., the instant case was not just a 'probation case') . . . "he doesn't have any reason to stick around . . . has health issues [he had cancer] . . . and is a flight risk."

Counsel for the Avignones represented that his clients were indigent and presented the testimony of a person who testified that the Avignones had been living in a camper on their property for the last three years (the case was pending for four years). The prosecutor argued that the Avignones were a danger to the community because "he could concoct another scheme to bilk others out of money."

The trial judge interpreted Humphrey as requiring him to evaluate a defendant's ability to post bail and not just his financial status. The judge then reasoned that the Avignones were very capable of posting bail based on their ability to get others to post bail ("defendants have a very definite gift. The power of persuasion . . .they were able to get people who were their friends to give them large sums of money. . .").
The Fourth Appellate District was critical of the trial court, noting that there was no explanation why Avignone, while out on bail for four years without incident, would suddenly be a danger to society. There was no mention why Avignone would be more dangerous in 2017 than he was in 2013.

The appellate court also noted that while Avignone was out on bail for four years, he never missed a court appearance, so it was unclear why he would be a flight risk. He did not flee then and there is no reason to believe he would now.

Consequently, the appellate court vacated the trial court's bail determination.

The citation for the Fourth Appellate District Court ruling discussed above is In re William Avignone (4th App. Dist. 2018) 26 Cal.App.5th 195.

For more information about bail, please click on the following articles:
Contact us.