U.S. Supreme Court Ruling on Bad Immigration Advice.
In a Nutshell: The U.S. Supreme Court found ineffective assistance of counsel and emphasized that defendant was prejudiced by not going to trial, wherein he at least would have a chance, however slim, of prevailing because trial can be unpredictable.

In 1982, Jae Lee moved to the United States with his family from South Korea. He was thirteen at the time. Since 1982, he never went back to South Korea, although he never became a U.S. citizen, living instead as a lawful permanent resident.
He and his parents first settled in New York City, where his parents opened a small coffee shop.

After he graduated from high school, he moved to Memphis, Tennessee, where after a few years he opened the Mandarin Palace Chinese Restaurant. The restaurant did well and he eventually opened a second restaurant nearby.

At the same time that he was running a lawful business, he engaged in some illegal activity. In 2008, a confidential informant advised federal officials that Lee had sold him 200 ecstasy pills and two ounces of hydroponic marijuana over the course of eight years.
Federal officials obtained a search warrant for Lee's house, where they found 88 ecstasy pills, three Valium tablets, $32,432 in case and a loaded rifle.

A grand jury indicted Lee on one count of possessing ecstasy with intent to distribute in violation of 21 U.S.C. § 841(a)(1). Lee retained private counsel and entered into plea discussions with the U.S. assistant attorney assigned to the case.

The private attorney correctly told Lee that if he pleaded guilty early, he would receive a lighter sentence than if he were convicted at trial.

Lee told his attorney that he was not a U.S. citizen and repeatedly asked his attorney if he would be deported if convicted. The attorney told Lee that he would not be deported. Based on that assurance, Lee accepted the plea deal and the District Court sentenced him to a year and a day in federal prison. He was allowed to delay his surrender date to manage his restaurants over the holiday season.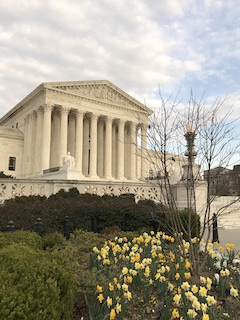 U.S. supreme Court 12
After entering his plea, he quickly learned that what he had pled to was an "aggravated felony" under the Immigration and Nationality Act and a noncitizen convicted of such an offense is subject to mandatory deportation. See 8 U.S.C. §§ 1101(a)(43)(B), 1227(a)(2)(A)(iii); Calcano Martinez v. INS (2001) 533 U.S. 348, 350, n. 1.
Upon learning this, Lee filed a motion under 28 U.S.C. § 2255 to vacate his conviction and sentence, arguing that his attorney had provided constitutionally ineffective assistance.

At an evidentiary hearing on Lee's motion, both Lee and his plea-state counsel testified that "deportation was the determinative issue in Lee's decision whether to accept the plea." A magistrate judge recommended that Lee's plea be set aside and his conviction vacated. The District Court, however, denied relief and the Sixth Circuit affirmed.

The Sixth Circuit applied the two-part test for ineffective assistance of counsel claims from Strickland v. Washington (1984) 466 U.S. 668, concluding that, while the Government conceded that Lee's counsel had performed deficiently, Lee could not show that he was prejudiced by his counsel's erroneous advice (we think, in apparent agreement with counsel's observation that it was highly likely Lee would be convicted at trial).

Lee then appealed the Sixth Circuit ruling to the U.S. Supreme Court, which reversed the Sixth Circuit and remanded the case back to the District Court for further proceedings.
The U.S. Supreme Court applied the Strickland v. Washington test in a way that we think our readers should appreciate. As to the first prong of the test, the U.S. Supreme Court found it relatively easy to meet. Lee claimed his counsel's deficient performance deprived him of a trial by causing him to accept a plea. This alone shows prejudice by demonstrating "a reasonable probability that, but for counsel's errors, he would not have pleaded guilty and would have insisted on going to trial." Hill v. Lockhart (1985) 474 U.S. 52, 59.

The U.S. Supreme Court acknowledged that the consequences of trial and a plea are similarly dire, however, trial had a small chance of success, similar to a late-game "Hail Mary" pass that just might succeed, however unlikely. Trial, after all, can be unpredictable and Lee was deprived of that chance, however slim, based on his counsel's advice.
Second, Lee stated that had he known the plea deal would result in deportation, he would have never accepted the plea bargain.
We think this ruling creates a rather easy standard for federal defendants to prevail on in a motion to withdraw a plea. From a criminal defense attorney perspective, it sends a clear message that criminal defense attorneys like Greg Hill & Associates must emphasize that trial can involve unforeseen circumstances that may fortuitously help defendant. From a practical perspective, this seems to encourage more trials for those facing deportation, something that can be very expensive.
We would predict that Lee will proceed to trial once his case was remanded to the District Court.
The slip opinion cite for this case is Supreme Court of the United States v. Jae Lee (2017 DJDAR 6020).

The citation for the United States Supreme Court ruling discussed above is Jae Lee v. United States (2017) 532 U.S. ___, 137 S. Ct. 1958, L. Ed. 2d .

For more information about withdrawing a plea, please click on the following articles: