Does Immigration Consequences Warning Bar Plea Withdrawal?
The California Supreme Court, on March 27, 2017, ruled that even if one receives the statutory advisement of possible adverse immigration consequences of a criminal conviction as part of a plea, this does not categorically bar that defendant from seeking to withdraw his or her plea.
This is good ruling because, in our experience, many judges have been inclined to deny any motion to withdraw a plea if the statutory advisement is given ("a criminal conviction may have the consequences of deportation, exclusion from admission to the United States, or denial of naturalization pursuant to the laws of the United States," as codified at Penal Code § 1016.5(a)). The judges have reasoned that if the warning was given, it is presumed that the person understood it if he or she did not inquire into its meaning.
About This Article Briefly: Even if a defendant was warned that his plea and the conviction thereto may result in adverse immigration consequences, this does not categorically bar defendant from later seeking to withdraw his or her plea if he or she subjectively understood the warning did not apply to him or her and was merely given to every defendant regardless of immigration status.

The case of Ron Patterson, a Canadian citizen, seems to make that rationale used by many judges impermissible in the future. He pled guilty to a drug possession charge and thereafter learned he was subject to mandatory deportation.
He filed a timely motion to withdraw his plea under Penal Code § 1018, alleging mistake or ignorance. The Riverside County judge hearing the motion denied the motion, reasoning that since Patterson had received the statutory advisement, his motion was barred. The judge commented that Patterson's "subjective level of understanding was not truly relevant because anybody can come in and say, oh, I didn't really understand."
The Fourth District Court of Appeal affirmed, but Patterson appealed to the California Supreme Court.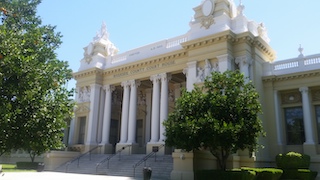 Riverside Courthouse
A bit of background information is helpful before proceeding further. Patterson had faced a nine-count complaint alleging that he evaded a police officer (a felony, alleged as a violation of Vehicle Code § 2800.2, the transportation or sale of methamphetamine (Health and Safety Code § 11379(a)) and cocaine (Health and Safety Code § 11352(a)), possession of cocaine (Health and Safety Code § 11350) and MDMA (Health and Safety Code § 11377(a)), meth and morphine.

He then pled guilty to evading a police officer and possession of MDMA, both felonies. The judge placed him on three years of probation with 180 days of custody, to be served in a work release program.

Before entering his plea, Patterson signed and initialed a plea form with the Penal Code § 1016.5 advisement quoted above. Before the judge accepted his plea, the judge asked him if he understood everything on the plea form. Patterson said he did.

Six months later, he filed a motion to withdraw his plea under Penal Code § 1018. He alleged good cause to withdraw his plea because he has lived in the U.S. on non-immigrant visas. He further described that the prosecutor made a "take it or leave it" offer and that Patterson's attorney did not know what the immigration consequences would be, but that Patterson needed to speak to an immigration attorney. However, Patterson could not get in contact with his immigration attorney and entered into the plea bargain.

In his motion, he alleged that had he known that the convictions would lead to his deportation, he would have followed through with his plan to take the case to trial.

Patterson included in his motion a declaration from an immigration attorney who stated that if Patterson had consulted her before entering his plea, she would have recommended that he "absolutely not enter this disposition" and instead "attempt to enter a plea to a different disposition that would be immigration neutral, yet give the prosecution and the court equivalent convictions and sentences."

Patterson's appeal then described how he had a triable case, with specific defenses.

While his motion to withdraw his plea was pending, he filed a writ of habeas corpus petition in the superior court, alleging that his counsel's failure to advise him that his conviction for possession of MDMA would result in his automatic deportation, as well as her failure to attempt an immigration-neutral disposition, violated his right to effective assistance of counsel under the Sixth Amendment.

The Court of Appeal consolidated his appeal of the motion to withdraw his plea and his habeas petition and then affirmed the trial court, concluding that the 1016.5 advisement sufficiently informed him of the immigration consequences of the conviction and that he was not prejudiced by counsel's allegedly deficient performance.

The California Supreme Court ruled that the advisement was not a panacea or categorical bar and that a more thorough analysis by the trial court of the "good cause" element of 1018 had to be performed.

We like this ruling, but suspect that the trial court will find Patterson did not establish sufficient good cause to withdraw his plea.
The citation for the California Supreme Court ruling discussed above is People v. Ron Patterson (2017) 2 Cal. 5th 885.