Carrying Concealed Gun in a Car = Crime of Moral Turpitude?
Why This Article Matters: Carrying a concealed weapon in one's car is a crime of moral turpitude, meaning a conviction for this can be admissible in court for the jury to consider in evaluation a witness' credibility.

In 2012, Evelyn L. was at home with her boyfriend and several neighbors celebrating the Fourth of July. At about 2:00 a.m., her boyfriend left their house on 8th Street in Downtown Los Angeles to walk to a liquor store a few blocks away.
After an hour, when her boyfriend had not yet returned, Evelyn went to look for him. She walked just one block before she felt someone tug on her purse on her shoulder. She turned to her left and felt a gun press up against her ribcage. She was then dragged into a van with three men inside.
The van drove a short distance before stopping. She was then raped and penetrated anally, causing her to defecate. She was then forced to orally copulate one of the men. She was then pushed out of the van and the van drove off.
She ran down toward the freeway and flagged down a police car. It was about 3:30 a.m. She told the police officer that she had just been raped by two Hispanic men. She was then taken to the hospital where DNA samples were taken of the assailants from her. Evelyn also stated that her purse was taken from her during the attack and it contained her new cell phone.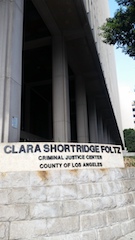 Clara Shortridge Foltz Criminal Courts Building CCB Downtown LA
Evelyn gave the officer her cell phone number and police quickly monitored the number. They then noticed calls being made and texts being sent from the phone, which allowed them to arrest Defendant Henry Aguilar.
Aguilar was charged and later convicted of aggravated kidnapping, rape in concert, oral copulation in concert and robbery. The jury also found true firearm allegations and kidnapping allegations as to all counts. Aguilar's DNA was found on Evelyn's jaw from when he punched her. He was then sentenced to twenty-five years to life in prison. He was also charged with sodomy in concert, but on this count, the jury acquitted Aguilar.
During trial, Aguilar took the stand to testify on his own behalf. To impeach his credibility, the prosecution introduced evidence of his conviction eight years earlier for carrying a concealed weapon in a vehicle. Aguilar objected to the prior conviction being admitted, arguing that it was not a crime of moral turpitude, was remote in time and it was unduly prejudicial. The People argued that such an offense demonstrated "a readiness to do evil."
The judge overruled his objection and allowed the jury to hear about the prior conviction.
After the trial, Aguilar appealed his conviction, but just on one ground – that admission of his prior conviction for possession of a concealed weapon in a vehicle, Penal Code § 25400(a)(1), was an error because it was not a crime of moral turpitude. The appeal was filed at the Second Appellate District.
On March 22, 2016, the Second Appellate District issued its ruling in
People v. Henry Aguilar
(2016 DJDAR 2762). It began its analysis by noting that in
People v Castro
(1985) 38 Cal.3d 301, 317, the California Supreme Court held that a witness' prior conviction(s) should only be admissible for impeachment if the "least adjudicated elements of the conviction necessarily involve moral turpitude."
In opposing the appeal, the People argued that since in
People v. Robinson
(2005) 37 Cal.4th 592, the California Supreme Court held that a misdemeanor conviction for carrying a concealed weapon on one's person was a crime of moral turpitude, carrying such a concealed weapon in a vehicle would be as well.
The "least adjudicated elements" test means that from the elements of the offense alone – without regard to the facts of the particular violation – on can reasonably infer the presence of moral turpitude. Crimes involve moral turpitude when they reveal dishonesty, "a general readiness to do evil" (
People v. Gabriel
(2012) 206 Cal.App 4th 450, 456) or "moral laxity of some kind" (
People v Garrett
(1987) 195 Cal.App.3d 795, 798).
The appellate court then noted that "it is well established" that crimes involving firearms pose a recognized, inherent risk of violence. Even the negligent discharge of a firearm is a crime of moral turpitude, for example, as is a conspiracy to possess unregistered firearms.
The appellate court thus affirmed the trial court's ruling on admission of Aguilar's prior conviction for impeachment purposes, finding that it was indeed properly characterized as a crime of moral turpitude.
The citation for the Second Appellate District Court ruling discussed above is People v. Henry Aguilar (2d App. Dist., 2016) 245 Cal.App.4th 1010.
For more information about crimes of moral turpitude and illegal possession of a firearm, please click on the following articles:
Do Crimes of Moral Turpitude Include Illegal Possession of Assault Weapon and Cultivating Marijuana?
Plea Withdrawn and Judgment Vacated When Mexican Citizen Not Advised of Adverse Immigration Consequences of Plea
Contact us.