U.S. Supreme Court Changes Legality of a Traffic Stop
In California, up until December 15, 2014 when the U.S. Supreme Court ruled in
Heien v. North Carolina
, the general rule was that a traffic stop is illegal if based on a mistake of law, no matter how reasonable the officer's mistaken belief in the law may have been.
Main Point: U.S. Supreme Court Changes California Law Concerning the Legality of a Traffic Stop Based on a Mistake of Law.

In other words, if a police officer believed it is illegal to turn a vehicle without using a turn signal, even if no other cars are affected by the turn, and makes a traffic stop for violating Vehicle Code § 22107, the traffic stop is improper and all evidence gained, i.e. drugs found in a car, are suppressed.
People v. Carmona
(2011) 195 Cal.App.4th 1385. The reason was because the search violated the Fourth Amendment. This was the state of law because courts want to deter officer mistakes of law.
United States v. Song Ja Cha
(9th Cir., 2010);
People v. White
(2003) 107 Cal. App. 4th 636, 644. Courts want officers to follow the law and do not want to encourage ignorance of the law.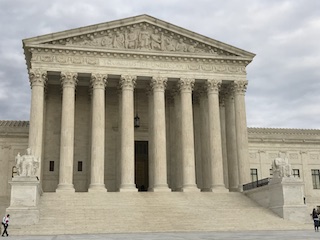 U.S. Supreme Court
This seems to change now. In the recent U.S. Supreme Court ruling in Heien, a North Carolina police officer stopped Nicholas Heien because his car had just one working rear brake light. The officers then found cocaine in Heien's car and arrested him. He was then convicted of trafficking a controlled substance.
Heien had made a motion to suppress the cocaine, arguing that the North Carolina statute only required a car to be equipped with "a stop lamp," not two. Therefore, Heien was not in violation of any law. The trial court denied his motion and Heien was then convicted. The trial court ruled that the mistake was reasonable, so there was no illegal stop.
Heien then appealed to the state appellate court and won. The state of North Carolina then appealed and lost, but appealed again with the case eventually made its way to the U.S. Supreme Court.
The U.S. Supreme Court then ruled in favor of North Carolina and against Heien. It ruled, in a nutshell, that a traffic stop based on a reasonable mistake of law does not violate the Fourth Amendment as long as the officer's mistake of law is reasonable.
The big question then becomes what is a reasonable mistake of law? What standard should a court apply to determine if a mistake is reasonable? Moreover, does this mean the good faith exception applies to officer mistakes of law like when an officer, in good faith, executes a defective warrant and finds evidence of a crime?
The opinion in
Heien
gives us some indications of what is a reasonable mistake. Most importantly, there are indications in the North Carolina statute itself that all rear lights must be functional. Therefore, if the statute itself suggests all lights must be functioning, the officer's mistakes was clearly reasonable.
The U.S. Supreme Court also seemed to set the bar high in determining what is a reasonable mistake, commenting that the test is objective and "not as forgiving" as when an officer asserts qualified immunity in a civil suit. Indeed, the U.S. Supreme Court noted that qualified immunity protects "all but the plainly incompetent or those who knowingly violate the law." In other words, it is a forgiving standard in most situations.
Justice Elana Kagan, however, wrote a concurring opinion, joined by Justice Ruth Bader Ginsburg, in which she urged that the test for reasonableness be quite demanding. A legal error can be reasonable only when the law is "so doubtful in construction" that a reasonable judge could agree with the officer's mistaken interpretation. The statute must be "genuinely ambiguous" and require "hard interpretative works to resolve the very hard question of statutory interpretation."
In other words, Justice Kagan's concurring opinion sets the bar for reasonable mistake very, very, very high. We at Greg Hill & Associates like this tough standard because it means
Heien
will not give police officer's carte blanche to make traffic stops based on racial profiling, watching someone leave a parking lot by a bar at 2:00 a.m. or pulling over a youthful looking car because it has nice rims, only to later claim an incredible mistake of law to preserve the legality of the stop as "reasonable."
Kagan even said that rulings for the prosecution on this ground, she predicted, will be "exceedingly rare." We want this to be the standard in the future.
Curiously, North Carolina law does not provide for a "good faith exception" to the exclusionary rule, so the U.S. Supreme Court could not and did not rule on this applying to such a traffic stop and search. This is good, too, as we would never want a "good faith exception" to apply to the exclusionary rule.
The citation for the U.S. Supreme Court ruling discussed above is Nicholas Hein v. North Carolina (2014) 574 U.S. 54, 135 S. Ct. 530, 190 L.Ed. 2d 475.
For more information about the issues in this case, click on the following articles:
In 2011 DUI Case Involving Drugs, the results of a Warrantless Blood Draw are Admissible If Officer Reasonably Relied on Then – Current Law Later Overruled.
Warrantless Blood Draw Allowed in DUI Case, Without Driver's Consent – Does this Violate McNeely v. Missouri? Appeals Court Says No.
Contact us.