Police Can't Draw Blood without a Warrant If Suspect Refuses
Our office occasionally has DUI clients who refuse to submit to a breath or blood test when arrested and police then direct a blood draw against the client's will. Police sometimes justify the forced blood sample, telling the client that in California (as in many other states), the DMV conditions issuance of a driver's license upon the driver's "implied consent," or agreement to provide a blood or breath sample if requested by law enforcement. Other times, police are more sophisticated and, cognizant of the requirements of a warrant, justify their conduct by claiming there is an emergency because the client's blood alcohol level is dissipating, so they must conduct the search and seizure to preserve evidence of a crime.
Overview: U.S. Supreme Court rules police may not draw blood without a warrant when suspect refuses breath or blood test.

The latter justification arises through an often misplaced reliance on
Schmerber v. California
(1966) 384 U.S. 757, at 770, wherein the U.S. Supreme Court held that such a warrantless blood test was proper when the officer "might reasonably have believed that he was confronted with an emergency, in which the delay necessary to obtain a warrant, under the circumstances, threatened 'the destruction of evidence.'"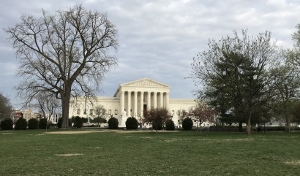 U.S. Supreme Court
The passage of time has changed what was originally perhaps expected to be a limited exception to the warrant requirement of the Fourth Amendment (applicable to the states via the Tenth Amendment) into wholesale carte blanche for officers to bypass any consideration of a warrant when seeking a blood sample.
Without apologizing for police, it is easy to understand how this may have evolved in the last fifty-four years, given the increased public awareness of the dangers of DUI, the activities of MADD and SADD, and statutes lowering blood alcohol levels required for a DUI conviction. Police feel pressure to arrest drunk drivers, gather evidence for prosecution and "make our streets safe." In fact, some police departments have gone so far as to reward officers with a paid day off work for every ten DUI arrests they make. Newspapers publish the names of the officers who make the most DUI stops.
On April 17, 2013, the U.S. Supreme Court issued a ruling in
Missouri v. McNeely
(2013 DJDAR 4918) that seems to restore the Fourth Amendment into the decision making of police officers, if ever-so slightly. Naturally, this office, as criminal defense attorneys regularly defending those accused of DUI, hopes
McNeely
will blunt the seemingly sanctimonious and aggressive conduct of police investigating DUI.
Missouri police spotted Tyler McNeely, driving his pickup truck, at 2:08 a.m. McNeely was allegedly speeding. He was stopped. He admitted to police that he had had "a couple beers" at a nearby bar. Police had him perform field sobriety tests, which (surprise, surprise!) he failed.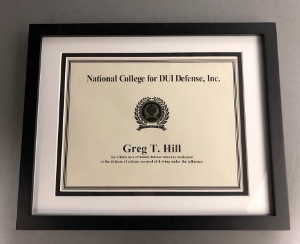 Police then asked him to provide a breath sample for testing his blood alcohol level. Missouri, it should be noted has an implied consent driver's license policy like California. McNeely refused. He was then arrested. While in the police car, McNeely told the arresting officer that he would not provide a breath sample at the police station either.
At this point, the officer made a big mistake. Instead of requesting a warrant, he changed his course and took McNeely to a local hospital. The officer made no attempt to secure a search warrant from a judge.
Upon arriving at the hospital, he asked McNeely if he would allow hospital staff to take his blood. McNeely said no. The officer then told a hospital lab technician to take a blood sample. At the time the sample was taken, it was just 27 minutes after he was first stopped by police. McNeely's blood alcohol content was 0.154%, or roughly twice Missouri's legal limit for DUI.
McNeely was then charged with DUI, or DWI (Driving While Intoxicated) as it is termed in Missouri. He made a motion to suppress the evidence of his blood alcohol content, arguing that under the circumstances, taking his blood for chemical testing without first obtaining a search warrant violated his rights under the Fourth Amendment of the U.S. Constitution.
The trial court granted McNeely's motion! The judge agreed that there was no exigency or emergency to bypass the warrant requirement because, "as in all cases involving intoxication, McNeely's blood alcohol was being metabolized by his liver." It appeared the case would then be dismissed for lack of evidence.
However, the prosecution appealed the case up to the Missouri Court of Appeals, which indicated an intention to reverse the trial court, but first referred the case up to the Missouri Supreme Court. The Missouri Supreme Court then affirmed the trial court! This was great.
The prosecution would not give up, however, perhaps realizing what a significant change in the law this might create for DUI. So the prosecution appealed to the U.S. Supreme Court.
The prosecution argued that in all drunk driving cases, it was proper under the Fourth Amendment to draw blood without the suspect's consent because blood alcohol dissipates over time. This decreasing blood alcohol level created an exigency sufficient for police to be exempt from the warrant requirement for a search and seizure.
In a 5-4 decision, the U.S. Supreme Court disagreed with Missouri. It affirmed McNeely's trial judge's decision, stating "[i]n those drunk driving investigations where police officers can reasonably obtain a warrant before a blood sample can be drawn, without significantly undermining the efficiency of the search, the Fourth Amendment mandates that they do so."
While this is not a per se rule that a warrant is always required, it certainly gives DUI drivers more rights and more hope. The circumstances of each case will become relevant again and no longer can police confidently and boldly force a blood sample without being challenged for doing so.
The citation for the U.S. Supreme Court ruling discussed above is Missouri v. McNeely (2013) 569 U.S. 141, 133 S. Ct. 1552; 185 L. Ed. 2d 696.

For more information about blood and breath tests in a DUI case, click on the following articles:
Contact
Greg Hill & Associates