Is a Warrantless Blood Draw Proper If Suspect Fights Police?
When the U.S. Supreme Court issued its ruling in 2013 in
Missouri v. McNeely
, defense attorneys praised the opinion for limiting the power of police to conduct a warrantless blood draw when the suspect does not consent to such a test.
Without All the Details, What Happened? Warrantless Blood Draw Allowed in DUI Case, Despite Missouri v. McNeely, When Suspect Fights Police.

In
McNeely
, the U.S. Supreme Court ruled that law enforcement must secure a search warrant before conducting a forced blood draw, unless exigent circumstances made obtaining such a warrant impossible. For example, there must be an emergency such as a car accident where the police spend several hours working on saving the lives of the involved parties, or when police do not know when defendant had stopped driving. Evidence must be in danger of being lost so police can cut corners. The big ruling in
McNeely
was that the natural dissipation of alcohol in the blood was not a per se exigent circumstance as it had been previously to allow a warrantless search.
Schmerber v. California
(1966) 394 U.S. 757, 86 S.Ct. 1826, 16 L.Ed. 2d 908.
To decide whether a warrantless, non-consensual blood draw in a DUI violates the Fourth Amendment the judge must evaluate the totally of the circumstances. It is a case by case analysis. The defendant in Schmerber was injured in a car accident and could not consent to giving blood.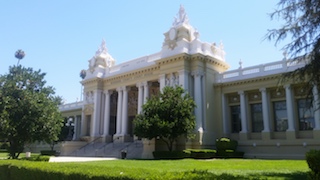 Old Riverside Courthouse
This background is helpful in appreciating the court's ruling in People v. Madou Toure (2015 DJDAR 176). In Toure, there was a traffic accident with injuries about one-third of a mile away from where defendant was arrested. Defendant had blown a tire in the accident and continued driving for about a third of a mile before stopping.
When police found him, he "was combative, requiring the administration of physical restraints, which delayed their [the police's] investigation of the accident and prevented the officers from conducting field sobriety tests, unlike the defendant in McNeely." The appellate court in Toure further noted that defendant refused to provide officers with information, "yelling profanities at them, thereby preventing the officers from determining when he had stopped drinking, also unlike the defendant in McNeely."
It took two hours to subdue defendant and transport him to the CHP station. The court then noted that the closing of branch courts within the County of San Bernardino "impacts the time required to obtain a warrant."
The court of appeal repeatedly mentioned that defendant refused to tell officers when he had his last drink. The court of appeal believed this was very "important" because it is the starting point for determining "if defendant had a BAC above .08%."
It then determined that defendant's refusal to provide this information, his combativeness, the time taken to subdue defendant and his refusal to submit to any field sobriety test created exigent circumstances sufficient to allow a warrantless, nonconsensual blood draw.
We think the Fourth Appellate District went far too far in this case. Our opinion on this ruling starts with the fundamental position that if police believe a suspect is uncooperative, they do not need two hours to conclude this. It takes five to ten minutes. Once police knew that Toure refused to provide information and would not consent to a blood draw or breathe test, police should have radioed to other officers to secure a warrant.
McNeely in fact discusses the new technologies that make securing a warrant easy and quick. In Toure, Toure's counsel argued that the prosecution never showed that police even tried to obtain a warrant telephonically or via e-mail or fax. The appellate court apparently did not think this was relevant.
We further find that the appellate court's reliance upon the closing of several branch courthouses with San Bernardino County to mean securing a warrant would be difficult is speculative at best. After all, how did this increase the time required to obtain a warrant at all? Did it? Did anyone testify at the motion to suppress concerning this issue? The answer is no.
Moreover, when defendant last drank is also a red herring. What is far more important is when Toure last drove and when the accident took place. After all, would any officer have believed Toure anyways if he stated when he last drank since he was so uncooperative? Had he provided this information, would it remove the exigent circumstances? Absolutely not.
The sole reason the forced blood draw was allowed in this case was because the court did not want to reward an uncooperative person for being disrespectful to police. On the other hand, had Toure won his motion to suppress the evidence of his blood sample's alcohol measurement, resisting arrest could be construed as a wise tactic.
The citation for the Fourth Appellate District Court ruling discussed above is People v. Madou Toure (4th App. Dist. 2015) 232 Cal.App.4th 1096.
For more information about the issues in this case, click on the following articles:
Federal Conviction for Refusing to Submit to DUI Test Reversed When Yosemite Park Ranger Gives Wrong Admonition
In 2011 DUI Case Involving Drugs, the Results of a Warrantless Blood Draw Are Admissible if Officer Reasonably Relied on Then-Current Law Later Overruled

Contact us.