In a DUI, May an Officer Rely Upon Old Law to Draw Blood?
For almost 50 years, ever since the case of
Schmerber v. California
(1966) 384 U.S. 757, courts have held that an officer could force a DUI suspect to provide a blood sample. This practice was legal because
Schmerber
held that while the Fourth Amendment right against unreasonable searches and seizures existed, a warrant was not required when an exigency such as the diminution of alcohol in the blood threatened to erase evidence of a crime. Therefore, no warrant was required due to these "special facts."
Main Point: In 2011 DUI Case Involving Drugs, the Results of a Warrantless Blood Draw Are Admissible if Officer Reasonably Relied on Then-Current Law Later Overruled.

Over the years, the ability of police to obtain a search warrant has improved dramatically to the point where an officer on a roadside can often obtain a magistrate's approval to search in minutes. In other words, in most cases, the exigency of a blood alcohol content metabolizing to zero is no longer an exigency due to improved technology. In 2013, in
Missouri v. McNeely
(2013) 569 U.S. 141 [133 S. Ct. 1552], the U.S. Supreme Court recognized this new reality by changing the law in
Schmerber
to require a warrant for a blood draw if the police could reasonably obtain one without significant undermining the efficacy of the search.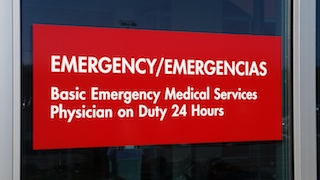 Hospital ER Room
In 2011, two years before McNeely, police officer Jason Olson came to the scene of a serious auto accident in Los Angeles County. When he arrived, emergency personal were loading Alexander Youn into an ambulance. Youn was strapped to a back board. Witnesses indicated that Youn was the party at fault for the car accident.
Officer Olson observed that Youn, despite having his head restrained on the back board, was combative and "actively trying to move his arms, fight with paramedics" and had "rapid, unintelligible speech."
Olson followed Youn to the hospital. Youn was then combative with the hospital staff. Olson was trained as a drug recognition expert and even trained other officers in how to recognize someone under the influence of drugs. He concluded Youn was under the influence of a drug stimulant. He observed the hospital staff give Youn three or four doses of "very potent sedatives," but "defendant was still combative with them."
Olson then placed Youn under arrest and asked a nurse to draw blood from him. The blood draw occurred about three hours after the accident. The results were positive for methamphetamine and cannabis. Youn was released from the hospital a month later.
Two years later, after Youn was charged with felony DUI and after
McNeely
was ruled upon, the Los Angeles Superior Court ruled on Youn's motion to suppress evidence based on
McNeely
. The trial court judge, Judge Catherine Mader, denied the motion. Youn then entered into a plea bargain to DUI causing bodily injury, a felony, and was sentenced to four years in state prison.
Youn appealed the ruling on the motion to suppress to the Second Appellate District. In
People v. Alexander Youn
(2014 DJDAR 12335), the appellate court affirmed the trial court, explaining that in 2011, when the warrantless blood draw took place,
Schmerber
was the law. In
Schmerber
, the court said the totality of the circumstances determined whether a warrantless blood test was permissible. If the delay necessary to obtain a warrant threatened the destruction of evidence, no warrant was required.
Schmerber
,
supra
, 384 U.S. at 770.
After
Schmerber
, "California cases uniformly interpreted
Schmerber
to mean that no exigency beyond the natural evanescence of intoxicants in the blood stream, present in every DUI case, was needed to establish an exception to the warrant requirement."
People v. Harris
(2014) 225 Cal.App. Supp. 1, 5. This was the law that officer Olson relied upon.
Moreover, the trial court noted that Youn was being taken to ICU. At the time, it was not known to Olson if Youn was going to be available for a blood draw. After all, officers don't have access to arrestees in ICU.
Olson's reliance on
Schmerber
, even if wrong now in light of
McNeely
, was reasonable at the time. Therefore, the court found that the "fruits" of his search, the evidence of Youn's blood content with methamphetamine and cannabis present, are not subject to the exclusionary rule.
Davis v. United States
(2011) 564 U.S. 229, 131 S. Ct. 2419, 2423-2424. This is the "good faith" exception to the exclusionary rule.
Therefore, the trial court's denial of the motion to suppress was affirmed.
We think this ruling is significant because most attorneys agree that
McNeely
is retroactive. However, Youn's ruling provides courts a clever way to stop this retroactive application.
The citation for the Second Appellate District Court ruling discussed above is People v. Alexander Youn (2d. App. Dist., 2014) 229 Cal.App.4th 571.
For more information about the issues in this case, click on the following articles:
Good Faith Exception to Officer's Execution of an Improper Search Warrant Does Not Have Similar Application to an Improper Traffic Stop.
Contact us.