Two Public Intoxication Cases, Hermosa Beach, with Priors
Our client, age 40, was arrested twice in Hermosa Beach in two days, both times for public intoxication (Penal Code § 647(f)). It was rather sad.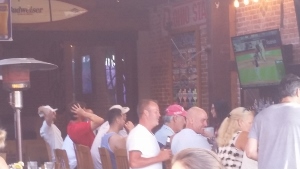 Hermosa Beach Bar


In the first matter, she was found unconscious and lying down in a parking lot in the northern part of Hermosa Beach at almost midnight. It took the police officer who found her almost 30 seconds to wake up our client. She was wearing no shoes and had the strong odor of alcohol. The Hermosa Beach police officer arrested our client for public intoxication, Penal Code § 647(f)), and took our client to the police station to sober up, have a meal and re-hydrate.
In a Nutshell: Client, age 40, arrested twice within 24 hours for public intoxication in Hermosa Beach. Client, a female, had a significant criminal history. First Hermosa Beach arrest followed police finding her passed out in parking lot; second on a home's front lawn. While cases pending, client arrested twice more for same offense and remanded in Northern California. Cases here resolved with county jail concurrent to Northern California sentences, so no additional punishment.

Our client did sober up, ate quite a bit and drank a lot of water, it was reported. She then signed a promise to appear in the Torrance Courthouse in about two months. She was then allowed to walk out of the station.
In the second matter, less than twenty-four hours later, she was found sleeping on the front lawn of a home. The homeowner called the police, who arrived to find our client sleeping. Police woke her up and noticed the strong odor of alcohol. She was covered in dirt and she was wearing her shirt inside-out. She needed the officer's help standing up.
The officer arrested our client for public intoxication again and took her to the police station to once again sober up, have a meal and rehydrate. She was once again asked to sign a promise to appear, but this time, the police did not permit our client to simply walk away on her own.
Instead, they held her for a family member to pick her up. This was our client's mom, who had lost her daughter several days earlier trying to transport her to an alcohol detox center. The client had snuck out of the hotel room while her mom was sleeping.
The mom picked up her daughter and was advised of the two cases upcoming in the Torrance Courthouse.
The mom called the alcohol treatment program and asked if they could still accept her although a few days late. The program agreed to do so. The mom then took her to this residential program.
After dropping off her daughter, she called Greg Hill & Associates and explained the situation. Greg listened as the mom explained the facts and her daughter's criminal history.
Since age 14, alcohol had been a problem for our client. While a juvenile, she suffered thirteen juvenile adjudications, mostly related to or caused by alcohol abuse. As an adult, she suffered four felony convictions, including three felony DUI's with one for vehicular manslaughter while DUI. She also had one conviction for felony evading a police officer.
She also had three misdemeanor DUI's (total of six DUI's), a hit and run (while drunk), willful cruelty to a child (her child), driving on a license suspended pursuant to a DUI (Vehicle Code § 14601.2) and giving false information to a police officer. She also had two other pending public intoxication cases in two other different courts in California.
Greg appeared in court about three weeks later, not knowing that the client had already walked away from the residential alcohol treatment program. Greg negotiated plea bargains wherein the client would earn a dismissal of both cases if she completed the residential treatment program.
However, when Greg contacted the residential treatment program to explain the good news to the client, he found out that the client had not only walked away from the program, but had been arrested twice more and was being held in jail in northern California for a probation violation.
Greg went back to court to explain that the client could not accept the plea bargain, as she had been kicked out of the very expensive treatment program. However, at that time, the judge in northern California had not sentenced our client on a probation violation up there.
Two weeks later, our client was sentenced in Northern California to 365 days in county jail for violating probation on the matter there.
The judge in Torrance asked Greg if his client agreed to plead in the open, which our client did (Greg checked with the client ahead of time on this). The judge sentenced her to 120 days in county jail, to run concurrent with her time in Northern California.
In other words, the client would not be sentenced to any additional sentence at all. She was essentially serving punishment for three cases at once, a "three for one" in effect. She was very happy with this sentence, as was her mom.
For more information about similar issues, please click on the following articles:
Contact us
.