Two DUI Convictions Expunged; Torrance & Airport Courthouse
In 2014, when our client was just 19, he was arrested in Manhattan Beach on suspicion of DUI after police noticed him speeding through a residential area late at night. He had just graduated from high school. He had a 0.16% blood alcohol content, which is high for someone under 21, as it may affect such a younger person more, making his or her driving more impaired than a person, for example who is 40 years old and more accustomed to the effects of alcohol.

Our client was then charged and convicted of DUI, Vehicle Code § 23152(b), in the Torrance Courthouse and placed on three years of informal, or summary probation. He had to enroll in and complete a nine-month alcohol awareness program (AB 1353), pay a court fine of $390 plus penalties and assessments (total was $1,958), enroll in and attend the Mothers Against Drunk Driving (MADD) victim impact panel and attend the Hospital and Morgue (HAM) program. The client used the services of a public defender, not Greg Hill & Associates, in resolving this case.
While attending the AB 1353 program and learning about the dangers of DUI, he picked up a second DUI arrest a year later, at age 20, after he was stopped speeding northbound on Sepulveda Boulevard near LAX. He was allegedly traveling at 85 miles per hour and making unsafe lane changes. His blood alcohol content was measured at 0.13%, not close to the legal limit, which for him was 0.01% because he was under 21 still.
The Airport District Attorney's Office was surprisingly gentle on our client despite what one might expect from such a second-time DUI so close to the first DUI. The public defender and district attorney agreed to resolve the case for our client for three years of informal probation, an obligation that the client enroll in and complete the 18-month DUI program (SB 38), pay a court fine of $450 plus penalties and assessments (total of about $2,175), serve 96 hours in Los Angeles County Jail and perform 40 hours of community service. Our client entered into this plea bargain in 2016.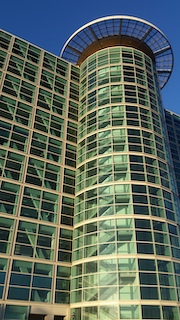 Airport Courthouse
Three years later, in 2019, our client (now age 24) was cited for public urination outside a Hermosa Beach bar and retained Greg Hill & Associates, who resolved the case for an infraction for disturbing the peace (Penal Code § 415(2)). In discussing the client's criminal history, Greg discussed expungement of all three convictions once the client had finished probation on the second-time DUI.

The client was keen to have this take place because he worked in retail and was often anxious he would be terminated due to his criminal history. He had not attended college and was barely making ends meet, so he wanted these dark shadows from his past removed.
Greg did warn him that a judge had discretion to deny expungement on a DUI conviction, but no judge in Southern California had seemed to exercise this power, although it was increasingly common in Northern California.
Greg also explained to the client that expungement did not erase, delete or remove a record of the cases being filed, but changed the last plea back to not guilty and showed the cases as dismissed, rather than ending in a conviction. Greg further explained that expungement allowed the client to legally state in response to an employment questionnaire that he had not been convicted of the crimes wherein he was earlier. This "legal fiction" was the main reason many sought expungement and had certain exceptions, i.e. if one was applying for a job with the government, applying for a state license such as to become a doctor, lawyer or real estate agent, running for public office or seeking to administer the state lottery (i.e. at a liquor store).
The client then retained Greg Hill & Associates to expunge all three convictions. Greg Hill & Associates first sent the client a questionnaire asking the client about ten questions about how having a conviction had affected him in life, not just in work (i.e. limited job duties, delays in promotions or even being terminated), but in renting an apartment, applying for loans or volunteering.

The client answered the questions and then Greg Hill & Associates prepared not only the FL-180 petition for dismissal judicial council form for each expungement request, but also a supplemental memorandum of points and authorities with a signed declaration from our client about why he sought expungement of each DUI conviction. The declaration also included the docket from each case and his resume.
Both petitions for dismissal were then filed in court (one to Torrance; one to Airport court) and served to the assigned prosecuting agency.

In hearings later on each petition, the judge granted the request, which made our client extremely happy.
For more information about expungement, please click on the following articles: