Two DUI Convictions Expunged in Fullerton for Same Client
Our client, age 35 in 2020, contracted Greg Hill & Associates to have two convictions for DUI expunged, both having been suffered at the Fullerton courthouse.
In the first one, in 2007, our client was just 22 years old. She had pled guilty (in Orange County, a no contest plea is not allowed) to a misdemeanor violation of California Vehicle Code §§ 23152(a), also known as DUI driving under the influence of alcohol, 23152(b), also known as driving under the influence of alcohol with a blood alcohol content of 0.08% or higher by weight, and 14601.1, driving on a suspended license. It was her first DUI and her first conviction of any sort in her life.
The terms of the plea bargain were that in exchange for her plea to the three counts above, our client was placed on thirty-six months of summary probation, conditioned upon her completion of the AB762 program, attendance at the MADD (Mothers Against Drunk Driving) VIP (Victim Impact Program) program and payment of $390 plus penalties and assessments in court fines. She completed all requirements and believed she had learned her lesson.
However, in 2013, she was arrested and convicted of DUI again. She had been out with friends to a bar in downtown Fullerton and was arrested as she was driving home. She again pleaded guilty to a violation of Vehicle Code §§ 23152(a) and 23152(b). This time, however, her punishment was more severe, as she had to enroll in and complete an 18-month DUI program called the SB 38 program, pay a court fine of $450, plus penalties and assessments and attend the MADD VIP program again.
This was a low point in her life. More importantly, during her summary probation, our client, resolved never to make the kinds of mistakes that led to the conduct at issue.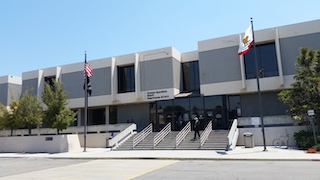 Fullerton Courthouse
She explained to Greg Hill that she currently working for a Fortune 500 Company in Redondo Beach. She attempted to volunteer at animal shelters and food banks, however, her due to her past conviction she was denied. Despite being employed, she was struggling to financially support herself and her dog.
She realized that if began searching for other employment opportunities, potential employers will perform a background check on her and most likely deny her employment based on this conviction. This was having a devastating impact on her professional life.
Nonetheless, she was trying to train for a better future. She was enrolled in classes to become a Patient Care Assistant. However, she understood that employers could still deny her employment after her graduation based on the convictions on her record.
She asked Greg if both convictions could be expunged. Greg said they certainly could be, but explained that expungement does not remove the record of the DUI cases being filed against her. Expungement would change her last plea in each case back to not guilty and show both cases were dismissed, but the record of charges would not be erased, deleted or removed. The big benefit of expungement, Greg explained, was employment related – she could legally answer "No" to any employer question asking if she had been convicted of DUI.
The client then hired Greg Hill & Associates to prepare both petitions for dismissal of each conviction. Our office then prepared the FL-180 judicial counsel form for each case and added a supplemental memorandum with a declaration from the client, explaining her goals in life and ambitions and how expungement would help her.
Our office then filed each petition for dismissal in the Fullerton Superior Court and the court later set hearings on each petition. Greg then appeared in court for each hearing and the judge in each case granted the petitions.
The client was happy with this result, knowing she was now a more competitive candidate for employment once she finished her education to become a Patient Care Assistant, which was going to be in just three months.
For more information about expungement, please click on the following articles: