Trial on a Possession of Marijuana Below 28.5 Grams Case
(This article was written prior to Prop 64, the Adult Use of Marijuana Act, becoming the law in California.) When one goes to trial on a possession of marijuana charge and the weight of the pot is under 28.5 grams, defense counsel should demand a jury instruction that addresses possession for personal use. This is especially so in today's world when many defendants have an easily obtainable "medical marijuana card." Sadly, however, when a person is charged with possession for sales, the "forest gets lost through the trees" – even for a judge.
Condensed Version: Trial on a Possession of a Controlled Substance, When the Substance is Marijuana and Below 28.5 Grams, Need Not Be Tricky.

The case of Leelan Walker epitomized this situation. A Los Angeles County Sheriff sergeant saw Mr. Walker parked in a motel parking lot known for loitering, prostitution and drug sales. There was a woman standing next to the car, talking to Mr. Walker. The officer approached and asked Walker to step outside the vehicle, which he did. The officer asked if he had anything in his pockets. Walker then pulled out $249 in a $100 bill, three $20 bills, four $10 bills, seven $5 bills and 14 $1 bills.
Walker also showed the officer his medical marijuana card.
The officer then asked to search the car and found a thermos bottle in the center console. Opening up the bottle, he found eleven plastic baggies, two of which contained 7.13 grams of marijuana and nine smaller baggies with a total of 16.1 grams of marijuana as well. Walker explained that the pot was all for his personal use.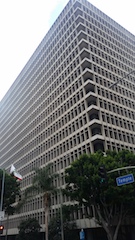 Clara Shortridge Foltz Criminal Courts Building CCB Los Angeles
The police officer then arrested Walker for possession of marijuana for sales.
The case went to trial. The officer who arrested him testified that in his experience, the amount and the various denominations of money were consistent with street-level marijuana transactions. He also testified that someone having marijuana for personal use would more likely keep it in a single container rather than repackage it in small amounts.
As the reader of this case summary may be aware, and as our office had observed over time, it is quite common for those who use marijuana over time to also sell it to fund their use.
After all evidence was presented at trial, the judge and attorneys for both sides conferred about jury instructions. This is when it got critical for Walker. When the three went back on the record (this means the court reporter was typing everything down), the judge agreed that possession of marijuana is a lesser included offense of possession for sale, but stated it would not instruct the jury on the lesser offense because simple possession of less than 28.5 grams of marijuana is merely an infraction, and "it wouldn't be proper" to try an infraction to a jury.
The judge also stated that Walker's medical marijuana defense would not merit a jury instruction because the defense only applies to simple possession, not possession for sale. The judge stated that if the jury found Walker not guilty of possession for sale, the lesser included offense of simple possession would be retried to the court, which could then consider defendant's medical marijuana defense.
The jury then found Walker guilty of possession of a controlled substance for sales and he was sentenced to two years, plus four one-year prison-prior enhancements, for a total of six years.
Walker appealed the conviction, arguing that the judge made an error in its refusal to allow jury instructions for the lesser included offense of possession. The appeal went to the Second Appellate District, which agreed with Walker in its ruling
People v. Leelan D. Walker
(2015 DJDAR 5761).
The appellate court first cited to
People v. Valdez
(2004) 32 Cal. 4th 73, 115, which obligates a trial court to give jury instructions on any lesser included offense when the evidence raises a question as to whether all elements of the charged offense were present. This right to instructions on lesser included offenses is "grounded on principles of fundamental fairness"
People v. Geiger
(1984) 35 Cal. 3d, 510,518.
This requirement to instruct on a lesser included offense or offenses applies even when as a matter of trial tactics a defendant fails to request the instruction or even objects to it being given.
People v. Banks
(2004) 59 Cal. 4th 1113, 1159-1160.
Mr. Walker's conviction was therefore reversed and the sentence vacated. The case was remanded back to the trial court for further proceedings.

The citation for the Second Appellate District Court ruling discussed above is People v. Leelen D. Walker (2d App. Dist., 2015) 237 Cal.App.4th 111.

For more information about the issues in this article, click on the following articles:
Contact us.