Are Honey Oil & Dabs Covered by Compassionate Use Act (CUA)?
Ever since Prop 215, the Compassionate Use Act of 1996 ("the Act"), came into effect twenty-four years ago, it has been generally accepted by judges, prosecutors and even most defense attorneys that concentrated cannabis is not included in the definition of marijuana under the Act. This is because the terms "marijuana" and "concentrated cannabis" are defined separately and punished separately. Marijuana is defined under the Act and concentrated cannabis is not, hence the understanding that the latter is not protected. This case summary was presented prior to the passage of Prop 64, the Adult Use of Marijuana Act.
In a Nutshell: Honey Oil and Dabs Found Covered by the Medical Marijuana Compassionate Use Act (CUA), but do not Celebrate Yet.

However, some defense attorneys have never given up on the hope that this could change based on several reasons, the most common being that a 2003 Attorney General's opinion would broaden the definition of marijuana. This 2003 opinion, at 86 Ops. Cal. Atty. Gen. 180, states that marijuana can take several forms, in concentrated forms such as "honey oil" and "dabs."
This background is relevant toward understanding the case of Sean Patrick Mulcrevy and how the Third Appellate Court appears to have opened the door toward someday making medical marijuana certificates applicable to honey oil and dubs.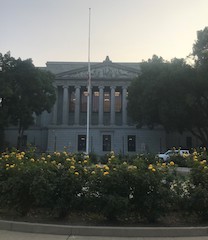 Court of Appeal Third Appellate District Sacramento
In 2011, Mr. Mulcrevy pleaded no contest to a violation of Penal Code § 417(a)(12) ("unlawful exhibition of a firearm") and Penal Code § 487(a) ("grand theft"). The judge placed Mulcrevy on thirty-six months of formal probation. As a condition of probation, he was ordered to "obey all laws" and "not to use or possess any controlled substance, including marijuana, unless you [Mulcrevy] have a licensed prescription for the marijuana and it is approved by the court."
About two years later, Mulcrevy was charged with unlawful possession of concentrated cannabis (Health and Safety Code § 11357(a)). This possession was also alleged to be a probation violation insofar as he did not "obey all laws."
In response, Mulcrevy asked to go to trial and sought judicial notice of the 2003 Attorney General opinion described above. If a judge takes judicial notice of a document, this means that the judge recognizes it as accurate, reliable and admissible for consideration by a judge or jury.
The trial judge denied Mulcrevy's request, which if granted would have permitted him to argue he had not violated probation because his use of honey oil and dabs would have been protected by the Compassionate Use Act.
After the trial judge denied the request for judicial notice, he found Mulcrevy had violated his probation. The trial judge found further that even if the Compassionate Use Act did apply to concentrated cannabis, Mulcrevy did not have a valid medical marijuana recommendation anyways. The judge then extended probation for 24 months on the same terms and conditions.
Mr. Mulcrevy appealed the trial court's ruling as to his request for judicial notice. His appeal was filed in the Third Appellate District because his underlying case arose in El Dorado County.
His appeal argued that his due process rights were violated by being prevented from presenting a complete defense.
California v. Trombetta
(1984) 467 U.S. 479, 485, 81 L.Ed. 2d 413,419. This argument, the reader should recognize, does not address the ultimate issue of whether the Compassionate Use Act and whether Mulcrevy's medical marijuana "recommendation" made his honey oil and dabs legal. His appeal only argued that he was entitled to a complete defense as a fundamental due process right.
The Court of Appeal agreed. It found that "[c]oncentrated cannabis is covered by the CUA (the "Compassionate Use Act") and there is insufficient evidence defendant violated his probation." The opinion can be read at 2015 DJDAR 612.
The appellate court reasoned that Prop 215 (Health and Safety Code § 11362.5), also called the CUA, was intended to "ensure that seriously ill Californians have the right to obtain and use marijuana for medical purposes." Toward that end, the CUA states that Health and Safety Code § 11357 "shall not apply to a patient . . . who possesses or cultivates marijuana for personal medical purposes upon the written or oral recommendation or approval of a physician." The CUA does not define marijuana as distinguishable from, or not including, concentrated cannabis.
At the time the CUA was enacted in 1996, Health and Safety Code § 11018 defined marijuana as "all parts of the plant . . . the resin included . . . and every compound, manufacture, salt, derivative, mixture, or preparation of the plant, its seeds or resin." Therefore, the court concluded that the legislature's intent, in passing the CUA at the time, was to broadly define marijuana so as to include honey oil and dabs, which are the resin of the plant.
In short, the appellate court made a significant opinion for anyone who has a recommendation for medical marijuana and who is found in possession of honey oil or dabs. Such a recommendation now appears to cover such substances, which some may find very good.
The citation for the Third Appellate District Court ruling discussed above is People v. Sean Patrick Mulcrevy (3rd App. Dist., 2014) 233 Cal.App.4th 127.

For more information about the issues in this case, click on the following articles:
Contact us.