Medical Marijuana Certificate a Defense to Pot Sales?
The California Supreme Court recently decided a case with facts that are common in medical marijuana possession for sales cases: someone legally obtains marijuana and is found with evidence that suggests sales.
The Point of This Article: Before Prop 64 was passed, having a medical marijuana certificate allowing possession of marijuana was not a defense to a possession for sales case, especially when the suspect had more marijuana than his certificate allowed.

On Saturday afternoon, November 29, 2008, police officers stopped Lewis Marcus Dowl for playing loud music in his car.
Officers approached the car and smelled marijuana. Thy asked him if he had been smoking marijuana. Dowl said he had, but added that he had a medical marijuana certificate. Offices asked if they could search the car and Dowl agreed.
A search revealed $21 in cash, a WD-40 can with a hidden compartment containing marijuana residue, over two ounces of marijuana divided into ten bags of three grams each and three bags with 6.5 grams each. Dowl was also wearing a large belt buckle that said "CASH ONLY." There were no pay-owe sheets found.
CA Supreme Court San Francisco
Police arrested Dowl and charged him with felony violations of Health and Safety Code §§ 11360 (a) (unlawful transportation of marijuana) and 11359 (unlawful possession of marijuana for purpose of sale).
The case proceeded to trial. One of the arresting officers testified that in his expert opinion, Dowl possessed the marijuana for sale. He based his opinion on the packaging of the marijuana and where it was found in the driver's door compartment. He also testified about the "CASH ONLY" belt buckle, there were no pay-owe sheets found (meaning only cash was accepted) and the fact that defendant had a prior record for sales of marijuana. He also said that Dowl's possession of a medical marijuana identification card did not affect his opinion.
Dowl's defense was that he possessed the marijuana legally for purposes of medical treatment for a shoulder injury. He said he separated the marijuana into small bags for his daily use.
The jury convicted Dowl and the Kern County judge hearing the case sentenced him to three years in state prison.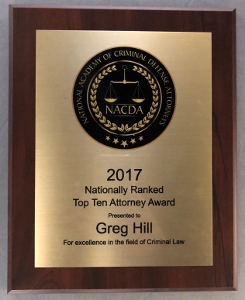 On appeal, Dowl argued that the evidence was insufficient to establish he possessed the marijuana for purposes of sales. He relied on two cases,
People v. Hunt
(1971) 4 Cal. 3d 231 and
People v. Chakos
(2007) 158 Cal. App. 4th 357.
In
Hunt
, a conviction for possession of methedrine for sales was reversed. One of the grounds was insufficient evidence that an officer's opinion about the items found (quantity, packaging, normal use, i.e.) established sales of methedrine. The court in
Hunt
, however, found this because methedrine is an uncommon illegal drug and the officer did not establish sufficient experience with seeing sales of methedrine. The court even went so far as to say that in cases involving marijuana and heroin, an officer's experience and observations about the items found is sufficient to establish sales, but not so for methedrine.
In
Chakos
, the court held that if someone has a marijuana certificate, a conviction for sales is only proper if the testimony concerning sales is based on sufficient experience with the indicia of sales. In
Chakos
, the officer did not have sufficient experience and the conviction was reversed.
Turning to the facts of Dowl's case, the Court of Appeal affirmed the conviction, finding that the testifying officer had sufficient experience to testify that Dowl possessed the marijuana for, or with intent to perform, sales.
Dowl then appealed to the California Supreme Court, but the Supreme Court affirmed the two lower courts, pointing out in addition that Dowl never objected to the qualifications of the testifying officer at trial. This meant that Dowl failed to preserve this issue or ground for appeal.
The citation for the California Supreme Court ruling discussed above is People v. Lewis Marcus Dowl (2013) 57 Cal.4th 1079.
For more information about sales of controlled substances, click on the following articles:
Convictions Overturned for Possession and Sales of Ecstasy When Based Only on Inference That Its Chemical Name Is an Illegal Controlled Substance
Suspected Ecstasy Drug Trafficker Successfully Challenge Search of His House Based on Faulty Search Warrant Affidavit
Contact
Greg Hill & Associates