Trial Court Judge Can Decide if Parole or PRCS Proper.
Why This Article Matters: In the following case, a registered sex offender appealed his assignment to parole, rather than PRCS. His appeal was to the CDCR, which agreed with him that his Static 99R score was wrong, and the offender then took this to the trial court to consider in dismissing a Department of Adult Parole Operations (DAPO) petition to revoke parole. The trial court considered this, dismissing the petition and transferred him to PRCS instead.

The following summary of a February 2020 reported decision reads like the facts we often hear from callers who are registered sex offenders seeking a new Static 99R evaluation because a new probation or parole officer imposes unexpected new restrictions.
On January 17, 2018, Raheen Johnson was convicted in San Diego Superior Court of possessing child pornography (Penal Code § 311.11(a)) and was sentenced to sixteen months in state prison.
About six months later, on July 25, 2018, he was released from prison to parole supervision with a parole discharge date of July 24, 2021. Because of his conviction for violating Penal Code § 311.11(a), he was required to register as a sex offender under Penal Code § 290(c). Due to this, he was required to wear a GPS monitoring device during parole under Penal Code §§ 3008(a) and 3010.10.
About one week after he began parole, the Division of Adult Parole Operations (DAPO) filed a petition to revoke Johnson's parole, alleging Johnson violated the terms of parole by (1) violating his curfew; (2) entering a private residential property without approval of his parole officer; (3) entering or loitering within 250 feet of the perimeter where children congregate; and (4) failing to properly charge his GPS device. He was arrested for these violations two days after his parole started. Johnson then admitted his violations and was sentenced to 90 days in county jail. He was released from jail after about one month later on September 10, 2018.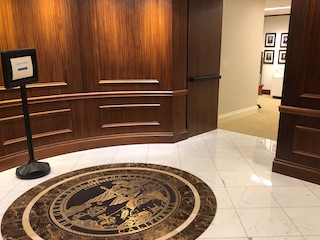 Fourth Appellate District Court of Appeals Division 1 San Diego
A week and one day after Johnson was released from jail, DAPO filed a second petition to revoke Johnson's parole. DAPO recommended that the trial court return Johnson to custody for the maximum permitted period of 180 days.
Johnson responded to the petition by demanding an evidentiary hearing and requested that his parole officer be present at this hearing regarding his Static-99R score. On June 21, 2018, prior to Johnson's release from prison, the CDCR evaluated Johnson using the Static-99R and assigned him a score of 4, which classified him as a high-risk sex offender. As a result, he was placed on parole.
Johnson also filed a motion to dismiss the DAPO petition to revoke parole. In the motion, Johnson asserted that he should have been placed on PRCS (Postrelease Community Supervision) instead of parole and should have been instead supervised by the county probation department.
In the course of representing Johnson on the second petition to revoke parole, counsel for Johnson received the records of Johnson's Static-99R test and concluded that the CDCR has assigned Johnson an incorrect score.
On behalf of Johnson, counsel sent an appeal to the CDCR on the required form by mailing it to the CDCR. In a second level review, the CDCR partially granted and partially denied the appeal in a decision dated October 2, 2018. The CDCR determined that based on subsequently obtained information about Johnson's criminal history – showing no prior sex offense charges – Johnson's score on the Static-99R should have been a two, which meant he was not a high risk sex offender required to be released to parole supervision rather than PRCS.
However, despite CDCR's acknowledgement that Johnson was not a high risk sex offender, CDCR concluded that Johnson was required to remain on parole supervision, rather than being transferred to PRCS, because he had already served more than 60 days on parole supervision, as stated under Penal Code § 3000.08(l).
The trial court ruling on the motion to dismiss granted the relief sought by Johnson. It rejected the People's argument that it lacked authority to grant relief, finding that since Penal Code § 3000.08 gave jurisdiction to trial courts to hear petitions to revoke parole, the court had the authority to hear a motion to dismiss the petition on the ground that DAPO lacked jurisdiction over the parolee.
Having found that it had the authority to consider the matter, the trial court then turned to the merits of Johnson's motion and found that he could be transferred from parole to PRCS, ordering this and dismissing the DAPO's petition to revoke parole.
The District Attorney then filed an appeal of this ruling at the Fourth Appellate District Court of Appeal, which affirmed the trial court and denied the appeal.
The citation for the Fourth Appellate District Court ruling discussed above is People v. Raheen Johnson (4th App. Dist., 2020) 45 Cal. App. 5th 379, 258 Cal. Rptr. 3d 639.


For more information about post-release community supervision, parole and probation, please click on the following articles: