Is a Two-Tiered Parole Consideration Valid?
Summary in 50 Words or Less: A "two-tiered" parole consideration system is improper, as the following case explains in describing the unlawful practices of the CDCR in implementing Prop 57's provisions for early parole consideration for non-violent offenders upon completion of full term of their primary offense.

As the reader of this article may know quite well, Proposition 57, also called the Public Safety and Rehabilitation Act of 2016, added section 32 to Article 1 of the California Constitution, stating, "Any person convicted of a nonviolent felony offense and sentenced to state prison shall be eligible for parole consideration after completing the full term for his or her primary offense." Art. 1, § 32(a)(1), Cal. Const.
Since that time, the California Department of Corrections and Rehabilitation (CDCR) has implemented its own regulations to effectuate this provision of Prop 57, but many such regulations have been struck down by the courts as violating Government Code § 11342.2 as being inconsistent with the enabling statute (Prop 57).
For example, the Second Appellate District, Division 5, in Downtown Los Angeles struck down a CDCR regulation that excluded nonviolent third strike offenders sentenced to indeterminate terms from early parole consideration under Prop 57. In re Edwards (2018) 26 Cal.App.5th 1181.

The Second Appellate District also struck down a CDCR regulation that excluded 290 registrants from early consideration when they were serving a sentence for a nonviolent felony. The court did not agree with the CDCR's argument that such registrable inmates pose an unreasonable risk to public safety and therefore, no early parole hearing would be allowed to such inmates. In re Gadlin (2019) 31 Cal.App.5th 784.
Now there is a third such case, the First Appellate District finds in In re Tijue Adolphus McGhee (2019 DJDAR 3640). McGhee entered into a plea bargain in 2012 for four years in state prison for violating Penal Code §§ 459 and 460 in committing first-degree burglary, plus a five-year enhancement for having a prior serious felony under Penal Code § 667(a)(1).
After Prop 57 was passed in 2016, McGhee was eligible for early parole consideration in 2016, but the CDCR ruled that he was ineligible before even granting him a hearing. The CDCR employed an eight-prong early criteria test, finding that McGhee violated two of its criteria because he had served a Security Housing Term for a serious offense committed in prison (he had an inmate-manufactured weapon). He also was found guilty of a serious rule violation in prison, also for having a weapon in prison.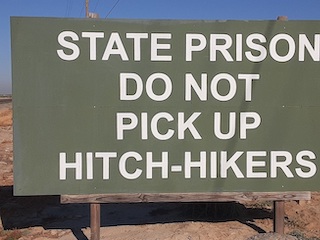 Prison Photo
McGhee then filed an administrative appeal challenging the department's decision not to refer him to the parole board. His argument was simple: the CDCR's two-tiered parole eligibility regulations prevented an otherwise eligible person for early parole consideration from being considered for early parole. The state constitution, at section 32(a)(1), says an inmate is eligible for consideration of parole when he or she "completes the full term for his or her primary offense." There is no other requirement before one is eligible for consideration.
The First Appellate District Court of Appeal agreed with McGhee. While it agreed that the parole board might consider whether an inmate had a record of discipline while in custody or whether the person is a sex offender, or whether the person is a third-strike offender, the CDCR may not make that consideration for the parole board before the inmate even has his or her early parole board as Prop 57 provides.
In other words, the CDCR's attempt to screen out inmates for being granted early parole is invalid. The appellate court strongly rejected the CDCR's argument that public safety mandated that it screen out otherwise eligible candidates for early parole consideration before they are even considered by the parole board.
The First Appellate District Court of Appeal then ruled that the CDCR shall refer McGhee to the board of parole consideration within 60 days and that the department thereafter repeal those portions of its regulations that included eight criteria for its consideration before referring an inmate to the board of parole.
The court of appeal acknowledged that indeed, someone like McGhee, with his record in prison of having a hand-made weapon may be rejected for early parole, but under Prop 57, he was eligible for consideration. The parole board may deny him early parole, but that is its decision to make, not the CDCR.
We appreciate this ruling, as it reminds us that the CDCR is often overly aggressive in its regulations, as the court pointed out here. We think the CDCR should follow the state constitution just like everyone else must.
The citation for the First Appellate District Court ruling discussed above is In re Tijue Adolphus McGhee (1st App. Dist., 2019) 34 Cal.App.5th 902.

For more information about Prop 57 and early parole consideration, please click on the following articles:
Contact us.