Torrance, Vandalism at Bar, Plea to Program & Probation
Our client, age 24 and on probation in two separate matters, went to a Torrance billiards hall to drink some beer and play some pool. At some point in the evening, he got into an argument with the bar manager and decided to express this in an etching on the wall of the bathroom stall in the bar.
Summary: Torrance Courthouse, client on probation vandalizes bar, fights with patrons, resists arrest, found in possession of cocaine, case resolved for inpatient treatment program and formal probation.

As our client was writing on the wall of the bathroom stall, he made a lot of noise and another person using the bathroom heard him. That person notified the manager, who went to the bathroom to investigate.
A fight ensued in the bathroom and the bathroom sink was broken from the wall. Police were called and arrived quickly. Our client learned that police were en-route, so he ran out from the bar and jumped into his car. Within seconds police pulled into the same parking lot and our client sped away.
Police followed. Our client exited onto Hawthorne Boulevard and drove just over a block before turning onto a side street, where he crashed into a light pole. Officers tried to subdue our client, but he fought with them even after he was taken to the ground.

In checking our client's pockets, they found a baggie of cocaine and over $1,300 in cash. Our client was also drunk. The client was bailed out immediately by his mom.
The very next day, the client retained Greg Hill & Associates. Greg went to the Torrance Police Station to demand the report and speak to the handling detective about our client's driving being defensible as an act of necessity and duress because he was trying to escape being beaten up. Greg also described how the bar manager started the fight in the bathroom.
Greg's visit to the police station seemed to work, as the client was not charged with DUI or battery to the bar patrons or manager. However, the client was charged with felony vandalism (Penal Code § 594(a)), felony possession of a controlled substance (Health and Safety Code § 11550(a)) for the cocaine and misdemeanor resisting arrest (Penal Code § 148(a)(1).
Greg then appeared in the Torrance Superior Court with the client at his arraignment. Luckily, the District Attorney seemed to understand that our client would probably be hammered in probation violation hearings in other courts, so she did not insist upon severe punishment.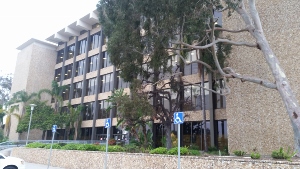 Torrance Superior Courthouse
Greg explained how our client's many legal troubles came from abuse of alcohol and drugs, so he suggested an in-patient treatment program in a San Pedro facility. It took several court appearances to convince the District Attorney that this was the most fitting solution to our client's many legal problems, but in the end, the prosecutor did agree to Greg's suggestion.
Our client faced a maximum of 12 years in state prison for his evening of fun. Instead, he agreed to a plea bargain to plea no contest to felony vandalism and possession of a controlled substance and was placed in a six month residential drug and treatment program in San Pedro.
The client stated he was "eternally grateful" for avoiding prison.
For more information about resisting arrest, vandalism and Prop 47, click on the following articles:
Contact us.