Torrance, Sexual Battery (Penal Code § 243.4(e)(1)), No 290
Our client, age 35, was at a local Torrance bar with friends, having a few drinks on a Saturday evening. He was enjoying himself and when a friend asked him if he'd like to join them at a party nearby in apartment complex off Anza Boulevard, he eagerly agreed.
Our client admittedly was extremely drunk, so drunk that when his friends got to the nearby party, our client somehow wandered away to another apartment complex nearby, worried about finding his friends so he could have a ride home later.
About This Summary Briefly: Very drunk client allegedly grabs at woman's buttocks, arrested and charged with misdemeanor sexual battery, which required registration as sex offender for life under Penal Code § 290; case negotiated in way to allow him to earn a resolution without registration, Torrance.

He went up to the complex entrance, but it was locked, so he decided to wait near the entry/exit doors for someone else to enter or leave. He then planned on entering with such an opportunity.
A few minutes later, according to the police report, as woman came to the locked doors to let in her teenage son and also let in our client. According to the woman, our client then grabbed the woman's buttocks and said to her, "Are you ready for me tonight?" and then made gestures as if touching her other private areas.
This alarmed the woman so much that she called 911, describing our client as having blond hair and being rather fat, as well as having a shaved head. Police arrived and she pointed out our client, sitting nearby, resting against a wall.
The police arrested our client, but he had black hair, a full beard, a full head of hair and was a slim 170 pounds. Nonetheless, our client was hauled into the Torrance Police Station.
This was extremely traumatic for anyone, but particularly so for our client, as he had a steady job in the local area and was horrified what a conviction for misdemeanor sexual battery would mean for his future.
The client was released after posting bail and called Greg Hill & Associates immediately. He confessed that he was so drunk that he did not know if he did touch any woman, but that he had no memory of most of the evening.
Greg explained the defenses to a charge of sexual battery, Penal Code § 243.4(e)(1), and battery (Penal Code § 242), which is what he was arrested for. Both were misdemeanors. Greg also explained that the important thing in this case would have to be avoiding the lifetime registration requirements as a sexual offender under Penal Code § 290, which is part of the punishment for Penal Code § 243.4(e)(1).
The police report and the dispatch tape transcript suggested that the case may have been a case of mistaken identity, as our client's mugshot even contradicted the 911 tape. So Greg filed a motion for a lineup, also called an
Evans
motion.
Evans v. Superior Court
(1974) 11 Cal.3d 617, 625, 114 Cal.Rptr. 121.
The motion caused the prosecutor to look more closely at the problems of proof in the case and to meet with her supervisor and even his supervisor about the case. What troubled her was not only the identification issue, but that our client had two prior convictions for alcohol-related convictions (public intoxication and urinating in public) and was facing a pending DUI.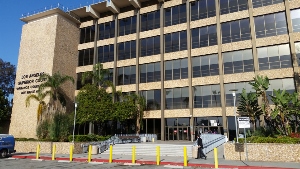 Torrance Courthouse
After several continued pre-trials where the Torrance City Prosecutor asked for more time to think about how to resolve the case, a plea bargain was offered that allowed our client to avoid the lifetime requirement to report to local police annually as a registered sex offender: the client would first plead "no contest" to both the 243.4(e)(1) and the 242 charge, but sentencing would be delayed for eighteen months to allow him to attend 52 (one per week) sexual deviancy classes, as well as three Alcoholics Anonymous (AA) meetings per week and perform 30 days of community service.
After eighteen months, if he completed all such tasks, he would be allowed to withdraw his plea to the 243.4(e)(1) charge and be sentenced on just the misdemeanor battery charge. He would then start three years of summary probation with a requirement that he attend one AA meeting per week for three years.
The client was happy to receive such an offer, no doubt triggered by the identification issues and motion for a line-up. He did not want to be a sixty-eight-year-old man reporting annually to the local police to confirm his residence, as would otherwise be required if he was required to register for life as a sex offender under Penal Code § 290.
For more information about being a registered sex offender, please click on the following articles:
Judge May Properly Restrict Sex Offender's Internet Use Because Defendant Failed to Object to This at Trial
Contact us.