Torrance Public Intoxication, Gun, Plea to Penal Code 415
Our client, age 30, was at a party with his wife and a few friends in Torrance. He and his wife had come to Southern California for a family event and were staying in a nearby hotel. At some point in the evening, he and his wife got into an argument and our client decided to take a walk to let off the steam.
After about 20 minutes of him being gone, our client's wife called 911 to report that her husband was extremely drunk and may have left in his car with his loaded firearm. The comment about the loaded firearm caused four Torrance police car units to arrive at the hotel and search for our client within an apartment complex along Pacific Coast Highway near the intersection with Anza Boulevard, fearing the worst.
A police officer found our client walking around the apartment complex, allegedly stumbling quite a bit and apparently quite obviously intoxicated. Police asked him if he had been drinking and he stated he indeed had, adding that he knew he was in no condition to drive. This attempt at showing he was no danger to others did not seem to placate the police, as they asked him about having a firearm.

Our client explained that the gun was in his car back at the hotel parking lot and police immediately left to investigate the gun. Police then found the white Subaru and entered it, searching to find the gun.
In rummaging through our client's car, they found the car keys and using one of the keys on the key ring, opened up the locked glove compartment, where they found the weapon, an unloaded Ruger 9-millimeter handgun.
Police then arrested our client on suspicion of public intoxication (Penal Code § 647(f)), a misdemeanor, and possession of an unsecured firearm in an unlocked vehicle (Penal Code § 25140(a)), an infraction. Penal Code § 25140(a) obligates the owner of a firearm, when leaving the firearm in an unattended car, to store it in the locked trunk, a secured and locked container out of plain view or in a locked compartment permanently affixed to the car's interior (the glovebox or a locked center console).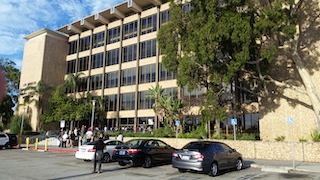 Torrance Courthouse
The client was then taken to the Torrance Police Station, where he was booked and held for a few hours to "dry out" before he was released upon signing a promise to appear in the Torrance Courthouse about six weeks later.
The client returned home to Northern California and a few weeks later, called Greg Hill & Associates. He spoke with Greg Hill and explained what had happened. He described how the gun (registered to him and unloaded) was locked in the glove compartment, but police had used the keys to open the glove compartment. He asked if this was a Fourth Amendment violation and Greg explained that an exigency (the danger of a firearm) might have justified the warrantless search since the wife had described to police that our client was drunk, had a gun and the two had been arguing.
Greg then recommended that to posture the case toward dismissal, diversion or a reduction in charges, it would be helpful if the client attended ten Alcoholics Anonymous (AA) meetings prior to the arraignment and that he ought to take an online gun safety course, often offered through local gun dealerships.

As our client had a prior conviction for misdemeanor DUI from almost ten years earlier, he asked if that would affect the resolution of the case. Greg said he did not think it would.
The client followed Greg's suggestion and attended both ten AA meetings and an online gun safety course offered by Valley Defense Consulting.
Greg then attended the arraignment on the client's behalf while he stayed at work in Northern California. At first, there was no offer because the supervising Torrance City Prosecutor needed to approve of any plea bargain offered due to the gun issue.
Over three court hearings, however, Greg was able to negotiate a resolution for misdemeanor disturbing the peace (Penal Code § 415(2)), with just one year of informal probation and a court fine of $100. The public intoxication charge and the gun charge were dismissed.
The client was happy with the resolution, as he did not want a second alcohol-related conviction and certainly did not want any gun-related conviction on his record.

For more information about public intoxicaito issues, please click on the following articles: