Is Alcoholics Anonymous Objectionable on Religious Grounds?
Many judges will require that as a condition of "own recognizance" (OR) release that defendant attend one or more Alcoholics Anonymous (AA) meetings per week. Similarly, many prosecutors will condition plea bargains, for example in a public intoxication matter, that defendant attend AA meetings. If the defendant rejects the offer and opts instead to plead in the open, the judge will then sentence the defendant to probation on condition that he or she attend AA meetings.
Summary in 35 Words or Less: One can object to attending Alcoholics Anonymous (AA) on religious grounds, but before doing so, be prepared to suggest an alternative, but similar program concerning alcohol avoidance that defendant consents to attending.

Such an order from a judge is indeed objectionable as a violation of the Establishment and Free Exercise Clauses of the First Amendment of the United States Constitution. Indeed, AA and Narcotics Anonymous (NA) meetings are based upon a faith-based concept of a "higher power" than oneself.
O'Connor v. California
(C.D. Cal. 1994) 855 F. Supp. 303, 307.
Consequently, a court order that one participate in AA or NA is coercive because if one were to violate the judge's order, he or she could be sentenced to jail or prison, a significant deprivation of freedom.
Is there any reported decision that directly states this? The answer is no, but
Inouye v. Kemna
(9th Cir., 2007) 504 F.3d 705 comes close. It is a case out of Hawaii wherein a Budhist parolee, Ricky K. Inouye, alleged a First Amendment violation by his parole officer in requiring he attend NA meetings as a condition of parole. Inouye, a methamphetamine addict, was not offered any alternative program to attend that was not faith-based, as are NA meetings.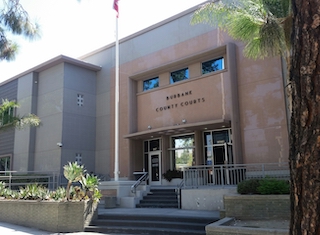 Burbank Courthouse
The parole officer's name was Michael Kemna. The federal district court hearing the case at first sustained Kemna's motion for summary judgment on grounds that Kemna enjoyed qualified immunity from suit because he was a government employee.
On appeal to the Ninth Circuit, the Ninth Circuit reversed, finding that Inouye was right. There was a constitutional violation on First Amendment grounds. To find this, the Ninth Circuit also necessarily had to find that Kemna did not enjoy qualified immunity from suit.
This article will not discuss the law about the qualified immunity that a government employee may have. Instead, it will focus on what the Ninth Circuit said about the government punishing someone for non-attendance or attendance at religious functions.
The U.S. Supreme Court, Justice Hugo Black writing in
Everson v. Board of Education of Ewing Township
(1947) 330 U.S. 1, 15-16, 67 S.Ct. 504, 91 L.Ed. 711, said the Establishment Clause provides that "[n]either a state nor the Federal Government . . . can force nor influence a person to go or to remain away from church against his will or force him to profess a belief or disbelief in any religion. No person can be punished for entertaining or professing religious beliefs or disbeliefs, for church attendance or non-attendance." It is a Hobson's choice, particularly for probationers, those on bail or parolees who face custody for non-compliance.
The Second and Seventh Circuits (California is in the Ninth Circuit) have found that compelling prisoners and probationers to participate in AA and NA under similar circumstances as Inouye experienced, was unconstitutionally coercive. See
Warner v. Orange County Dept. of Probation
(2nd Cir. 1997) 115 F.3d 1068 and
Kerr v. Farrey
(7th Cir. 1996) 95 F.3d 472.
Most people are unaware of this constitutional violation and are simply relieved to avoid jail or prison (or higher bail), so they accept the judge's order. Moreover, AA and NA meetings are free and plentiful. When the defendant does object on religious grounds to such an order, the judge is likely to suggest that defendant enroll oneself in a similar alcohol or drug treatment program that is not faith-based, but which may not be free and certainly is not as convenient as AA or NA.
Consequently, our suggestion to anyone planning on objecting to AA's or NA's a condition of OR, probation or parole is to find an alternate, but similar program that is not faith-based.
For more information about bail, please click on the following articles:
Contact us
.