Torrance, Client Age 69, Convicted of Dry Reckless, Expunged
When our client was 67, he underwent a CAT scan for cancer in Downtown Los Angeles. As part of the procedure, to make it less uncomfortable, the doctor administered a small amount of a substance with Lorazepam to our client.
After the CAT scan was over, our client had to wait at the clinic for the effects of the Lorazepam to dissipate before it was safe for him to drive himself home.
Our client finally left Downtown Los Angeles a few hours later, feeling fine. As he drove back to his home in Redondo Beach, he starting feeling sleepy. He attributed the strange feeling to the extreme heat that day, as the temperature even in Torrance was in the mid-80's.
Another driver noticed our client was weaving quite a bit as he drove south on Hawthorne Boulevard. She called 911 to report what she believed was a drunk driver. The 911 operator then dispatched a police officer from the Torrance Police Station to intercept our client on southbound Hawthorne Boulevard.
As our client continued south on Hawthorne, a police officer looking for our client spotted our client due to the 911 caller's description. The police officer then initiated a traffic stop and our client attempted to pull his car over to the right side of the road.
While doing so, he apparently passed out and his car ricocheted off the right curb (west side of Hawthorne), moving left across all four lanes of southbound Hawthorne. The car then continued over the center divider and into northbound lanes, before crossing all four northbound lanes and crashing into a car tire dealership on the east side of Hawthorne. The crash awoke our client and he got out of his car, quite surprised.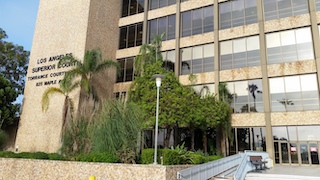 Torrance Courthouse
Police assumed he was impaired by alcohol and marched him through a series of field sobriety tests, which he failed more because of his old age and having been in a jarring car accident than because of any alcohol he may have drank. Police were convinced he was DUI, but then they administered a preliminary alcohol screening (PAS) test and his breath was measured at 0.00% blood alcohol content.
Frustrated at this, police then took our client for a blood test for drugs.
The first blood test came back negative for any drugs, but the police then tested it again and it came back positive for Lorazepam, but the quantity or concentration was not measured, so it was unknown if the amount caused him to pass out. The half-life of Lorazepam is twelve hours, so a measurable quantity was still detected.
The client then retained our office and we were able to get the DUI for driving under alcohol and drugs (Vehicle Code § 23152(f) dismissed, but the client had to plea to reckless driving as a "dry reckless."
Our client still had to pay a court fine of $200, plus penalties and assessments (total of $987) and attend the Hospital and Morgue (HAM) program, which he did. He was also placed on three years of informal probation.
Being on probation, however, soon became a problem when his employer company was bought out by another company in the same industry. His new boss wanted to terminate anyone on probation or with any criminal history.
This new policy endangered the livelihood of our client and his wife for the last 39 years.

At about this same time, the client was reaching the half-way mark in his probation. As is his custom and practice, Greg checks in with the client at the half-way mark in probation to see how the client is doing and if she or he is interested in early termination of probation and expungement.
Our client, now age 69, responded that he was very interested in this, so he hired Greg Hill & Associates to prepare, file, serve and appear at the hearing on his motion to modify probation so as to end it early.
Greg Hill & Associates then prepared, filed, served and appeared at the hearing on the motion for modification of probation. The judge granted the request, but not without the City of Torrance City Prosecutor opposing the motion.
Greg Hill & Associates then filed the petition for dismissal (expungement), which the same judge granted.

For more information about expungement issues, please click on the following articles: