The Forfeiture-by-Wrongdoing Exception to the 6th Amendment?
The Gist of this Article: The Sixth Amendment right to confront one's accuser can be forfeited by defendant's wrongdoing in calling the accuser from jail (here, dozens of times) encouraging her not to come to court and not to testify against him in trial, intimidating her. The judge therefore allowed the prosecution to replay the victim's statement to the police (hearsay) after defendant was arrested.

Defendant Jecarr Franswa Merchant and Lisa R. began dating in January, 2014. On December 22, 2014, she agreed to accompany him on a drive from Lancaster to a place near the junction of the I-15 and the I-210.

When Merchant kept going past the destination, Lisa asked to be dropped off. In response, Merchant became angry and began driving close to 100 miles per hour. Lisa then asked to be dropped off on the side of the freeway and he refused.

Somehow, she managed to call 911, further enraging Merchant. As she spoke to the dispatcher, he grabbed her by her hair and jacket, driving the car onto the shoulder and nearly hitting several cars. Caltrans live-fee cameras captured Merchant's vehicle "going crazy" while a woman passenger screamed for help and tried to get out of the moving vehicle.
Furious, Merchant told Lisa, "You're makin' me go to jail, bitch. Whatever, I already got a charge like this and shit . . . I don't need this. I'll go to jail for life." When Lisa got off the phone, Merchant grabbed the phone from her and threw it out the window.

Eventually, law enforcement caught up to the car and as Lisa managed to shift the car into park, the car came to a stop and Merchant could not re-start it.
The Riverside County District Attorney's Office charged Merchant with kidnapping, domestic violence, robbery (the car was Lisa's) and dissuading a witness.
At trial, the judge allowed the prosecution to introduce evidence of two prior acts of domestic violence by Merchant on Lisa and six prior acts of domestic violence on his prior girlfriend to show his propensity for domestic violence.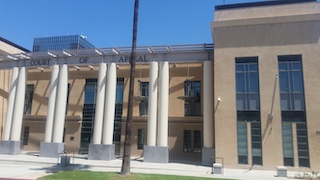 4th Appellate District Division 2 Riverside
Lisa never appeared for trial and the parties stipulated that she was unavailable, so over objections by the defense, the judge allowed the prosecution to introduce Lisa's statements to the CHP officer from the December 22 incident. The judge relied upon 167 calls from Merchant to Lisa while he was in custody, wherein the judge found Merchant engaged in wrongdoing to prevent Lisa from testifying at trial. He told her charges would be dismissed if she evaded detection, "to lay low," and that if she came to court, his life would be over. Lisa's friend testified that Merchant's calls to her left her terrified of the consequences to her if she came to court. Merchant also did not testify.
The jury found Merchant guilty of kidnapping and dissuading a witness (Penal Code § 136.1(c)(1)). The judge sentenced him to a total of 29 years in state prison, consisting of eight years (the upper term) for kidnapping, doubled for a prior strike, plus a consecutive three-year term for dissuading a witness, doubled for the strike, two years for two of the prison priors, plus five years for a prior serious felony conviction.
Merchant appealed to the Fourth Appellate District on several grounds. This article will only cover his argument that the judge erred in permitting introduction of Lisa's hearsay statements to the CHP in violation of his Sixth Amendment right to confront adverse witnesses.
The appellate court acknowledged that a criminal defendant has a Sixth Amendment right "to be confronted with the witnesses against him." A judge cannot admit such statements unless the witness is unavailable and the defendant had a prior opportunity for cross-examination. Crawford v. Washington (2004) 541 U.S. 36, 53-54.
Nonetheless, in narrow circumstances, a defendant can forfeit that right to confrontation by his or her own wrongdoing. Crawford, supra, at 62; Davis v. Washington (2006) 547 U.S. 813, 833. "When defendants seek to undermine the judicial process by procuring or coercing silence from witnesses and victims, the Sixth Amendment does not require courts to acquiesce. While defendants have no duty to assist the State in proving their guilt, they do have the duty to refrain from acting in ways that destroy the integrity of the criminal-trial system." This is the forfeiture-by-wrongdoing exception to the Sixth Amendment.
For this exception to apply, a defendant must have engaged in wrongful conduct designed to prevent a witness from testifying. Giles v. California (2008) 554 U.S. 353, 359-361, 368, 177. In other words, the defendant must "engage in wrongdoing that renders the declarant unavailable with an intent to prevent the declarant's in-court testimony. People v. Perez (2018) 4 Cal.5th 421, 255, fn. 3.
Such wrongdoing can be intimidation, bribes and killing the witness against him or her.
Here, the court found by a preponderance of the evidence (the standard to apply) that Merchant had forfeited his Sixth Amendment right by wrongdoing in intimidating Lisa and the appellate court agreed. People v. Jecarr Franswa Merchant (2019 DJDAR 9677).
We offer this summary because we have had quite a few clients suggest to us that such rights as the Sixth Amendment can never be taken away, when that is simply not correct, as this opinion exemplifies.
The citation for the Fourth Appellate District Court ruling discussed above is People v. Jecarr Franswa Merchant (4th App. Dist., 2019) 40 Cal.App.5th 1179.

For more information about Sixth Amendment issues, please click on the following articles:
Contact us.