Dissuading a Witness by Invoking Muslim Custom As Resolution
Abdullah Wahidi was accused of assault with a deadly weapon against four different victims, felony vandalism, misdemeanor battery and attempting to dissuade a witness by using force or threat of force (Penal Code §§ 136.1(a)(2) and 136.1(c)(1)).
Without All the Details, What Happened?: Defendant is guilty of dissuading a witness from testifying when he asks victim to settle dispute through Muslim custom and not trial.

The underlying facts were that Wahidi was involved in a confrontation with Farahan Khan in a parking lot, during which time he punched one of Khan's friends in the face and then broke the windows in Khan's car with a baseball bat while one of Khan's friends was sitting inside the car. This happened in Los Angeles County.
On the day before the preliminary hearing, Wahidi approached Khan after prayer services at Khan's mosque. Wahidi did not attend services at this particular mosque, so his appearance there seemed to be intended only to meet Khan.

Court of Appeal Second Appellate District Los Angeles
Wahidi apologized to Khan for the incident. He then suggested, with the preliminary hearing less than 24 hours away, that, "[w]e're both Muslims. We should settle this outside the court in a more Muslim manner, family to family, have our families meet and settle this out of court and not take this to court." Wahidi did not threaten Khan to refrain from testifying.
Khan then appeared in court the next day at the preliminary hearing. Khan testified about what Wahidi had told him. He testified that he believed Wahidi did not want Khan to testify in court.
Wahidi chose a bench trial and testified himself. He explained that he never approached Khan at the mosque or asked Khan not to testify. The court found Wahidi guilty of assault with a deadly weapon and felony vandalism.
The judge also found that Wahidi had attempted to dissuade Khan from testifying, but not by use of force or threat of force, which made it a misdemeanor.
The judge sentenced Wahidi to state prison for two years and ordered Wahidi to pay $7,336.81 in victim restitution to Khan.
Wahidi appealed to the Second Appellate District, contending there was insufficient evidence to support his conviction. In evaluating this challenge, the appeals court must review "the whole record to determine if any rational trier of fact could have found the essential elements of the crime beyond a reasonable doubt."
People v. Zamudio
(2008) 43 Cal. 4th 327, 357. There must be "substantial evidence to support the verdict- i.e. evidence that is reasonable, credible and of solid value."
Id
.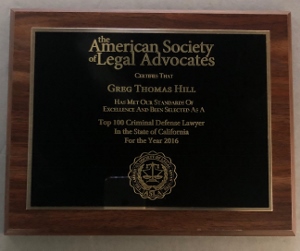 It is important to note that when an appeals court performs this review, it reviews "the evidence in the light most favorable to the prosecution."
Id
. "Conflicts and even testimony that is subject to justifiable suspicion do not justify reversal of a judgment, for it is the exclusive province of the jury or trial judge to determine the credibility of a witness."
Id
.
This article will focus only on the issue of Wahidi's conviction for attempting to dissuade a witness from testifying (Penal Code § 136.1(a)(2)).
This is a specific intent crime.
People v. Young
(2005) 34 Cal. 4th 1149, 1210. Therefore, the circumstances under which the statement was made, not just the statement itself, must be considered to determine whether the statement constitutes an attempt to dissuade a witness from testifying.
People v. Mendoza
(1997) 59 Cal. App. 4th 1333, 1343.
Even if the acts or statement are ambiguous, but reasonably can be interpreted as intending to achieve the future consequences of dissuading the witness from testifying, the offense is committed.
People v. Ford
(1998) 145 Cal. App. 3d 985, 989-990.
Turning to the case here, the Second Appellate Division, in
People v. Abdullah Wahidi
(2014 DJDAR 16), found no difficulty in agreeing that Wahidi knowingly intended to dissuade Khan from testifying. Wahidi himself testified that he asked Khan to settle the case informally using Muslim custom, rather that the U.S. judicial system. The timing of the conversation at issue, the day before the preliminary hearing, and the location, Khan's mosque, showed he intended to "interfere or thwart the orderly administration of justice" by having Khan not testify. Under the definition of malice in Penal Code § 136, this was malicious.
Accordingly, The Second Appellate Division affirmed the trial court's ruling.

The citation for the Second Circuit Court of Appeals ruling discussed above is People v. Abdullah Wahidi (2d App. Dist. 2014) 166 Cal.Rptr.3d 416, 222 Cal.App.4th 802.

For more information about witness tampering and dissuading a witness, click on the following articles:
Contact
Greg Hill & Associates