Conviction for Dissuading Witness for Gang Benefit Reversed
Michael Valles was fatally shot at a tattoo parlor in Stanislaus County in 2004. Felix Lopez was charged with violating Penal Code § 187, murder, as well as four other counts associated with the crime, including attempting to dissuade a witness from testifying (Penal Code § 136.1(a)(2)) and active participation in a street gang (Penal Code § 186.22(a)).
Synopsis: Seven years to life sentence for dissuading a witness for benefit of a gang reversed because no force threatened.

The enhancements charged were based on allegations that Lopez committed the offenses for the benefit of a criminal street gang, had two prior convictions for a strike offense, had two prior terms of imprisonment and that he committed the crimes while on bail for another offense (Penal Code § 12022.1).
After his convictions, Mr. Lopez appealed the verdict and sentencing on multiple grounds, each of which are fairly complex and involve a lengthy discussion.
Therefore, the only conduct that this brief article will address is the allegation that Lopez attempted to dissuade a witness. The evidence to support this charge at trial was that Lopez said "fucking snitches" to Alonzo Gonzalez, the owner of the tattoo parlor, when Lopez and Gonzalez were standing outside the courtroom (we find that many cases involving dissuading a witness take place in courtroom hallways and elevators).
The comment was clearly made in the context of Lopez being angry that Gonzalez was there and about to testify against him, possibly leading to Lopez being convicted on many charges and serving time in prison. As Lopez was being charged with murder, his anger was not something to disregard because were he to be found not guilty, Gonzalez would have good reason to fear retaliation by Lopez.
At the time, it was known that Gonzalez was about to testify against Lopez and it was anticipated that Gonzalez's testimony would be decisive against Lopez. Lopez was free on bail at the time.
Lopez also said, "Snitches, you shouldn't be here." The prosecution argued that the comment was made in an attempt to encourage Gonzalez to leave or dissuade Gonzalez from testifying. The prosecution further argued that because Lopez was a member of the Norteños gang, Lopez's comment was meant to threaten physical harm on Gonzalez because such gangs often beat up "snitches."
The jury agreed and convicted Lopez of violating Penal Code § 136.1(a)(2) (attempting to dissuade a witness). Lopez appealed, arguing, that the evidence was insufficient to find him guilty because he did not accompany his comment by force or by an express of implied threat of force, as is required under subsection (c) of the Penal Code § 136.1.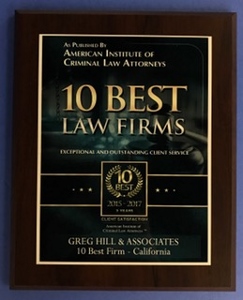 The Fifth Appellate District, in
People v. Felix Lopez
, (2012 DJDAR 11713, at 11726) agreed with Lopez. The appellate court began its analysis by noting that the information (the complaint in the case after the preliminary hearing) did not even charge Lopez with using an express or implied threat of force, thus the trial court erred in sentencing Lopez to the seven years to life sentence because the jury was never asked to determine if Lopez violated subsection (c) regarding an express or implied threat of force.
In other words, Lopez was not convicted of violating Penal Code § 136.1(c)(1), which is the only subsection under dissuading a witness that could lead to the sentence imposed. The jury was also not even asked to find whether Lopez used an implied or express threat of force.
Consequently, the appellate court found that the trial court erred in imposing the seven years to life sentence. This portion of the sentence was thus vacated and the case was remanded (sent back down) to the trial court for sentencing on this count.
While such a ruling from the appellate court was good for Lopez, it did not mean his release from custody. The trial court sentenced him to an indeterminate term of fifty years to life, so this ruling only removed a small part of the sentence, at least until the trial court re-sentenced Lopez on the dissuading a witness charge.

The appellate court ruling summarized above has the following permanent citation: People v. Lopez (2012) 208 Cal.App.4th 1049.

For more information about witnesses showing up at trial, click on the following articles:
Will the Prosecutor Dismiss the Domestic Violence Case If the Victim Will Not Testify or Appear at Trial?
Contact
Greg Hill & Associates