Torrance, Assault with Deadly Weapon, Stabbed Close to Heart
Our client, age 22, had no prior criminal history, but she had been the victim of a violent gang rape as a youth and was severely traumatized. She consequently suffered from anxiety disorders, PTSD and schizophrenia, which was treated by a psychiatrist with various medications for her mental health. She had not graduated high school as a result of the rape.
In a Nutshell: Client stabs her boyfriend from behind, nearly puncturing his heart, after he strangles her when she tells him she wants to break up. The case was filed in Torrance as felony assault with a deadly weapon. Case resolved with formal probation and no time in custody (no prison or jail).
The medications she was prescribed had side effects that the client did not like, so she self-medicated with methamphetamine and marijuana.
Such use led her to associating with folks that were not healthy for her. She began seeing a young man, age 27, with a long criminal history. The man had significant anger management issues and would often strangle our client or punch her if she did not give him sex. At the same time, our client needed a source for her drugs and he provided this, so she tolerated his abuse.
Finally, she decided to end the relationship and told him to leave her mobile home, which she rented and lived in alone. The man did not appreciate our client's decision and tried to strangle our client once again. Our client fought him off and then picked up a knife as the man was walking out of the mobile home. Our client stabbed him under the rib cage area, puncturing his lung and coming just two centimeters from his heart.
The ease with which the knife entered the man's body shocked our client. She called 911 immediately as the man lay on a couch, groaning in the background "I'm going to die, I'm going to die."
Torrance Police Department officers responded to the 911 call and immediately arrested our client, who admitted to causing the puncture wound. The victim was taken to Harbor General UCLA Medical Center where he stayed for a few days leaving before doctors released him. He left on his own because he was experiencing significant withdrawal symptoms from the drugs he was physically addicted to (doctors noted this in his medical records).
Our client was arrested for felony assault with a deadly weapon (Penal Code § 245(a)(1), as well as felony domestic violence (Penal Code § 273.5(a)), and taken to the Torrance Police Department. The adoptive parents of the client called Greg on a Saturday afternoon and Greg immediately drove down to the Torrance Police Station to meet with the client and learn more about the incident. Greg was particularly interested in knowing if self-defense or mutual combat was an issue, which he suspected was an issue.
The adoptive parents of the client did not post bail for the client at first, but after about two weeks, they did so because our client's mental condition was deteriorating quickly without mental health treatment. She was also begging to be released because she simply did not enjoy jail.
The case was filed with just one cause of action: felony domestic violence under Penal Code § 273.5(a), but with sentencing enhancements for great bodily injury (Penal Code § 12022.7(c), and personal use of a knife, a deadly weapon, under Penal Code 12022(b)(1), which made the crime a serious felony and a strike under Penal Code § 1192.7(c)(23).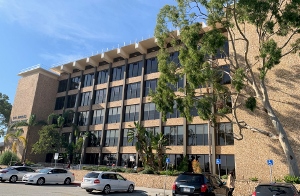 Torrance Superior Courthouse


The case was assigned to a special prosecutor at the Torrance Courthouse. The first offer to our client was three years in state prison, premised on two years for the assault with a deadly weapon, plus one year more for a one-year sentencing enhancement due to the great bodily injury.

After several court appearances, Greg was able to negotiate a plea bargain wherein the client would serve no time in custody, but would be sentenced to five years in state prison, suspended (a "joint suspended"), plus an obligation to perform 60 days of community service, attend 52 batterers program classes and 104 Narcotics Anonymous (NA) meetings. The client, as well as her family, was overjoyed at the resolution insofar as it spared her time in prison. The resolution would allow her to find employment, continue overcoming her substance abuse issues and resume her college education.