Three-Year Sentence Enhancement Vacated by New Law
On January 1, 2018, Health & Safety Code § 11370.2(c)'s amendment became effective, removing a three-year sentence enhancement for prior narcotics convictions when one is convicted of a new, further narcotics offense.
What to Take Away: The three-year sentence enhancement for multiple narcotics convictions has been removed from Health & Safety Code § 11370.2. This recognizes the difficulty addiction poses and how sentencing enhancements hurt those trying to overcome addiction to controlled substances. The following case shows this new law in action.
Previously, 11370.2(c) provided that, "[a]ny person convicted of a violation of, or of a conspiracy to violate, Section 11378 or 11379 with respect to any substance containing a controlled substance specified in paragraph (1) or (2) of subdivision (d) of Section 11055 shall receive, in addition to any other punishment authorized by law, including Section 667.5 of the Penal Code, a full, separate, and consecutive three-year term for each prior felony conviction of, or for each prior felony conviction of conspiracy to violate, Sections 11351, 11351.5, 11352, 11378, 11378.5, 11379, 11379.5, 11379.6, 11380, 11380.5, or 11383, whether or not the prior conviction resulted in a term of imprisonment." This code section's last clause concerning applicability of the section to one even if the person did not serve time in prison referred to those folks who may have received probation or a county jail sentence.
The controlled substances listed under paragraph (1) and (2) of section 11055(d) included methamphetamine.
This became an issue when Saul Zabala was stopped by a Santa Clara County Sheriff's deputy in late 2016 for a traffic infraction. The deputy who made the traffic stop found four equally-sized blue baggies filled with a white substance in a paper bag under the driver's seat. Such a finding strongly suggested an intent to sell because each were of equal size.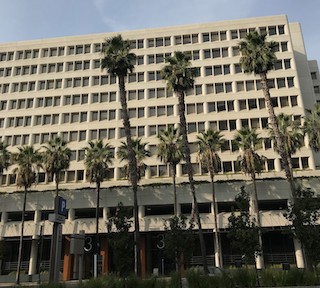 Court of Appeal Sixth Appellate District San Jose
The deputy also noticed that the radio console appeared loose, like it had been manipulated previously. He then decided to impound the vehicle. An inventory search of the car was conducted, wherein methamphetamine was found in several baggies in a hidden compartment behind the dashboard console.
Zabala was then charged with transporting a controlled substance (Health & Safety Code § 11379(a)), possession for sale of methamphetamine (Health & Safety Code § 11378) and driving with a suspended license (Vehicle Code § 14601.1(a). He was also charged with having four prior narcotics convictions within the meaning of Health & Safety Code § 11370.2(c).
Zabala filed a motion to suppress the methamphetamine as the fruit of an unlawful inventory search. The trial court denied the motion to suppress, finding that the decision to impound the car was made independent of the discovery of possible controlled substances, so analysis of probable cause was unnecessary. This is a common judicial response to such a motion on such grounds.

Defendant then accepted a plea deal and admitted the prior felony allegations. He was sentenced to three years on the transportation charge and one consecutive three-year term for the prior drug conviction.
Zabala then filed an appeal of the trial court's ruling on his motion to suppress. The Sixth Appellate District, in People v. Saul Zabala (2018 DJDAR 496), found that removal of the dashboard console exceeded the proper scope of an inventory search, but that such a warrantless search was supported by probable cause because under Arizona v. Gant (2009) 556 U.S. 332, at 335, a search of the passenger compartment incident to an arrest of the occupant of the vehicle is proper when it was reasonable to believe that evidence of the arrest might be found in the vehicle. Based on the totality of the circumstances, there was a fair probability that contraband or evidence of a crime would be found behind the dashboard console.

However, in reviewing the entire record of the trial court, the appellate court addressed his sentence enhancement and vacated the three-year enhancement to Zabala's sentence based on the 2018 amendment to Health & Safety Code § 11370.2(c).

The citation for the Sixth Appellate District Court ruling discussed above is People v. Saul Zabala (6th App. Dist., 2018) 19 Cal.App.5th 335, 227 Cal.Rtpr. 3d 878.

For more information about automobile searches and sentencing enhancements, please click on the following articles:
Contact us.