Can a Suspect Prevent an Inventory Search by Locking a Car?
When our office reviews the most recent appellate court decisions, we often recognize factual scenarios or legal issues that we have seen in our own prior cases.
In a Nutshell: A suspect cannot prevent the police from conducting an inventory search by locking his car before police can search it.

The following case is one of those cases. However, in our case, we advised our client that a motion to suppress evidence would be denied and moreover, would significantly reduce his credibility with the judge and the prosecutor. We explained this to our client, who was quite determined otherwise to try his novel legal theory to a judge. Ultimately, however, our client agreed with us and we resolved the DUI as a wet reckless.
Daniel Grant Quick, however, did not have an attorney to discuss his legal theories with or advise him. Had he retained counsel, or even opted for representation by the public defender, he might have passed on the motion to suppress evidence that he did attempt.
In early 2015, Atascadero Police officer Matthew Chesson received a call from a narcotics detective that Mr. Quick was involved in several narcotics transactions that day and had multiple firearms. The detective also told Chesson that Quick had just left his residence in a black Mercury.
Officer Chesson quickly found the black Mercury and followed it for a while, during which time he allegedly observed Quick violate three sections of the Vehicle Code.
Chesson then made a traffic stop of the Mercury, which Quick was driving. Chesson explained to Quick that his brake lights were not working. During this interaction, Chesson allegedly noticed that Quick's pupils were constricted and he was experiencing facial tremors, with open sores on his face.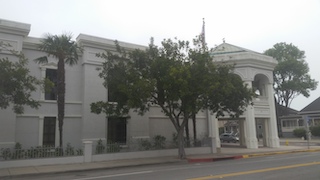 2nd Appellate District Division 6 Ventura
Chesson then formed the opinion that Quick could be under the influence of a controlled substance, so he asked him if he had been using anything that day. Quick admitted that he had been using Percocet and marijuana earlier in the day.
Chesson then asked Quick to step out of the car for a field sobriety test. Quick refused.
Chesson knew that Quick was a convicted felon and had access to firearms, so he called for another officer to come to the scene for back up.
Quick eventually did exit his car, but he took off his jacket and tossed it back in the car, rolled up the windows, locked the doors, and tossed his keys in the car and closed the doors.
Chesson then conducted filed sobriety tests, determined that Quick was under the influence and arrested him.
Quick's car was stopped in a position that blocked a driveway and was more than 24 inches away from the curb, blocking the roadway. Police thus towed the vehicle.
Officers then inventoried the vehicle and found 25.9 grams of methamphetamine in the jacket pocket, two methamphetamine pipes and a Taser.
Quick made an oral, informal motion to suppress the meth, the pipes and the Taser. The San Luis Obispo court judge denied the motion. Quick then entered into a plea for violating Health and Safety Code § 11378, possession for sale of a controlled substance. He then admitted a prior strike conviction and was sentence to four years in state prison.
Quick then appealed the ruling on the motion to suppress to the Second Appellate District, arguing that the vehicle inventory search was unreasonable as being a search incident to an arrest for DUI.
Our office had this factual scenario play out for a client in one of our cases. We told the client that a motion to suppress the drugs would be denied, as it would invite the judge to endorse our client's gamesmanship with the police. This was reluctantly agreed to by our client.
Had our client been able to read the appellate court's ruling, it would have helped. The Second Appellate District denied the appeal, beginning its opinion by stating, "[t]he interaction between a peace officer and a person suspected of committing a crime is not a game."
The appellate court continued, explaining their interpretation of the facts, "[k]nowing that his 'goose was cooked' if the officer conducted a search, appellant attempted what was the amount to a 'do it yourself' suppression motion . . . This was a game of 'hide and seek' which he was bound to lose. It was a sophomoric attempt to thwart the lawful seizure of evidence and a crime itself, i.e. willful obstructing a police officer (Penal Code § 148(a)(1))."
Indeed, the appellate court commented that a person detained for investigation has no constitutional right to dispose of evidence.
People v. Brucamonte
(1975) 15 Cal. 3d 394,405, fn. 6;
People v. Maddox
(1956) 46 Cal. 2d 301, 306.
Therefore, the appellate court affirmed the lower court's ruling that denied Quick's motion to suppress. While we applaud Quick's creativity, he lacked good judgment in taking the next step toward putting his bright idea to the test.
The citation for the Second Appellate District Court ruling discussed above is People v. Daniel Grant Quick (2d. App. Dist., 2016) 5 Cal.App.5th 1006.

For more information about search and seizure issues, please click on the following articles:
Contact us.