The Cops Lied to Me and I Confessed - Case Dismissed?
"We have you on videotape shoplifting. Why don't you just confess?"
"We found your fingerprints all over the door handle, so you obviously were involved. Would you like to write out your admission or should I?
"We interviewed the witness and he positively identified you as the shooter, so why are you telling me you weren't involved?"
"We talked to your wife and she told us all about what you did. Why don't you just come clean now? Get it off your chest. Be a man and man-up."
Brief Synopsis: It is an accepted investigation technique for police to lie to a suspect to elicit a confession. Police are not required to tell the truth while interviewing a suspect or witness and if police do lie, there is no requirement that a judge dismiss the case. No other changes needed.

Our clients have often told us that police told them these things or made other similar claims while interviewing our clients. The client then confesses, only to later learn that the officer had lied to elicit the confession. The client then asks if he can have the case dismissed, based on the police officer's lies.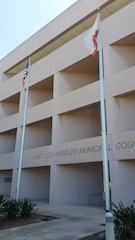 East LA Courthouse
The answer is no. A police officer may misrepresent the facts to gain an investigative advantage. This is a court-approved investigation technique. Fraiser v. Cupp (1969) 394 U.S. 791.
However, when cops lie about the law, as opposed to the facts, is considered sufficient coercion to warrant suppression of the resulting confession.
People v. Cahill
(1994) 22 Cal.App.4th 296, 306-307, 314-317;
People v. Johnson
(1969) 70 Cal.2d 469, 478-479.
People v. Denney
(1984) 152 Cal.App.3d 530, 540-544;
People v. Esqueda
(1993) 17 Cal.App.4th 1450, 1483-1487;
Garvin v. Farmon
(N.D.Cal. 1999) 80 F.Supp.2d 1082, aff'd
Garvin v. Farmon
(9th Cir. 2001) 258 F.3d 951.
Our office recently had this take place in an arson case. Our client had been arrested and interviewed. Police officers took custody of his wallet and cell phone. They then let him go, although he had to post bail to leave the police station.
About two months later, he was puzzled. Neither the police nor the court had sent him a letter telling him when his court date was. And he wanted his phone and wallet back. So he went to the police station and asked to verify that no case had been filed. He was worried that a case had been filed, he had not appeared and there was a bench warrant for his arrest.
A friendly detective greeted him and assured him he would return his phone and wallet, "but first, can I just ask you a few questions?" Our client was suspicious of this use of his personal property as "bait" to lure him to the police station for further investigation, so he astutely asked the police for reassurance that if he answered questions, no criminal case would be filed. He also asked the detective to record the interview.
The detective responded, "oh yeah, don't worry. The prosecutor can't file a case against you anymore. It is all done. I was just curious as to what happened. It is all done. You can't be charged." The client then confessed in full and a criminal case was filed, charging our client with multiple felonies.
Our office then filed a motion to suppress the confession, basing it upon the above caselaw. It was fortuitous that there was a recording of the interview. The prosecutor, in response, agreed to amend the complaint to allege misdemeanor offenses if our client would withdraw the motion. While we were confident that we would win the motion, the client agreed to the deal. The client believed the judge, a volunteer fire fighter, would deny the motion regardless of the law because of her prejudice against arsonists. This incorrect ruling would then forcing us to appeal the ruling, which would have been both expensive and carry with it no guarantee of success.
For more information about the issues in this article, click on the following articles:
Confession is Inadmissible When Probation Officer Promised Shorter Sentence if Probationer Waived Right to An Attorney.
Murder and Robbery Conviction Overturned Where Defendant Confessed in Reliance on Detective's False Promises of Leniency.
Contact us.