Is a Confession Valid After 9 Hours of Police Questioning?
Our office is regularly asked by clients if police acted improperly because "they didn't read me my rights." The question is meant to ask if dismissal of charges is possible because the familiar Miranda warnings of "you have the right to remain silent. Anything you say may be used against you, . . ." were not given.
Condensed Version: Defendant's Confession to Arson After Nine Hours of Police Questioning Is Admissible Despite No Miranda Warnings Because Defendant Always Free to Leave.

Our clients often expect such warnings to be read as the first thing a police officer says to them, even in a traffic stop, before the police even request a driver's license. If such warnings are not given at that time, certainly such warnings should be given at some point in a nine hour police interrogation at a police station, correct?
The case of Robert Durst in Sacramento addressed just this factual scenario. Durst lived next door to Christopher Liu. Durst had performed some work at Liu's house, but Liu had not paid Durst the full amount demanded.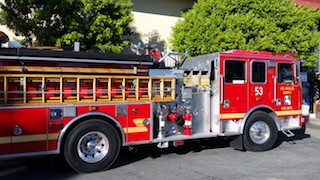 Firetruck
Sometime on the evening of July 4, 2010 or in the early morning of July 5, 2010, neighbors smelled the strong odor of gas emitting from Liu's house, which was empty at the time. One neighbor also saw a glowing light inside the house.
Later in the morning, workers arrived to do work on Liu's house, although Liu was not there. Workers also smelled gas and noticed the gas meter spinning rapidly. They called 911.
Firefighters arrived at the scene and turned off the gas. When they opened up the front door to get air in to dispel the gas, the house burst into flames with the sudden rush of oxygen. Three firefighters were severely injured.
A birthday party candle with candy sprinkles in it was determined to be the source of the explosion. Durst's young daughter had put candy sprinkles in the candle earlier and this tied Durst to the incident. The gas value on Liu's stove was determined to be the source of the gas.
Two weeks later, police focused in on Durst. While being interviewed by detectives, after nine hours of questioning, he admitted that he took the candle to Liu's house, lit, it, opened the gas valve to the stove and left the house. Durst was allowed to leave the police station at any point in the questioning, so police never read him his
Miranda
rights. Indeed, when he was done talking to police, he left in a taxi. Durst was then arrested, taken to jail, read his
Miranda
rights and he confessed again.
A jury convicted Durst of arson causing great bodily injury (Penal Code § 451(a)), possession of a firearm by a convicted felon (Penal Code §12021(a)(1)), burglary, and that he used an accelerant to delay ignition (Penal Code § 451.1(a)(5)). The judge sentenced Durst to seventeen years in state prison.
Durst then appealed his convictions to the Third Appellate District, arguing that his jail house confession, although after
Miranda
warnings, was involuntary because it was caused by his admission the day before when he confessed, but without
Miranda
warnings. Police had employed, in other words, a clever two-step procedure.
The Third Appellate District, in
People v. Robert Durst
(2014 DJDAR 4000), denied Durst's appeal, finding there was no admissibility problem or unlawful police conduct with the first confession because Durst was always free to leave at any time during the questioning.
The appellate court noted that there was never a need for officers to give Durst his
Miranda
warnings in the first interview because there was no restriction on Durst's freedom so as to render him "in custody."
Miranda
warnings, after all, are not required just because questioning takes place in a police station or just because police suspect someone of committing a crime. Also, police use of tricks to elicit information is irrelevant to the custody issue.
Turing to the facts of Durst's case, the appellate court noted that police asked Durst to stop by for questioning. Durst then drove to the police station. During the questioning, there were long breaks. Police lied to Durst and told him they found his DNA on the gas valve. Police then asked him to submit to a polygraph test and police told him the test proved he was lying to them. Durst then fully admitted to causing the explosion.
Throughout the interview police told him he could leave at any time. At one point, they even asked him why he did not leave. Durst said he had nothing to hide, remained at the station and confessed.
The appellate court thus ruled that his two confessions were admissible, the first because he was never in custody and the second because he confessed after receiving
Miranda
warnings. Thus, the convictions were affirmed.
The citation for the Third Appellate District Court of Appeals ruling discussed above is People v. Robert Durst (3d Dist., 2014) 225 Cal.App.4th 108.
For more information about
Miranda
warnings, click on the following articles:
Police Must Give Suspect Miranda Warnings before Asking Him if He Is a Gang Member While Booking Him into Jail
Contact
Greg Hill & Associates