Terry Stop OK if Defendant Suspiciously Ducking, Crouching?
In the landmark 1968 United States Supreme Court case of Terry v. Ohio, the law on police interaction with citizens was clarified greatly.
In that case and cases that have interpreted Terry v. Ohio, the limits of police activity are clearer. However, there continually seems to be new challenges to what police may and may not do.
Brief Synopsis: A suspect who crouches and ducks when police look toward him constitutes facts sufficient for police to have reasonable suspicion to detain that person.

Over the years, we have learned that police are allowed to question people on the street, who themselves are free both to refuse to answer the officer and to refuse even to listen to the officer. People are fully at liberty to merely walk away. Florida v. Royer (1983) 460 U.S. 491, 497-498. Refusal to cooperate with police, without more, does not create an objective justification for an investigative detention. Florida v. Bostick (1991) 501 U.S. 429, 437.
Some reactions to police, however, may suggest consciousness of guilt and entitle police to investigate further. Under Terry v. Ohio (1968) 392 U.S. 1, police patrolling a high crime area reasonably become suspicious when a person sees them and runs. This reasonable suspicion justifies detaining the runner for investigation: a "Terry stop." Illinois v. Wardlow (2000) 528 U.S. 119, 124-125. Likewise, nervous and evasive behavior is a pertinent factor to determining whether a suspicion is reasonable. Id. at 124.
"Headlong flight – wherever it occurs – is the consummate act of evasion: It is not necessarily indicative of wrongdoing, but it is certainly suggestive of such." Wardlaw, supra, 528 U.S. at 124; see also Kansas v. Glover (2020) 589 U.S. ___, 140 S. Ct. 1183, 1186-1189.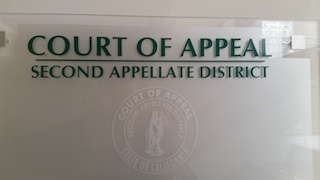 2nd Appellate District Court of Appeals
Judicial determinations of reasonable suspicion "must be based on commonsense judgments and inferences about human behavior." Wardlow, supra, at 125. There are often innocent explanations for avoiding police, so flight does not necessarily indicate ongoing criminal activity. But unprovoked flight upon noticing the police entering a high crime area gives an officer a reasonable basis to detain the runner to investigate further. Wardlow, supra, at 121-125. The Fourth Amendment allows the officer "to resolve the ambiguity." Id. at 125.
The federal approach governs how California views "Terry stops" as proper or improper detentions for purposes of later suppressing evidence.
In Los Angeles in 2019, police were patrolling a high crime area. They knew this cul-de-sac was a place where controlled substances were sold and was a gang haunt; taggers daily sprayed gang graffiti there.
At about 10:00 p.m., two officers drove into this cul-de-sac. At the preliminary hearing, Officer Michael Marino said he saw Marlon Flores standing in the street behind a car parked along a red curb.
Officer Marino said that after police saw Flores, Flores walked a few steps over near the passenger side rear fender area and ducked down as if trying to hide from police behind the parked car.
Officer Marino thought this was suspicious. At the preliminary hearing, a video from the police car's MVARS (mobile video audio recording system) shows Flores ducking down. After four seconds of him ducking down, he raises just his head high enough to look around for four seconds. He then lowers his head and ducks down.
The video then shows an officer walking toward Flores with his flashlight pointing toward Flores.
Seventeen seconds later, one can see Flores crouched with both hands near his right shoe and appears to be tying the laces on his shoe. Flores continues to crouch as the officer approaches.

About ten seconds later, the officer asks Flores to stand up, but Flores remains crouched with his head down for another fourteen seconds. Flores then stands up very slowly.
Officers then searched him and found an electronic key on his person. They then activated the key which turned on the lights in the parked car and offices looked in, seeing a methamphetamine bong. Flores then gave officers consent to get his wallet in the car. The wallet contained methamphetamine. Police then searched his car and found a loaded, unlicensed gun in a backpack in the front seat.
At trial in downtown Los Angeles in front of Judge Mildred Escobedo, Flores moved to suppress the methamphetamine, the drug paraphernalia and the loaded gun as the fruit of an illegal detention. Judge Escobedo denied the motion, finding that the officer detained him based on a reasonable suspicion given Flores' ducking behavior and apparent pretending to tie his shoe.
Flores then entered into a plea bargain to resolve the case and appealed the denial of his motion to suppress. He was placed on three years of probation with an obligation to perform 45 days of Cal-Trans and attend drug counseling.
The Second Appellate District affirmed Judge Escobedo, although Justice Stratton dissented strongly, sarcastically explaining how the interaction between the officers and Flores ripened into a detention. Stratton was upset at how the majority opinion found Flores waited "too long" to rise as creating a legal standard that will be misused in the future.
We like Justice Stratton's analysis, but caution his view was the minority and unlikely to prevail in the future wherein officers often find contraband, justifying their "reasonable" suspicion.
The citation for the Second Appellate District Court ruling discussed above is People v. Marlon Flores (2nd App. Dist., 2021) 60 Cal. App. 5th 978, 275 Cal. Rptr. 3d 233.

For more information about initial police detentions, please click on the following articles: