Ten Motions That May Be Made at a Preliminary Hearing
A preliminary hearing is often thought of as somewhat of an administrative function, wherein minimal evidence is presented by the prosecution to show probable cause for the case to continue and the judge so orders. However, a preliminary hearing is also a good place to have the judge rule on a variety of issues that can significantly benefit defendant.
What One Should Learn from This Article: While each case has different facts, different law that applies and different issues, the preliminary hearing is one common gate that each felony case must pass through prior to the matter being set for trial. This gate is a good point at which to ask the judge to rule on certain issues. This article lays out some of the more common things a judge can decide at this point.
To have the judge take the motion seriously, we find preparing a written motion works best. Doing the motion orally can work, but often not quite as well because the judge does not have something that will stay forever in the court file and be looked upon later, possibly by a court of appeal reviewing his or her decision. The judge is thus more keen to rule correctly if the motion is done in writing.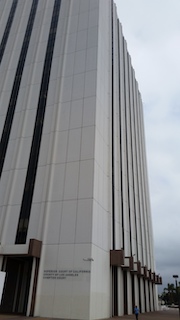 Compton Courthouse
While there are many more motions than just ten which can be made at a preliminary hearing, here is a list of ten more common motions that can be made at the preliminary hearing:
1. Motion for Discovery and for Sanctions or to Dismiss based on the prosecution's destruction of loss of evidence. This motion should be supported by documentation that shows defendant timely requested such information under Penal Code § 1054.1 and asked the prosecution to produce it and preserve it. The statutory authority for such a motion is Arizona v. Youngblood (1988) 488 U.S. 51, 102 L. Ed. 2d 281, 109 S. Ct. 333 and California v. Trombetta (1984) 467 U.S. 479, 81 L. Ed. 2d 413, 104 S. Ct. 2528;

2. Motions to Preserve and Obtain Video and Audio Recordings made of communications by the arresting officers concerning defendant's arrest. This may show racial profiling, pretextual conduct or support a motion to suppress. Under Government Code § 26202.6, recordings need only be preserved for 100 days after arrest without a request otherwise. See also People v. Madden (1970) 2 Cal. 3d 1017, 88 Cal. Rptr. 171; People v. Armstrong (1991) 232 Cal.App.3d 228, 241, 283 Cal.Rptr. 429.

3. Motion to Discover Prior Acts of Violence by the Victim in a Self-Defense Case. Engstrom v. Superior Court (1971) 20 Cal.App.3d 240, 97 Cal.Rptr. 484. The documents sought could establish the reasonableness of defendant's force and scope of force used.

4. Motion to Discover Information to Support a Motion to Dismiss based on Discriminatory Enforcement of the Law. This is a so-called "Murgia motion." Murgia v. Municipal Court (1975) 15 Cal.3d 286, 124 Cal.Rptr. 204.

5. Motion to Discover a Police Office's Prior Use of Excessive Force or Bias. This is a "Pitchess motion" named after former Los Angeles County Sheriff Pete Pitchess, who served before Sherman Block and Lee Baca. Pitchess v. Superior Court (1974) 11 Cal.3d 531, 113 Cal. Rptr. 897.

6. Motion to Disclose the Identity of an Informant. Cooper v. Superior Court (1981) 118 Cal.App. 3d 499, 173 Cal.Rptr. 520.

7. Motion to Challenge the Method of Defense Identification, i.e. for a line up. People v. Green (1979) 95 Cal.App.3d 991, 157 Cal.Rptr. 520; People v. Malich (1971) 15 Cal.App. 3d 253, 93 Cal. Rptr. 87.

8. Application to Videotape the Preliminary Hearing. This motion must be noticed in writing three days prior to the preliminary hearing. Penal Code § 1346(b).

9. Motion to Continue the Preliminary Hearing. Penal Code § 1050. This motion is often done if there is new evidence that becomes available for review before the preliminary hearing or new witnesses that are identified who must be interviewed prior to the preliminary hearing.

10. Motion to Reclassify the Felony Charge(s) as Misdemeanor Charge(s). Penal Code § 17(b)(5). This is perhaps the most common motion filed that has the most effect over the case if granted.

For more information about preliminary hearings, please click on the following articles:
Contact us.