Taking Too Many Mussels from Marine Waters, Infraction
Our clients, age 21 and 29, enjoyed seafood – any type, including mussels and snails which could be collected by hand at low tide from the tidepools and rocks.
The California Department of Fish and Wildlife, for decades, has periodically issued tickets to those who take excessive or oversize abalone, lobster and fish from the many beaches and fishing boats that are otherwise not monitored.

In July of 2020, the Department of Fish and Wildlife went to White Point Beach, which is really not much of a "beach" per se with sand, and issued over 50 such tickets. News of this crackdown made the evening news on television and radio.
Greg Hill had heard the news on the radio just hours before our two clients called us. They explained how they had gone with three other minors to the popular area and just as they were loading up their car to leave at about 8:00 a.m. (they had been gathering mussels and sea snails), the officers stopped them. Our clients had three twenty-gallon buckets filled, but believed they were within the limits because there were five people and each minor, they believed, could take twenty pounds of mussels, but each adult was limited to ten pounds.
Our clients even had a scale to measure the amount taken so as to ensure they did not break the limit laws they thought were applicable. According to the clients, they should have been allowed to take 80 pounds of mussels – given there were three juveniles with them and two adults.
This understanding was incorrect, according to the Department of Fish and Wildlife officers, who found our clients with 60.33 pounds of mussels and 173 black turban snails, as well as about ten goose neck barnacles, which simply are prohibited from being taken.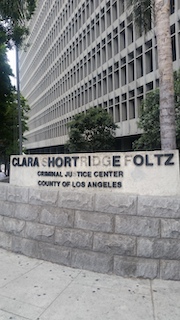 Criminal Courts Building Downtown LA Courthouse
The Fish and Wildlife officers examined the fishing licenses of each of our clients – they were avid fishermen – and issued a ticket to each for violation of California Code of Regulations, Title 14 § 29.55 ("Taking More Than 10 Pounds of Sea Muscles and Bay Muscles in Combination") and California Code of Regulations, Title 14, § 29.08(a) ("Taking More than 35 Invertebrate"), both of which are misdemeanors.

The clients then signed a promise to appear in court in the Clara Shortridge Foltz Criminal Courts Building in about two months.
Greg explained that to represent two clients in the same case, he would need each client to sign a conflict waiver, also known as a consent to multiple party representation, which he prepared and each client later signed.
Greg explained also how he had handled such cases in the past and was able to have the charges reduced to an infraction after the clients did some community service ("earning an infraction"), but he suggested that our clients take an online class instead, proactively, before the arraignment. The clients found such a class on Hunter-Ed.com and they each took it.
The clients were both employed, so he had each send him a photocopy of a recent paystub to show the prosecutor the clients were otherwise good, hard working citizens who deserved a break.
Greg then appeared on the clients' behalf in the Clara Shortridge Foltz courthouse, previously (and still to many) known as CCB, at 210 West Temple Street, in downtown Los Angeles, for the arraignment.

Greg discussed the case facts with the Los Angeles City Attorney assigned to the case, who remarked that our clients were the only ones she had ever seen do an online class prior to the arraignment. She was also happy to see our clients were both working and unlikely to violate the law again, lest there be employment consequences. She then remarked that she normally never reduced the charge to an infraction, but for our clients, she did.

On our clients' behalf, Greg agreed to this and count 2 was dismissed. Count 1, a violation of 29.55 (taking more than ten pounds of mussels) was reduced to an infraction with punishment being a $200 file, with no penalties and assessments.
Our clients were happy to avoid being on probation, as they would be if they pled to a misdemeanor and the file was extremely low.
For more information about Fish and Game violations, please click on the following articles: