Caught for Taking Undersized Lobsters? Punishment? Defenses?
The Torrance Superior Court gets its fair share of criminal cases for the violation of Fish and Game §§ 2001 and 2002 related to taking undersized spiny lobsters, as well as many other violations related to lobsters.
The Gist of this Article: Taking undersized lobsters in California is a misdemeanor punishable by up to six months in county jail and a fine of $1,000 maximum, plus penalties and assessments that can boost the total owed to about $4,500. However, probation with no custody time and lower fines is possible, especially if defendant has no prior record.

Most of the violations occur during lobster season, which starts on the first Wednesday in October and runs until the first Wednesday in March after March 15. However, Fish and Wildlife officers do monitor illegal lobster poaching outside the season, especially if tipped of suspicious activity through someone notifying them through their twenty-four-hour hotline (1-888-DFG – CALTIP (1-888-334-2258)). A tip that leads to finding a violation can result in a reward of up to $1,000.
One violation of Fish and Game § 2001 or § 2002 carries with it a maximum punishment of six months in county jail and a fine of up to $1,000, plus penalties and assessments which can boost the total fine to $4,500. Our office has never seen maximum punishment imposed. We find that an unrepresented defendant, with no prior record, usually is offered a plea bargain involving three years of summary probation, plus a $250 fine with penalties and assessments (total of about $1,100, which can be converted to community service), a $250 contribution to the Los Angeles Conservation Corps and a stay-away order from the area where the offense allegedly took place.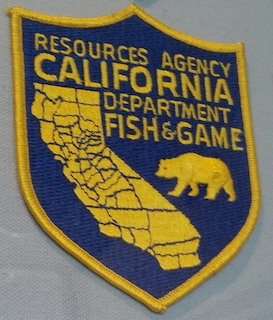 CA Fish and Game Patch
Prosecutors, typically those from the Torrance District Attorney's Office (handling cases out of Palos Verdes and Manhattan Beach) and the Redondo Beach City Prosecutor's Office (handling cases out of Redondo Beach and Hermosa Beach) are fond of describing an Orange County case where Mr. Marbel Para, age 30, took 47 spiny lobsters ("bugs") in January, 2013, was arrested, prosecuted and sentenced to seven days in county jail, plus assessed a fine of $20,000 plus penalties and assessments (about $80,000).
The Para case illustrated how zealous prosecutors can be in such cases. Indeed, taking an undersized lobster, which may release 400,000 eggs per year, can significantly disrupt the marine ecosystem. Para faced over 100 charges, ranging from possession of undersized lobsters, to lobster report card violations, to failing to have a lobster measuring device in his possession, to taking more lobsters than permitted (7 per day) and possession of lobsters for commercial purposes. Someone cited for any of these offenses can also have their car towed to an impound lot and their gear seized
.
Para had many undersized lobsters packed in his day pack, as well as in a second knapsack. A legal lobster must be at least three and one-quarter inches long, measured from the mid-line of the back from the rear edge of the eye-socket to the rear edge of the body shell. A typical lobster weighs about one pound, although larger ones can approach or even exceed five pounds.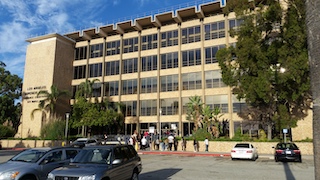 Torrance Courthouse
In the Torrance Court, we often see violations arising out of fishing on the Redondo Beach breakwater at night, as lobsters are nocturnal. Violators are often arrested or cited at 2:00 a.m. Fish and Wildlife officers will often use night vision goggles to monitor the breakwater and employ undercover, plain clothes decoys to walk along the breakwater.
The Redondo Beach Pier, as well as the jetty at Topaz Street, are other common areas where violations take place, often with the use of more than two hoop nets.
Lastly, we occasionally see violations from the area off the Palos Verdes Peninsula. Fish and Wildlife Officers here are likely to use a small boat without a light and approach a surprised lobster fisherman in the middle of the night. They will then ask to see the catch, sometimes finding undersized lobster as well as taking lobsters from a private or commercial trap, which can be prosecuted as grand theft (Penal Code § 487).
Defenses to such charges often involve a claim that the lobsters were actually of legal size, that the defendant did have a report card, but not in his or her possession, and a claim that the "stealing " from another person's trap was based on a belief that the trap was abandoned.
Our office has had success resolving such cases through judicial diversion, often involving community service, whereby the client "earns a dismissal" after six months or a year. We have also had success in having charges reduced to an infraction upon payment of the Fish and Wildlife office's investigation expenses (a version of a motion for civil compromise) and District Attorney Diversion, wherein the client also "earns a dismissal." Such outcomes are more difficult when the charges are not the client's first violation of such laws related to lobsters.
For more information about criminal cases in general, please click on the following articles:
AB 2124 – The New Pilot Program for Diversion of First-Time, Low Level Offenders in Los Angeles County Only
Contact us.