Is a Swiss Army Knife a Dirk or Dagger (PC 16470)?
Penal Code § 16470 defines a "dirk or dagger" as a knife or other "device" that is capable of "ready use as a stabbing weapon that may inflict great bodily injury or death." The statute further provides that the blade must be exposed and "locked into position."
In a Nutshell: Swiss Army Knife in One's Pocket Is not Carrying a Concealed Dirk or Dagger (Penal Code § 16470).

The case of Emmanuel Castillolopez tested this definition when he was found with a Swiss Army knife in his pocket and arrested. He was then charged with carrying a concealed dirk or dagger, convicted and sentenced to three years and eight months in state prison. The sentence was enhanced under the Three Strikes Law and due to Castillolopez's two prior prison terms.
A few facts are important to understand to appreciate how someone could land in prison for 44 months for carrying a Swiss Army knife.
In the summer of 2012, Castillolopez was a passenger in a car being driven by his friend. San Diego Police Officer Charpentier attempted to pull over the car, but the driver ignored the police.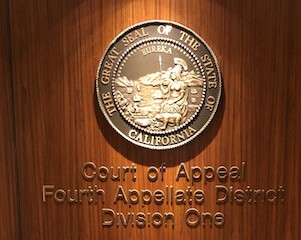 Fourth Appellate District Court of Appeal Division 1 San Diego
The police officer quickly became frustrated with the driver, so when he finally stopped the car in a bumper to bumper stop (the front of each car facing each other), the officer's patience was low.
Officer Charpentier then got out of his car, pulled out his gun and pointed it at Castillolopez's car. He then ordered the driver and Castillolopez to show their hands and not make any sudden movements. The driver quickly complied, but Castillolopez did not. Charpentier then shouted the command several times until Castillolopez slowly obeyed.
While Charpentier was yelling his commands, he claimed he could see Castillolopez reaching around in the car and moving his hands under the dashboard.
Charpentier then ordered Castillolopez out of the car. Castillolopez complied. Then Charpentier ordered Castillolopez to walk backwards about thirty feet.
Charpentier then conducted a part-down search of Castillolopez and found the Swiss Army knife in his pocket. The officer described it as a "collapsible knife," the blade of which was in a "locked, open position."
At trial, the defense presented testimony of a sales manager at a uniform store that catered to law enforcement and fire personnel. The sales manager described himself as something of a knife expert after having sold them for fourteen years and having attended annual trade shows.
The expert distinguished a Swiss Army knife from other knives that he called locking blade knifes. The Swiss Army knife blade, however, was considered non-locking. A locking-blade knife, in contrast, will not fold unless a release mechanism is pressed. A Swiss Army does not have this feature.
Following his conviction, Castillolopez appealed on grounds that the definition of dirk or dagger as set forth in Penal Code § 16470 was unconstitutionally vague because it did not define "non-locking" or the phrase "locked into position." He also appealed on grounds that the evidence was insufficient to convict him.
The Fourth Appellate District, in
People v. Emmanuel Castillo Lopez
(2014 DJDAR 4692), reviewed the legislative history of section 16470. It found that the California State Assembly had heavy debate of the wording of the statute. In particular, it found support of the wording in the statute from Assembly member Carmen Martinez. Martinez wrote a letter in support of the statute, wherein she noted that "folding knives are not dirks or daggers, unless they are carried in an open and locked position." Martinez went on to state that Assembly Bill No. 1222 (the future § 16470) was "not intended to prohibit folding knives." Therefore, the vagueness challenge was rejected.
The appellate court, however, went on to review the sufficiency of evidence, as urged by Castillolopez, because a Swiss Army knife like his "can never be locked into position." The court agreed with Castillolopez on this argument. The court thus reversed the conviction, finding that the Swiss Army knife did not qualify as a dirk or dagger.
The citation for the Fourth Appellate District ruling discussed above is People v. Emmanuel Castillolopez (4th App. Distr., 2014) 170 Cal.Rtpr.3d 416.
For more information about possession of a weapon, often a firearm, click on the following articles:
Federal Lifetime Ban on Owning a Firearm Applies after Misdemeanor Conviction for Domestic Violence under California Law
Contact
Greg Hill & Associates