Strategies to Avoid Deportation on a Drug Offense
If you or a loved one are not a U.S. citizen and you are facing a criminal charge for possession of a controlled substance, i.e. methamphetamine, cocaine or heroin (Health and Safety Code § 11377(a)), possession for sale (11378) or transportation (11379), there are certain resolution strategies to consider.
About This Article Briefly: This is an important article because very often, those who are not U.S. citizens are most concerned with spending time in jail that they overlook (and their attorneys do, too), the problems some "friendly" plea bargains. This article explains how one can preserve a no jail resolution and avoid immigration consequences, or at least try to do so.

How successful one is on resolving the case to avoid immigration consequences depends on the quantity of the controlled substance, the circumstances of the police contact, the individual's prior criminal history, if any, the prosecutor's experience and professionalism and, often, but not always, the judge assigned to the matter and the courthouse.
As a preliminary matter, it is always smart to attempt to present the case as a possession case, even if the arrest or complaint alleges possession for sale or transportation. This may not be difficult if the amount of the controlled substance is five grams or less. This can be reasonably seen as only enough for personal use. If the amount is fifteen grams or more, it is difficult to credibly request that this amount be seen as only for personal use, especially if a digital scale, pay-owe sheets, multiple cell phones and/or large quantities of cash are found during the arrest. Most damming for someone in this regard are text messages arranging or negotiating sales, not just purchases.
Suggesting that your client attend ten or more Narcotics Anonymous (NA) meetings – and if the client follows such advice – can give the attorney documentation that starts resolution in an immigration-friendly direction.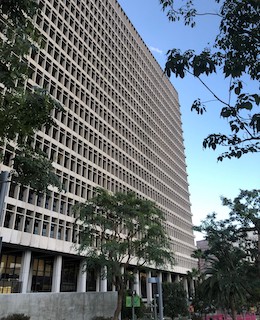 CCB Courthouse
The best resolution of such a case is obviously dismissal of the case. This may be possible through a motion for suppress to show the judge that the evidence was illegally seized after a violation of defendant's Fourth Amendment rights to be free or illegal search or seizure. Our office has done this over a dozen times. An illegal search and seizure may also be for a search that is legal, but proceeds after a prolonged detention, which we have also successfully argued in several cases.
This also may be possible if one has the substance found retested and it reveals that the substance is actually negative for a controlled substance (our office did this successfully in one case).
A delayed entry of plea form of diversion is the most sought-after resolution because the client never enters a "no contest" or guilty plea that can then be considered a conviction under federal law in immigration court. Such a resolution usually involves the client attending a drug treatment program (even residential) and often, performing a significant amount of community service. The person may also agree to stay away from a certain area where the arrest took place or where sales abound.
The second-best option for immigration issues is a resolution of the case is a delayed entry of judgment (DEJ) with unconditional suspended time. This means there are no conditions that affect his liberty or freedom, something that an immigration court will look closely for in deciding if such a resolution is a conviction. This is a tough plea bargain to negotiate, but it can be done.
Third, one should consider having the client enter a plea to an alternate crime that does not have harmful immigration consequences, i.e. it is not a crime of moral turpitude. For example, accessory after the fact (Penal Code § 32) to possession of a controlled substance if one can avoid a suspended sentence of more than one year. Penal Code § 136.1(b)(1), attempting to dissuade a person from filing a police report, without violence threatened, is also an option. Simple trespassing or disturbing the peace are options, too.
Lastly, if the client indeed has no other option but trial or a plea to possession, it is wise to keep the minute order and plea transcript free of any mention of the type of drug involved. This is the so-called Paulus defense. Matter of Paulus, 11 I. & N. Dec. 274, 276 (BIA 1965).
Methamphetamine is on the federal schedule of controlled substances eligible for deportation, so certainly do not allow its mention to creep into the record.
For more information about immigration issues, please click on the following articles:
Contact us.