State of Mind Exception to Prior Uncharged Acts Evidence.
There is a general principal, codified at California Evidence Code §§ 1101 and 352, that prior "bad acts" cannot be introduced into evidence for the jury to consider if the only purpose intended by the prosecution is to show defendant's "bad character."

Our judicial system prides itself on not allowing unfair prejudice to "infect" the judicial process, particularly when the unfair prejudice relates to irrelevant events that may be taken out of context. This type of mischief or gamesmanship is not tolerated.
Brief Synopsis: The "State of Mind" exception to the general rule that evidence of prior bad acts is inadmissible is not well understood. This exception, provided for in Evidence Code § 1101(b) permits evidence of prior bad acts to establish defendant's identity (if this is disputed) or a common plan or modus operandi to show defendant acted a certain way before.

Evidence Code § 1101(a) prohibits admission of evidence of a person's character, including evidence of character in the form of specific instances of uncharged misconduct, to prove the conduct of that person on a specified occasion. The provision "expressly prohibits the used of an uncharged offense if the only theory of relevance is that the accused has a propensity (or disposition) to commit the crime charged and that this propensity is circumstantial proof that the accused behaved accordingly on the occasion of the charged offense." People v. Thompson (1980) 27 Cal.3d 303, 316.
"Subdivision (b) of section 1101 clarifies, however, that this rule does not prohibit admission of evidence of uncharged misconduct when such evidence is relevant to establish some fact other than the person's character or disposition." People v. Ewolt (1994) 7 Cal.4th 380, 393. "If an uncharged act is relevant to prove some fact other than propensity," such as the perpetrator's intent or identity, or the existence of a common plan, "the evidence is admissible, subject to a limiting instruction [to the jury about its consideration] upon request." People v. Bryant, Smith and Wheeler (2014) 60 Cal.4th 335, 406.
"Evidence of uncharged acts is admissible to prove identity, common plan and intent 'only if the charged and uncharged crimes are sufficiently similar to support a rational inference on these issues." People v. Edwards (2013) 57 Cal.4th 658, 711.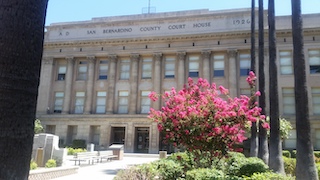 Old San Bernardino Courthouse
It is perhaps impossible to consider a more dramatic and consequential application of these rules than in the recent California Supreme Court opinion of People v. Run Peter Chhoun (2021 DJDAR 1444) wherein Mr. Chhoun was sentenced to death and challenged the trial court's admission of evidence of uncharged acts involving him.
In 1995, Chhoun was a "shot caller" and "O.G." (original gangster, a sign of respect and prestige within a gang for experience and age) in the Tiny Rascals Gang (TRG). During a home invasion robbery in San Bernardino, Chhoun killed the entire family except a three-year boy, who was shot, but allowed to live and was left alone with the bodies of his parents and siblings.
Chhoun was arrested, charged and convicted of five counts of murder, one count of residential burglary and three counts of residential robbery with enhancements for personal use of a firearm. The jury found true special circumstances of murder during burglary and robbery and the murder of multiple victims. The jury set the penalty at death.
Chhoun appealed on many grounds, but this article will focus on perhaps the biggest issue, which was whether the trial court erred in admitting evidence of Chhoun and his co-defendant being involved in a similar home-invasion robbery and shooting.
Originally, it should be noted for the reader that Chhoun also committed another home invasion robbery with murders in Spokane, Washington, as well as a car-to-car shooting in San Bernardino (resulting in murder) and a shooting in Pomona (resulting in murder).

The prosecutor of Chhoun in San Bernardino attempted to introduce evidence of each of these other crimes, but the judge only allowed evidence of the Sacramento home-invasion robbery (and murder) to show a common scheme, motive or knowledge.
The evidence, naturally, was most likely considered far more broadly than the judge instructed the jury to limit its consideration and not to consider it as showing defendant had a bad character. The Sacramento home invasion – robbery and murder was exceptionally violent with many victims shot repeatedly at close range in the presence of others, impulsive shooting and callous disregard for victims.

Chhoun, we think was correct, in arguing that the evidence of the Sacramento killings was not relevant to any disputed issue in the San Bernardino killings, so its only purpose was to make the jury's job easier in finding the killings were part of felony murder.

The California Supreme Court disagreed, noting that Chhoun "did not concede guilt on any issue, requiring the prosecution to prove each element of first degree murder, attempted murder, robbery and burglary, along with the enhancements and special circumstances." "Even when other evidence is present, it remains the prosecution's burden to prove premeditation and malice beyond a reasonable doubt. It has the 'right to introduce all relevant and admissible evidence toward that end.'" People v. Rogers (2013) 57 Cal.4th 296, 328.
Therefore, the appeal was denied and the death sentence was affirmed.
We caution the reader that conceding guilt on any issue may certainly solve the problem of evidence of other uncharged acts being introduced, but it may also make a conviction more likely, depending upon the facts of the specific case. Such decisions cannot be made too carefully.
The citation for the California Supreme Court ruling discussed above is People v. Run Peter Chhoun (11 Feb. 2021) S084996.

For more information about prior uncharged act evidence restrictions, please click on the following articles: