Speed Traps & Engineering and Traffic Surveys
Were you stopped for speeding? Or are you facing a DUI after the officer pulled you over for speeding? Was it for violation of 22350 of the Vehicle Code (unsafe speed for conditions) or a more specific code section?

Do you think the area of roadway where you were stopped was a speed trap? In other words, for example, it is a long, straight area of roadway that is slightly downhill and it is not only safe to go fast, but easy to speed through? Did the police officers sit near this area and just pull over everyone, it seemed? Was it daytime? Was there no other traffic in the area? Were the roadways dry? Was visibility excellent?
The Gist of this Article: To possibly defeat a speeding ticket wherein the ticket is issued for exceeding the posted speed limit, one must show the posted limit is not supported by a engineering and traffic survey ("speed survey") of the roadway in the last five years under Vehicle Code § 40802(a)(2).

The area of roadway may indeed be such a speed trap, but more information is needed. If it such a "speed trap," then defendant should point to an engineering and traffic survey in effect to show that the speed limit allegedly violated are not justified, usually because such a survey has expired for the area of roadway at issue.
It is first good to know when a speed trap really is a bad argument. Under Vehicle Code § 40802(a)(2) and People v. DiFiore (1987) 197 Cal.App.3d Supp 26, the traffic stop is not considered a "speed trap" if the driver violates Vehicle Code § 22349(a) by speeding over 65 miles per hour on any road, if the driver violates Vehicle Code § 22349(b) by traveling at over 55 miles per hour on a two-lane undivided road, Vehicle Code § 22348(b) by traveling over 100 miles per hour, Vehicle Code § 22356(b), exceeding 70 miles per hour on a limited access highway, or violating Vehicle Code § 22406, exceeding 55 miles per hour in specified vehicles such as a big rig, a school bus with children aboard or a vehicle towing a trailer.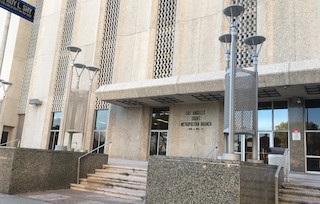 Metro Courthouse
An engineering and traffic survey is also not required if one violates Vehicle Code § 22352(a), crossing a railroad track area at more than 15 miles per hour or going more than 15 miles per hour in an alley. What we have seen a few times is a violation of Vehicle Code § 22352(b), traveling at over 25 miles per hour in a business or residence district, school zone when children are present, or close to senior centers when seniors are present.

If the traffic stop was for speeding and it was not otherwise covered by one of the aforementioned Vehicle Code sections, it indeed may have involved a speed trap.
To show the stop involved use of a speed trap, it is good to show that a traffic survey for the area is obsolete or inapplicable. Then the reason for the stop, most commonly a violation of Vehicle Code § 22350 can be disproven. Section 22350 provides that "[n]o person shall drive a vehicle upon a highway at a speed greater than is reasonable or prudent, having due regard for weather, visibility, the traffic on, and the surface and width of the highway, and in no event which endangers the safety of persons or property." The burden is on the prosecution to establish that the speed was unreasonable for the conditions. This is when an engineering and traffic survey may be used by the prosecution.
If such a survey is not available, defendant can argue the speed was safe for conditions unless the speeding violated one of the aforementioned code sections with specific speeds for specific situations.
An engineering and traffic survey is always required whenever the traffic stop is made using radar or laser (lidar), or by timing the vehicle between two fixed points on a highway.
What is a valid engineering and traffic survey? Vehicle Code § 627(b) states that "an engineering and traffic survey shall include, among other requirements deemed necessary by the department, considering (1) prevailing speeds as determined by traffic engineering measurements; (2) accident records; and (3) highway, traffic and roadside conditions not readily apparent to the driver." The survey must record the speeds of normal motorists during varied times and conditions. It must determine the speed at which 85 percent of the drivers drive that segment and then set the speed limit by rounding to the nearest five miles per hour. See Caltrans Traffic Manual, Section 8-03.3, subd. (B).
The speed limit can be rounded down when there are certain "roadway conditions." "Roadside conditions not readily apparent include vehicles, bicyclists or pedestrians not visible to the motorist [is the roadway a popular area for runners and cyclists?], access points [hidden driveways] or road dips, grades or curves not visible to the motorist, and schools, hospitals or senior centers in close proximity not apparent to drivers." See California Manual for Setting Speed Limits, § 3.4.4.
An engineering and traffic survey, which one can obtain from the local city having control over the roads, must be prepared within five years of the traffic ticket. Vehicle Code § 40802(a)(2). However, the survey can be effective for up to seven years (extended) if the officer completed a 24-hour Peace Officer Standards and Training (POST) certified radar operator course, if lidar was used (the office must completed the two-hour POST lidar course) and the radar or lidar must be approved by the National Highway Traffic Safety Administration (NHTSA) and calibrated within the last three years of the date of the violation.

The traffic survey can also then be extended to ten years if a registered highway safety engineer evaluated that section of highway and determined that no significant changes in roadway or traffic conditions have occurred.
For more information about traffic stops, please click on the following articles:
Contact us.