Can a Visual Estimation of Speed Suffice for a Traffic Stop?
Brief Synopsis: An officer's mere visual estimation of speed, even at night, can suffice for reasonable suspicion to make a traffic stop. Humans, however, are notoriously poor at estimating the speed of moving objects. As confirmed by Robert Fiatal, the Executive Director of the Ohio Peace Officer Training Commission, "There is no formula to apply for visual speed estimations. It is kind of a dead-reckoning kind of thing."

It is not uncommon for a police officer to simply see a car that seems to be speeding and then stop it. Quite often, the driver quickly admits to exceeding the speed limit and the issue of whether the officer's guess was correct is not challenged.
Other times, the officer does not have time to pace the suspect's car because he may be going the opposite direction, waiting at a traffic light perpendicular to the suspect, or accelerating from a stop off on ramp. The visual estimation may be at night and the road may be curving. Then the suspect is more skeptical of the officer's observation, but being intimidated by a police officer, the suspect still does not challenge the stop.
Is such a traffic stop legal? After all, police officers are merely human. Without some type of objective support, can a judge allow such stops? After all, if a judge does so, doesn't it open a Pandora's Box of allowing traffic stops based on other reasons, but justified as speeding? Does this enable racial profiling, for example?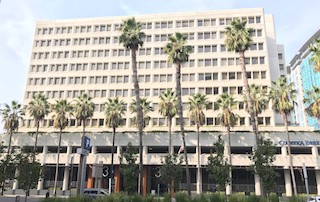 Court of Appeal Sixth Appellate District San Jose
We must realize that a traffic stop is a seizure subject to the protection of the Fourth Amendment of the United States Constitution. Berkemer v. McCarty (1984) 468 U.S. 420, 436. As such, to conduct a legal traffic stop, "reasonable suspicion" is required. This can be based on less than possible cause to believe a violation has occurred, but it cannot be based on mere speculation or a hunch." People v. Rodriguez (2006) 143 Cal. App. 4th 1137, 1148, People v. Wells (2006) 38 Cal. 4th 1078, 1083.
Reasonable suspicion "requires specific, articuable facts which, together with objective and reasonable inference, form a basis for suspecting that a particular person is engaged in criminal conduct."
People v. White
(2003) 107 Cal. App. 4th 636, 641.
In deciding what are "reasonable inferences," an officer is "entitled to rely on his training and experience. . . but those inferences must be grounded in objective facts and be capable of rational explanation."
U.S. v. Lopez-Soto
(9th Cir., 2000) 205 F. 3d 1101, 1105.
Against this framework, City of San Jose Police Officer Beretta and his partner were parked along the side of the street when they saw a white Chevy sedan pass "fairly quickly." Officer Beretta pulled his car away from the curb and followed the Chevy.
Beretta then caught up to the car and pulled it over for speeding and for failing to signal before making a right turn. When Beretta spoke to the occupants, they both appeared to be under the influence of a stimulant. The passenger then admitted to using meth the night before and said a bag containing meth might be in the car. The car was then searched and officers found meth and cocaine in baggies, apparently packaged for sale, ketamine, ground Dimethyltryptamine, Viagra, Cialis, Adderall, Oxycodone, a collapsible baton and two firearms, one of which was loaded.
The Santa Clara District Attorney charged both occupants of the car with numerous offenses and both occupants of the car moved to suppress the evidence under Penal Code § 1538.5, arguing the officers lacked the required reasonable suspicion for the traffic stop. The trial court denied the motion and then both defendants entered into plea bargains. One defendant agreed to six years in state prison and the other defendant, Steven Nice, agreed to a probationary sentence with one year in county jail. Defendants then appealed the ruling on the denied Motion to Suppress to the Sixth Appellate District.
The appellate court, in
People v. Steven Andrew Nice
(2016 DJDAR 5122), affirmed the trial court. The appellate court methodically considered the case law set forth above. It further noted that officer Beretta had taken a 40-hour in-house speed radar estimation class and "had probably completed at least a thousand speed estimates with or without radar during his 14 years as a police officer." The court found that due to this training and experience, the officer's "reasonable inferences" were sufficiently supported to believe the driver was "engaged in criminal conduct." This belief constituted the reasonable suspicion that is required to make a legal traffic stop. The trial court's denial of the Motion to Suppress was thus affirmed.
As defense attorneys, we do not like this ruling at all. However, we note the rather long experience the appellate court described and the 40-hour course that the appellate court considered important. Thus, in future cases involving visual estimations of speed, a motion to suppress should be considered against the standard this case seems to set. If the officer in your case lacked the same or more experience as officer Beretta here, the judge should not make new law and we would argue, grant such a motion to suppress based on a mere visual estimation of speed.

The citation for the Sixth Appellate District Court ruling discussed above is People v. Steven Andrew Nice (6th App. Dist., 2016) 247 Cal.App.4th 928.

For more information about the standards for a legal traffic stop, please click on the following articles:
Good Faith Exception to Officer's Execution of an Improper Search Warrant Does Not Have Similar Application to an Improper Traffic Stop
Contact us.