Spectator at a Street Race (L.A.M.C. 13.46.010) Dismissed
Our client, age 33 and from Baldwin Park, was ticketed at about 4:45 p.m. on a Sunday afternoon at the end of Intermodal Way, a cul-de-sac just off Sepulveda Boulevard in Carson. The ticket, which he signed to avoid being arrested and taken into the Compton Sheriff's station by the CHP was for violating Los Angeles Municipal Code § 13.46.010, which the City of Carson is active in issuing because of a few recent accidents involving street racing.
Our client had learned about a few other motorcycles gathering at the popular location on Intermodal, to watch some stunts (donuts, wheelies and burn-outs) as a sideshow to the main street race that sometimes actually never takes place.
California Highway Patrol officers wrote on their report that they received a phone call about some folks on motorcycles doing donuts and when they got close to the area, they could hear motorcycle engines revving.
This ticket was not our client's first brush with the law. Eight years earlier, he had been convicted of carrying a loaded firearm without a permit, a violation of Penal Code § 12031(a)(1) and was sentenced to 180 days in county jail for that violation. He also had a prior conviction for possession of a controlled substance while armed (Health and Safety Code § 11370.1) and four juvenile adjudications for battery (Penal Code § 242), assault with a stun gun (Penal Code § 244.5(B) and two cases of obstructing / delaying / or resisting arrest (Penal Code § 148(a)(1)).

So, when he received this latest misdemeanor ticket for 13.46.010, he knew enough that he needed to have the case dismissed or at least reduced to an infraction because his job as an employee of a local school district may end.
He called up Greg Hill & Associates and spoke to Greg about the facts of the case. The client was apparently one of about twenty other folks just watching certain motorcyclists doing donuts. They were all motorcycle enthusiasts who had spent considerable time in customizing their motorcycles and keeping the motorcycle spotlessly clean. He had found out about the gathering on Facebook.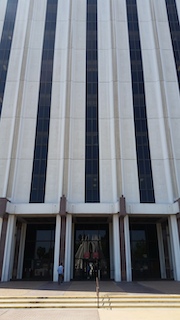 Compton Courthouse
The client then described his job and how he felt very privileged to even have a job with his criminal history. He described himself as having a newborn son with his girlfriend, who he planned to marry.
Greg listened to the client explain what had happened and recommended that the client enroll in and complete an online traffic school course of at least four hours ASAP so Greg could take the certificate of completion with him to court in hopes of avoiding a conviction for a misdemeanor. Greg also requested that the client provide him with a current resume and pay stub to take to court to show the client was employed.
The client then retained Greg Hill & Associates, but did not enroll in the online driver's safety course or provide Greg with his resume and paystub.

Greg then went to the Compton Superior Courthouse for the arraignment, a bit worried because he had no "presents" for the prosecutor to show our client was worried about the charge and to show he was taking the case seriously.
The prosecutor, a young guy with the District Attorney's office, discussed the case with Greg and kindly offered diversion, wherein our client could "earn a dismissal" by attending an eight-hour traffic school online and perform just 20 hours of approved community service. This was better than having the case reduced to an infraction.
Greg gladly accepted such a pre-plea offer, also known as pure diversion or delayed entry of plea, asking for three months for our client to complete the online driving school course and perform the 20 hours of community service.
The client was very happy with the offer and thankful that he had hired Greg Hill & Associates to represent him in court. He was approaching a few weeks off from work due to the school taking a winter holiday break, so he promised to take care of the community service and online class over the break.
For more information about street racing issues, please click on the following articles: