Sixth Amendment Violation & Intent to Maintain Innocence
The Gist of this Article: There is no Sixth Amendment violation by counsel for conceding guilt in trial if defendant never made it "explicitly clear" that he wanted to maintain his innocence at trial. Defendant's ineffective assistance of counsel claim was found meritless.

On March 16, 2015, a Sacramento jury later found, Allen Bocteemus Franks killed his girlfriend, Kimberly C.
The trial was a bit of a chaotic and unusual proceeding. Before trial even began, defense counsel had declared a doubt about Franks' competency, but two physicians and one psychologist evaluated Franks and determined he was competent to stand trial. There were other conflicts between Franks and his attorney, with each claiming the other never wanted to review the discovery or discuss the case. Franks made four Marsden motions (People v. Marsden (1970) 2 Cal.3d 118), requesting new counsel, but the judge denied each motion.
Then during trial, defendant became disruptive and voluntarily absented himself from the proceedings, only to appear again near the end of the prosecution's case to confirm he did not want to testify. He then absented himself from trial again.

During closing argument, defense counsel conceded that defendant was with the victim when she was fatally injured, but argued that the real issue was "what happened in the house between defendant and the victim." Counsel described the relationship between defendant and the victim as "tumultuous" and "unhealthy." He said the victim "had a lot of emotional issues on her plate" when she scratched and injured defendant. Defense counsel then suggested that defendant may have injured the victim while trying to restrain her.
Evidence admitted at trial was that the victim died to asphyxia by strangulation and blunt force trauma. Defendant's DNA was found underneath the victim's fingernails.
Franks and Kimberly C. had been dating for about four months. During that time, Kimberly C. had been arrested for domestic violence against Franks. Franks himself had an extensive criminal history, including a strike and a prison prior within five years.
The jury found defendant guilty of voluntary manslaughter (Penal Code § 192(a)). The jury also found true the allegation that defendant had a prior conviction for a strike.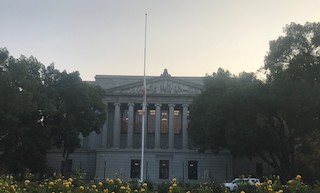 Court of Appeal Third Appellate District Sacramento
At sentencing, defense counsel filed a motion to strike the strike for purposes of sentencing under People v. Superior Court (Romero) (1996) 13 Cal.4th 497, but his was denied. Franks was then sentenced by Judge Raoul M. Thorbourne to 27 years in state prison, based on 11 years (upper term) for the voluntary manslaughter charge, doubled to 22 years, plus five years for the prior serious felony conviction.
Franks appealed his conviction to the Third Appellate District, citing McCoy v. Louisiana (2018) 584 U.S. ___, 200 L.Ed.2d 821, arguing that his Sixth Amendment right to maintain innocence as the fundamental objective of the defense was violated by his counsel's implicit concession during closing that defendant killed his girlfriend.

Defendant argued that because he denied harming the victim in a police interview, repeatedly requested to review discovery with his counsel to "help his lawyer fight" the charges and after the verdict, denied killing the victim to his probation officer, his counsel should have known that his defense was innocence.
The Third Appellate District Court reviewed such arguments with obvious skepticism. It clarified that, "For a Sixth Amendment violation to lie, a defendant must make his intention to maintain his innocence clear to his counsel, and counsel must override that objective by conceding guilt." McCoy, supra, 200 L.Ed.2d at pp. 831-832.
In Florida v. Nixon (2004) 543 U.S. 175, 160 L.2d 565, similar issues were considered. During trial, counsel conceded that defendant killed the victim an attempt to obtain leniency during sentencing. Unlike the defendant in McCoy, the defendant in Nixon "was generally unresponsive" during discussions of trial strategy with his lawyer and "never verbally approved or protested" the proposed strategy. Nixon at 181. On appeal, defendant argued ineffective assistance of counsel in conceding guilt without his explicit consent. The appellate court disagreed, but noted that defense counsel has a duty to discuss potential strategies with defendant, but counsel is not "automatically barred" from conceding guilt where defendant neither consents nor objects." Nixon at 178.
Here, Mr. Franks never explicitly made it clear to his attorney of this intentions to maintain his innocence, so his ineffective assistance of counsel claim was denied.
The citation for the Third Appellate District Court ruling discussed above is People v. Allen Bocteemus Franks (3d App. Dist., 2019) 35 Cal.App. 883.

For more information about ineffective assistance of counsel and the Sixth Amendment right to counsel, please click on the following articles:
Contact us.